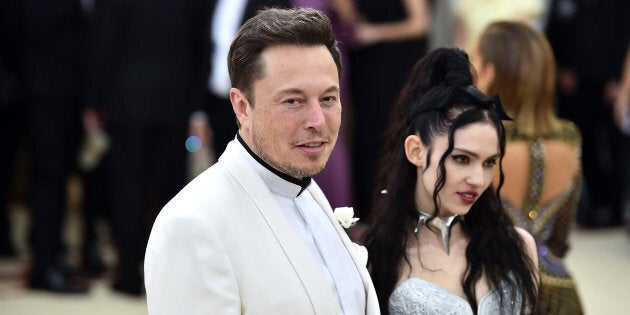 Love knows no bounds, including getting yourself charged with fraud by the U.S. Securities and Exchange Commission.
Elon Musk found himself in hot water Thursday when the U.S. federal securities regulator filed a complaint against the Tesla CEO in Manhattan federal court for "false and misleading" tweets about taking the company private.
And according to the court filings, they were partially made with Musk's then-girlfriend Grimes in mind.
On Aug. 7, Musk tweeted out he was considering taking Tesla private, and that he'd secured funding to buy shares at US$420 each — a significantly higher price than what the shares were actually trading for at the time.
He also appeared to clear up questions from his followers by replying to their tweets. The only thing possibly standing in the way of taking Tesla private was a shareholder vote.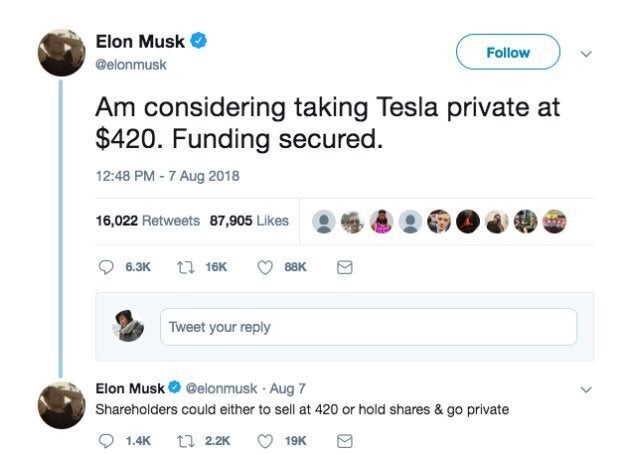 A few days earlier in an email to Tesla's board of directors and CFO, Musk said the $420 price was based on a 20 per cent premium over that day's closing share price, "because he thought 20 per cent was a 'standard premium' in going-private transactions."
Thought Grimes would find the share price 'funny'
According to the SEC filings, Musk said that calculation resulted in a price of $419, which he rounded up to $420 "because he had recently learned about the number's significance in marijuana culture and thought his girlfriend 'would find it funny, which admittedly is not a great reason to pick a price.'"
On Aug. 13 — nearly a week after the initial tweets — a post on Tesla's blog attributed to Musk appeared to walk back his earlier statements, saying Musk had had the impression there was "no question" that a deal could be closed to take the company private. By end of that day, Tesla's stock price had dipped back to pre-tweet levels.
By Aug. 27, the first trading day after Musk said he was no longer attempting to take Tesla private, the stock had fallen to $319.44, which the SEC argues caused harm to investors who had purchased it during the period of "false and misleading statements."
The regulator wants Musk to pay fines and any money he gained from the spike-causing tweets, and wants to remove him as CEO of Tesla.
In a brief joint statement, Tesla and its board said they are "fully confident'' in Musk, his integrity and his leadership of the company.
With a file from The Associated Press