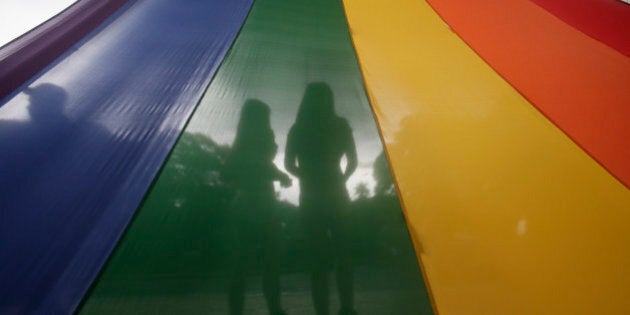 It's a common refrain from the left that liberals debate facts while conservatives charge headlong through them.The right is accused of bypassing the truth with mischaracterizations that breed fear and discrimination. People on the right counter they are protecting society from dangers they believe threaten to destabilize a beneficial status quo.
The heated political discourse associated with Canada's federal election on Oct.19 and next year's U.S. presidential election provides ample ammunition for those on the left. Consider Stephen Harper's position against wearing niqabs. Across the border, Republican presidential front-runner Donald Trump proposes deporting unauthorized immigrants whom he famously typecast as criminals and rapists.
Interestingly, gay men were once commonly portrayed the same way as were countless others once treated as pariahs. I raise this point because if you look back in history, you will see the same pattern repeat. A minority is defined as dangerous by a segment of society that clings to traditional views of acceptability. They fail to recognize prejudices inherent in their views until a hard-won fight for equal rights and shifting zeitgeist forces them to move on, foisting their fears on the next marginalized group.
In my research on Canadian LGBTQ history, I have come across so many examples where those with non-conforming sexualities or gender identities were disparaged as alien "creatures" to be feared and loathed. Among the hundreds of insults I've come across, aspersions cast included "dangerous," "menacing," "vicious," "wicked" and even "instrument of satan."
The 1970s poster child for this kind of slander was Toronto Sun columnist Claire Hoy. He regularly wrote about homosexuals in terms that today would be considered a hate crime. His column was regularly laced with words such as "immoral," "unnatural," and "depraved." In a 1977 column, he contended that "the only legitimate response [homosexuals] deserve from society is to be kicked back into the closets where they have been hiding in the past."
As distressing as these accounts are to read, I've been impressed by the intellect that so many of the earliest gay and lesbian activists demonstrated when they argued publicly for social justice. Time and again, I have come across records that attest to the dignity, sophistication, and eloquence with which they pursued their agenda. In the face of fulminating taunts, insults, and diatribes, they resisted temptations to couch their arguments in the same shrill or confrontational tone so often adopted by those who opposed them.
To draw on just one of countless examples I've uncovered that vividly illustrates my point, a CHUM radio announcer named Dick Smyth went on air two days after the historic We Demand rally in 1971 to attack participants' demands for equal rights under the law. In a flourish of rhetorical excess he stated:
The prospect of a group of homosexuals prancing about Parliament Hill in a demonstration for equality not only repels and repulses me, it makes me wonder if perhaps it's all an insane nightmare from which I will return to reality. The prospect is about as savory as a demonstration for equality and acceptance by militant alcoholics, militant lepers, or militant lunatics.
Brian Waite, an activist and central figure in the We Demand movement, pressed for and, remarkably, received an opportunity to go on Smyth's show to provide a rebuttal. With Smyth sitting by his side, Waite let rip with the following:
Dick Smyth's [...] views on homosexuality are bigoted and chauvinistic; the same type of views that have produced the worst eras of oppression and brutality in man's history.

Homosexuals, Mr. Smyth, like all other human beings, are worthy of love, respect, and dignity simply because of their humanity. [...] All human beings are worthy of respect, and should not be degraded.

[H]omosexuals [do not] need psychiatrists and doctors to remedy their problem; we need lawyers and politicians, for the root of our problem is the narrow-mindedness and prejudice, like yours Mr. Smyth, which results in the oppressive legislation which we are trying to change.
Interestingly, Waite was one of the first to articulate the need to pursue a human rights strategy as part of what was then termed the gay liberation and lesbian feminist movements. Waite provides an exceptional example of the skill with which activists of that era rose above a miasma of bigotry to challenge a widely accepted script of intolerance and expose its poverty of thinking.
In preparing this blog, I reached out to Denis Leblanc. He was at the forefront of many important LGBTQ initiatives beginning in the early 1970s, including a successful drive in 1974 to coordinate a national coalition of activists. He said of the earliest days of gay and lesbian activism:
At the time, we were portrayed as criminals by the media. We had a countering strategy to get the word out and change people's attitude, dispel myths, and educate them. It was a big job. We turned the narrative around from what is wrong with homosexuality to what is wrong with homophobia. We tried to be persuasive, in part, by taking the high road.
Discussing Waite and so many others who moved mountains by rearticulating and recasting sexual and gender oppression as a civil rights issue, LeBlanc said, "They were not just really well-spoken. They were inspirational." I would add that they were visionary. Waite said on Smyth's show:
The day of the homosexual scapegoat is over. Homosexuals are uniting all over Canada, and we are serving notice that we will no longer tolerate the type of abusiveness reflected in Mr. Symth's editorial. Whatever the action necessary, we will take it until the day of our freedom and equality is realized.
A year later Waite wrote:
Winning [...] will not end our oppression, but in the process of fighting for it many gay men and women will develop a higher level of pride and consciousness. With a victory, thousands more will find it easier to come out ... without fear.
Waite provides a powerful example of the potency with which once can wield their persuasive pen to empower the oppressed and silence those unwilling to heed the winds of change.