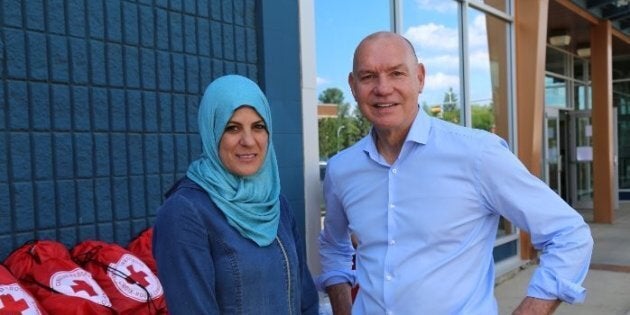 The average number of disasters in Canada has doubled in the past three decades. With climate emergencies such as wildfires and floods on the rise, we know that Canadians will face many challenges in the years ahead.
The Red Cross recently surveyed Canadians to better understand how Canadians use technology in emergencies, and our Information in Disasters Report shares what we learned. Sixty-three per cent of Canadians told us they have already experienced an emergency at least once in their lifetimes, from severe winter storms, to house fires, to long power outages. In fact, the Canadian Red Cross responds to an emergency every three hours.
We want to help Canadians be ready. While two-thirds of those surveyed said they would sign up for emergency preparedness alerts by text, email or apps, less than one-third have actually signed up so far. This number rises among people who have already experienced an emergency, but the stressful and uncertain time immediately following a disaster is not when to begin searching for information. You want it at your fingertips right away, so we would encourage everybody to sign up for alerts in advance.
We want to help Canadians be ready.
And it's not just information. Our survey showed that Canadians are looking for other services online following a disaster, including help in reuniting with missing family members, financial assistance and information about possible damage to their property. So what does this mean for Canadians, and how can technology be used in emergency situations?
Reach out on social media
During the Alberta fires, over 80,000 people evacuated Fort McMurray and many of them had smartphones. Even while families were still in their cars evacuating along the highway, they were reaching out to the Red Cross on Facebook and Twitter for immediate help. In the emergencies that followed, from wildfires in British Columbia, Saskatchewan and Manitoba; to spring flooding in New Brunswick, Quebec, Ontario and B.C.; our team responded to urgent needs, online and offline, 24 hours a day.
Prepare an emergency kit
The Red Cross recommends that everyone have an emergency preparedness kit to sustain yourself and your family for 72 hours in an emergency situation. A kit should be easily grabbed on the way out the door, so the front entrance closet is a good place. Extra phone chargers will help ensure you stay connected to family and can get access to important updates online — during disasters we encounter many people who grabbed their phones but had no way of charging them when the battery died and they needed it the most.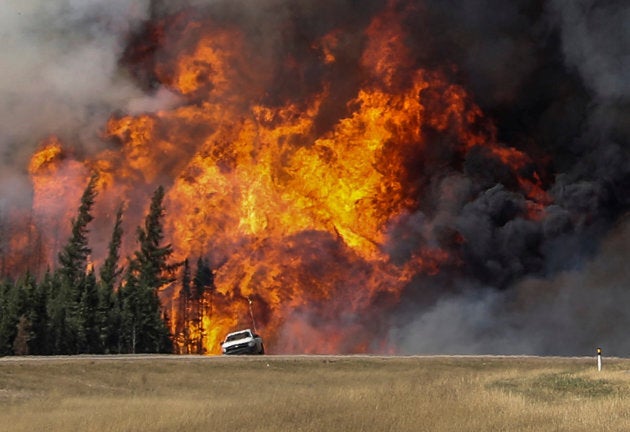 Copy important documents
During an emergency you may be asked for your ID — and hopefully you have these documents with you. But, just in case, scanning copies of your ID as well as those of your family members now and then saving them to Dropbox, Google Docs or your email account could prove very helpful in the future. This is also a great idea for insurance documents.
Verify your news
When disaster strikes, confusion and misinformation can spread quickly online. Make sure your updates are coming from verified sources. People who responded to our survey listed the Canadian Red Cross as one of the most trusted sources of information, along with local and provincial government, and media such as the Weather Network.
What next?
If you're impacted by a disaster, look directly to the organizations involved for next steps and how you can access support. The Canadian Red Cross has introduced innovative ways to support the needs of people impacted by disasters, including online registration, family reunification and electronic fund transfers (EFTs) so that evacuees can get money quickly when they need it most. Be sure to read and carefully follow the outlined steps so that you can receive support or information as quickly as possible.
Reach out
At the same time, we recognize that these technologies can exclude some people, even as they reach others. The most vulnerable people may not have access to smartphones, to computers or to online banking. Using digital technology helps us quickly support the majority of disaster-affected people, allowing our responders on the ground to focus their attention on going the "last mile" to find and help people wherever they need us. This outreach can include field team visits to remote communities, call centres and in-person support at temporary shelters and emergency reception centres. If you have a vulnerable neighbour or family member, reach out to them and offer to connect them with appropriate resources so they are not left behind.
Taking steps today can have a tremendous impact on how prepared you are to handle a disaster in the future. While worst case scenarios are not something many people want to think about, experience has taught us that they do happen and will continue to happen in Canada. The time to prepare for an emergency is before it happens, not after. We invite you to follow us on Facebook and Twitter for the latest updates to prepare your family for whatever the future brings.