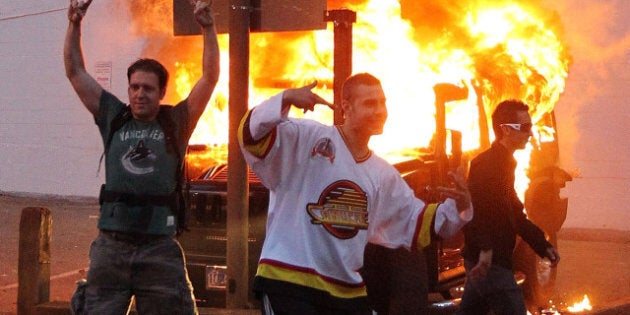 A convicted hockey rioter says he's sorry in a letter to Vancouver Mayor Gregor Robertson that was ordered as part of his sentence.
Emmanuel Alviar, 20, served a one-month jail sentence this summer after he pleaded guilty in March to charges of mischief and participation in a riot.
Alviar turned himself in to police in the early stages of the investigation for his involvement in the 2011 Vancouver hockey riots.
In a copy of the letter obtained by The Huffington Post B.C., Alviar writes:
Dear Mayor Robertson,

I am sorry for pushing the side of a car and throwing a piece of wood at a window, during the Vancouver riot of [2011]. I should have never done those things. My participation in the riot affected the community in a way by striking negative inspiration into all the hearts and minds of the community witnessing my crime spree.
Alviar helped toss a barricade through the window of a Telus store and was caught on video posing in front of a torched truck on June 15, 2011. Alviar cited peer pressure as a factor that contributed to his actions on the night of the riots:
There are times in life when young people are not heading in a purposeful direction so then they can easily succumb to peer pressure. This is what was happening in my own life at the time.
Alviar also says that he has found direction in his life and will be attending university.
The missive to Robertson is one of two court-ordered letters Alivar must complete. He must also write a letter to Vancouver police Chief Jim Chu.
In July, convicted hockey rioter Robert Snelgrove also made a court-ordered apology that was read out by his lawyer in court.