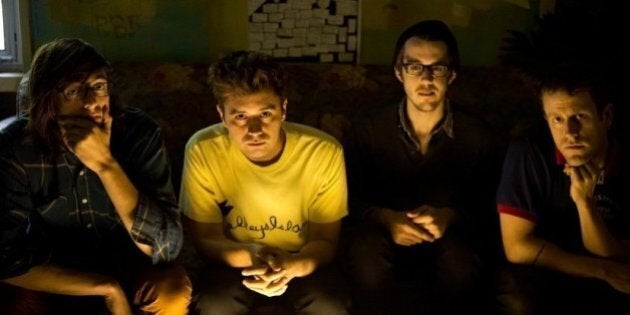 There are more than 1200 definitions of the word "emo" on UrbanDictionary.com. Hardly any of them are flattering. That shouldn't come as a surprise though. I'm not sure if a musical genre has ever suffered the same abuse as emo. Even the infamous Disco Demolition Night of 1979, where upwards of 50,000 people blew up their disco records on the field of Comiskey Park, seems like disco got off easy by comparison.
Emo began in the early 1980s as emo-core, an innocent descriptor for the expressive post-hardcore of Washington DC bands like Rites of Spring and Embrace, both precursors to DIY mavericks, Fugazi. Of course, none of the artists tagged emo cared for it, but the name continued into the 1990s, where it spread like wildfire thanks to bands like Cap'n Jazz, Sunny Day Real Estate, Jawbreaker and Braid.
From this came labels like Jade Tree, Vagrant and Deep Elm, not to mention another wave that included the commercially successful breakthroughs of Jimmy Eat World, the Get Up Kids and Dashboard Confessional. Unbeknownst to Weezer, their second album, "Pinkerton," even became cherished as a shining beacon of emo.
But with emo's crossover into the mainstream, it quickly became the punch line of many, many jokes. Emo became more than music. It became a subculture where the fashion came first. Eyeliner, angular bangs and, sadly, self-mutilation were identifiers, while artists like My Chemical Romance, Fall Out Boy, Avenged Sevenfold and Panic At The Disco exaggerated the music to the point of caricature.
And let us not forget Hot Topic, the shopping mall peddler of studded belts, black and pink tutus and shirts reading "My Dark Cloud Pwns Your Sunny Day."
Beyond the jokes, though, emo also usurped goth in the mid-2000s as the most anti-social youth culture. Outcasts adopted its self-loathing practice for a sense of belonging, while just about any and every teen flirted with its fashion. Bullies quickly targeted emo kids, with the most extreme cases reported in Mexico. In Mexico City, anti-emo rallies were held, chants of "kill the emos!" were heard, and "emo bashing" became a violently tragic pastime.
The eyeliner wore off around 2009 with the mainstream abandoning emo, as it tends to do with trends, and the subgenre fading off into the ether. Or did it?
Recently, interest in emo has been renewed. Depending on whom you ask, it was always there. But thinkpieces have begun turning up on websites such as Pitchfork, Stereogum, Village Voice and Noisey, proclaiming yet another wave of new bands identifying as emo has arrived – and without any negative connotations this time. We spoke with three different artists currently involved, willingly or not, in this so-called revival to get their take on things.
Cleveland's Dylan Baldi began Cloud Nothings when he was only 17, recording perky, lo-fi, pop-punk in his parents basement. After releasing a self-titled debut album on Carpark Records (Toro y Moi, Speedy Ortiz), he shifted gears to some intense, angst-driven indie rock on 2012's breakthrough, "Attack On Memory." Many critics and fans felt Baldi's combination of anxious lyrics and loud guitar attack mirrored early '90s emo. Baldi, however, pleads ignorance.
"I know about emo and heard all sorts of stuff, but I don't think we are an emo band," Baldi says. "I think people just hear a guy who doesn't really know how to sing and some guitars and say, 'Oh, emo! That's back!' I don't know why we get called that. I don't hear it. People compared the last record to Sunny Day Real Estate all the time, which was kind of insane because I don't think it sounds like them at all. But people need to fill space in their articles, I guess."
The new Cloud Nothings album, "Here and Nowhere Else," isn't overloaded with as many guttural expressions as "Attack." It's also more melodic, relaxed and more universally enjoyable. And while there are fewer moments that qualify as emo – the rasping screams of "swallow!" on "Giving In To Seeing" being the most obvious – Dylan's songs can't seem to dodge the emo tags in reviews.
"The problem is you can read something on the internet and think it relates to everyone's viewpoint but it's really only one or two people saying it's the truth," Baldi explains. "Like if one influential site writes that you're an emo band, then that's what you are. It doesn't bug me, because I don't see it as a positive or negative."
One band that sees the emo tag as a positive is Orlando's You Blew It!. Throw a Sunny Day Real Estate comparison at them and they'd probably title a song, "We Were Compared To Sunny Day Real Estate And Then We Hi-Fived!!!!"
One of many bands on the Boston-based Topshelf label that has basically resuscitated emo with it's own lungs (see also A Great Pile of Leaves, Into It. Over It. and The World Is A Beautiful Place & I Am No Longer Afraid To Die), You Blew It! don't find the emo tag detrimental like their forefathers did.
"We're not too afraid of the term "emo," but I think the fear of the word comes from the reluctance to be generalized," explains frontman Tanner Jones. "Emo's umbrella is monolithic. The shadow it casts falls on both Minor Threat and American Football, and as interesting as that is, I think it's a bit discouraging for bands. To work so hard to create something unique that will eventually be lumped in with such a large spread of bands is a bit disappointing. I think it would be a bit more gratifying to hear more descriptive feedback, but then again, we're just really happy to be considered with bands that we look up to."
Article continues after slideshow
Formed in 2009, basically when emo died a painful mainstream death, You Blew It! harken back to the "twinkle emo" of the mid-to-late '90s, the golden era if you will. Jones says that what's going on at the moment shouldn't be called a revival because emo never went away.
"A friend of mine wrote a piece about this for a blog called Half Cloth, and called it an 'Emo Renaissance,'" says Jones. "It's a term that addresses both the recent surge in emo's popularity, and the anxiety associated with the term 'emo revival.' To call it a revival implies that nothing happened in emo between 2003 and 2013, and that's such an important time period for the genre – I'd go as far to say what's happening today is only an extension/emulation of that decade."
Jones feels the fact that the music press has refocused its sight on this new wave of emo is something that should have happened years ago. But he's still hopeful this wave of emo doesn't reach the pinnacle of the previous one.
"I think general observation and logic says that it's probably about time for the press to focus on it again," he says. "It's scary, though. Emo History 101 tells us that popularization of the genre leads to a bastardization of the genre. It's creating a bubble that could very well pop and turn it into a four-letter, glam-rock curse word again. No one wants another Cute Is What We Aim For.
"Jelly bracelets, eyeliner, and black fingernails were the first thing jocks saw when they were exposed to the word emo, and that was tragic (both for my social interaction in high school and for the genre). Whether or not they actually fit into the genre, they still had emo listed as a main genre on their MySpaces, and that's a huge reason people still snicker when the word 'emo' comes up in conversation."
If it were up to Tim Kinsella, emo never would've existed. As a member of seminal '90s underground band Cap'n Jazz, virtually everything he's done since – Joan of Arc, Owls, Make Believe – has been misconstrued or lazily described as emo. As you can imagine, when you're turning 40 and you've made a career out of challenging music's boundaries (see any of the first four Joan of Arc albums), this can be a little embarrassing.
"I don't think about it," Kinsella says. "Maybe occasionally I'll get a twinge of embarrassment if I meet a new person and they have some vague awareness of what I do and they lump it in with that stuff. I mean obviously it's a reductive term. All music has an emotional aspect to it. And all music has some mathematics to it, too, and just as often we're called math rock. I don't feel any connection to either of those terms, but if they represent a range – emo and math rock, analogous to heart and brain – I feel like we definitely aim our efforts at both of those places. So maybe that paradoxical or contradictory tagging means we've struck some balance."
As one of the original bands of the second wave, Cap'n Jazz, for many music fans, had one of the more definitive sounds of '90s emo, with Kinsella's agitated vocal scrawl piloting the band's frantically ragged guitar attack. The band reached cult status after its 1995 split, at just about the time the word "emo" gained significant traction.
"Cap'n Jazz existed in a very different sort of scene," says Kinsella. "There were bands around that I definitely thought of as emo – Christie Front Drive or Mineral – but I think compared to that standard we were more aggressive."
Even though Kinsella doesn't exactly argue Cap'n Jazz's association to the emo scene of their time, he doesn't understand why the tag continues to follow him in whatever he does. Joan of Arc, for instance, were far too avant-garde to meet emo's criteria, yet they couldn't escape their history.
"Joan of Arc went through a self-conscious phase for awhile, actively rejecting the association. I don't lament that we had to do that. It was just one more stimulus or prompt to respond to."
Kinsella and his brother Mike recently revived their long-slumbering band Owls, to release their first album in 13 years, "Two." The most straightforward, rock-oriented project in Tim's repertoire, even Pitchfork couldn't resist the temptation to drop the e-bomb in a track review: "The Kinsellas are acknowledged as a daunting influence on just about any band tagged with the word "emo", and in three and a half minutes, "I'm Surprised..." sums up why that is."
"It's funny, I used to have to be careful to not read reviews," says Kinsella. "I didn't want to get self-conscious or thrown off course or whatever. Now I've reached a place of honest to god total indifference about that stuff. I guarantee the terms that people consider it with will all seem all wrong to me anyways, so what's the point?
And after 13 years of associating just eight songs with the entire identity of a band, absolutely nothing we do could possibly be accepted by people."