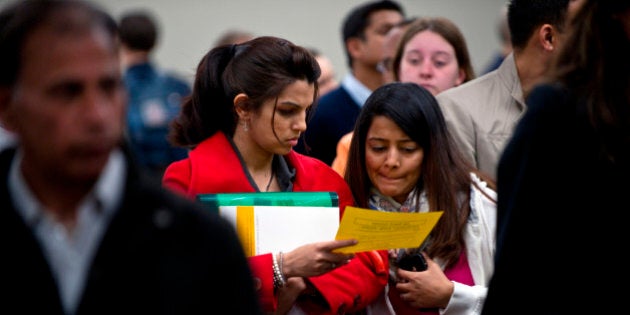 An aspiring administrator in Ontario says she's "completely stuck" in a vicious catch-22 because of pre-hiring credit checks that are required by some employers.
Amanda* wants to land a full-time job, but knows it's futile to even apply for some positions.
"I often say, yeah don't even bother, because I know I won't pass," she told The Huffington Post Canada. "I am a single mom who had to live off of my credit cards and have creditors harassing me." She requested anonymity over the concern public attention would hurt her job search.
Amanda got her first credit card at 19 and it didn't take long before her limit began to continually rise.
By the time she was 21, she was living on her own in London, Ont. and juggling two part-time jobs at a buffet restaurant and retail store. But when her shifts were cut to 10 hours per week, she found herself relying increasingly on her credit cards.
Then, she learned she was pregnant.
"If the person is qualified to do the job, why should their past history matter? Bad credit does not make them thieves."
When her interior decorating diploma didn't give her the employability leverage she had hoped for in London, she moved Toronto with her young daughter. But prospects did not improve.
"I didn't qualify for child-care subsidy because I didn't have a job, and I couldn't get a job because I didn't have child care," she explained. Promising leads would dry up after any mention of a credit check requirement. Her score was bruised with debt.
She turned to employment agencies for help.
"I would have places like Kelly Services call me and ask me a bunch of questions, saying it sounds great — until they say, 'this employer will need to do a credit check,'" she said.
Video: Kelly Services explains what it does
"It seems that the financial industry has a lot of job openings, but again with the credit check and this economy, it doesn't seem fair," she continued. "I do understand their logic behind it but if the person is qualified to do the job, why should their past history matter? Bad credit does not make them thieves."
But after living in Toronto for six months, unable to land a secure job, Amanda was out of options. She moved back to London and got a part-time position.
For a short time, her family helped by watching her daughter while she was at work. But she was forced to quit her new job when child care became too stressful for her mom.
Kelly Services insists mandatory credit checks during the hiring process, such as what Amanda encountered, are not pervasive.
"In our experience with the customers we work with in Canada, this is not a commonplace practice," said spokesperson Denise Ridenour.
But it does exist. Amanda knows it first-hand. She eventually enrolled in a two-year executive administration course at a local college in hopes it would create more job prospects.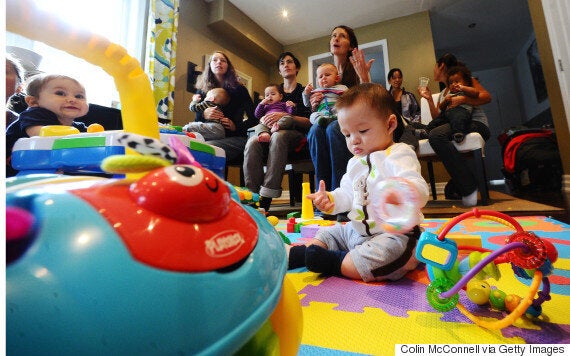 A group of Toronto new moms talk about the pressures of finding and affording high quality child care, as they gather at a friends home with their children. (Colin McConnell/Toronto Star via Getty Images)
When HuffPost Canada interviewed her earlier this year, she had one credit left to finish. But with no job, high daycare costs, mounting bills and maxed-out credit cards, it was hard to find enough cash to cover her $500 tuition fee, let alone money for her six-year-old daughter's own education ambitions.
"She wants to go to Chinese school here in London to learn her background since she is half Chinese, but even that I can't afford."
"I'm completely stuck," she said.
Earlier this year, HuffPost Canada reported on an Ontario man who said he was rejected for a job with TD Insurance Meloche Monnex because his credit score didn't "meet their requirements."
Two months after the story was published, he was hired by another insurance company as an accident benefit specialist for $14,000 less than the TD position.
People 'just trying to survive'
Credit reports aren't always accurate, warns Patricia White, executive director of Credit Counselling Canada. The easiest way to ensure they don't hurt your job candidacy is to request one and review it yourself.
Simply refusing to give permission for potential employers to conduct the checks may not be the smartest tactic, she said.
"People can refuse the authorization and see what happens. But I think in those cases, you've got to be prepared to not go any further with that [hiring process]."
"People get into situations where they're just trying to survive. And in this economy that we're in, sometimes they resort to credit to keep the roof over their head and food on the table."
It's a predicament White said can be remedied by checking your own credit report regularly or by being transparent with hiring managers and explaining tough financial situations upfront.
"People get into situations where they're just trying to survive. And in this economy that we're in, sometimes they resort to credit to keep the roof over their head and food on the table," she said, adding there's a certain stigma that may be difficult for some people to overcome.
"It's can be embarrassing for people to explain that," she said.
Employer's reputation also on the line
Employers may view credit checks as a handy tool to help determine the right hire, but relying on the practice long-term may also bring its own set of consequences, according to one expert.
"Credit checks and/or financial history inquiries will likely result in unfavorable applicant reactions to the organization's employee selection/hiring process," said Brian Lyons, an associate professor of management at Elon University in North Carolina.
Those reactions "could negatively impact the organization's reputation as an employer, which then adversely influences the quality and quantity of future applicant pools of open jobs within the organization."
Brian Lyons says employers who screen candidates over their credit scores may bring repercussions to the company's reputation. (Elon University)
One of Lyons' studies is used by TransUnion, a major credit bureau in Canada and the U.S., to justify the notion that applicants with troubled financial histories are almost twice as likely to engage in theft than someone with no history of money issues.
But the suggestion that someone with bad credit is more prone to steal doesn't hold any weight with some lawmakers — and some in the U.S. have even passed legislation barring the hiring practice all together.
In New York City, a new law came into force in September banning employers from using credit history to discriminate against applicants. The chair of the city's human rights commission, Carmelyn Malalis, said the ban will be a rough adjustment for some industries.
Pre-employment credit checks were challenged and defeated in Alberta back in 2010, when the province's privacy commissioner ordered a stop to it at a retailer. But in the five years since, there has not been any sort of law passed in Canada to ban requests to review credit histories.
Canadian debt continues to grow
According to Equifax, one of Canada's leading credit reporting agencies, consumer debt hit a record of $1.59 trillion (with a "T") in the third quarter, up 5.3 per cent in a year, well above average wage growth.
"It's a cautionary tale what we are currently seeing in the Canadian economy," said Regina Malina, a senior official with Equifax, in a news release. She cited the sudden, rapid drop in oil prices as one factor.
Because credit has been more accessible in the past decade, debt levels are now soaring to new heights. But despite swelling amounts of cash owed by consumers to credit companies, Equifax reports a majority of Canadians have what's considered "excellent" credit — that being scores above 760.
According to Calgary-based debt expert Bruce Alger, there's been a change in the way people view and use credit.
"This is the first time we are actually seeing all generations of consumers relying on credit, as it increasingly becomes perceived as an additional source of income, or a way of life," he said.
Back in London, Amanda has held her new administrative diploma for four months. She's still out of work — but she's trying.
When asked what the last job she applied for was, she drew a blank.
"An administrative job," she said."Honestly, [I] don't remember. I've applied to so many."
* Name has been changed to protect privacy
Have you been asked by an employer for permission to view your credit report?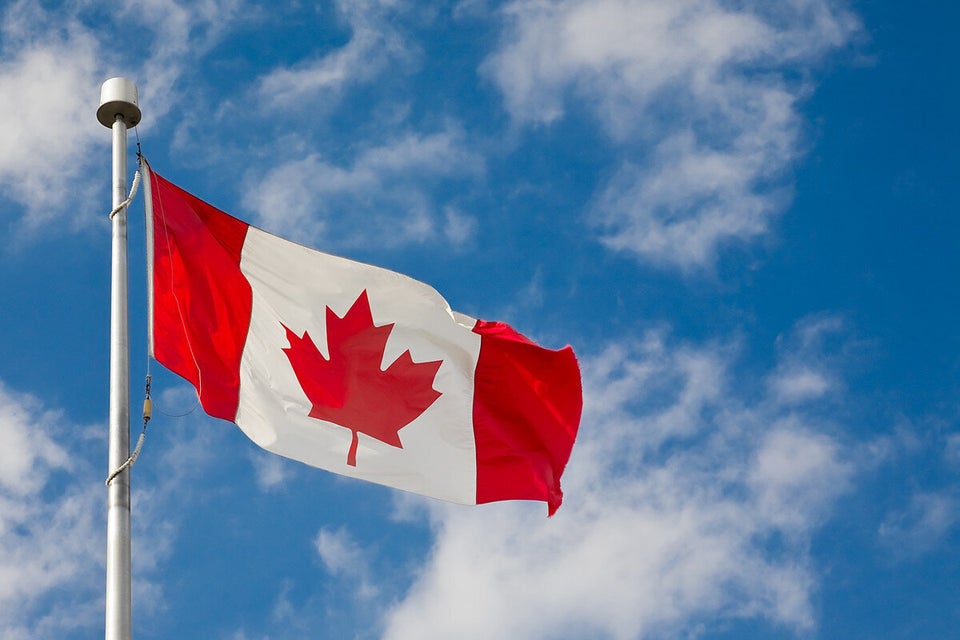 Consumer Debt Per Person (2014)