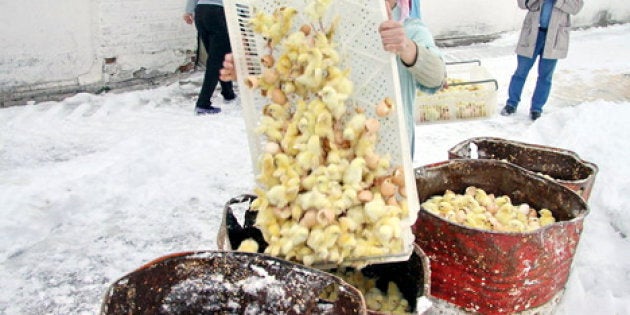 Aggie Days, an event that celebrates a sanitized and fictitious version of modern, industrialized agriculture. Animals are cute and cuddly. They have straw in their pens and room to roam. Baby chicks, cage free and with their beaks still intact, scurry around, enjoying their last bit of freedom. GM crop producers hand out flyers with pictures of butterflies and ladybugs. Fertilizer, herbicide and pesticide manufacturers hand out all type of promotional items to lure the students away from the stark and unpleasant reality of modern food production.
The promotional collateral co-opts the imagery of the small scale, old school, rural farm. The Calgary Stampede should change the name to Industrial, Factory Farming Aggie Days and use its own bleak images. A quick look at the exhibitors beefs up that latter suggestion, although that list has now been removed from the Aggie Days site.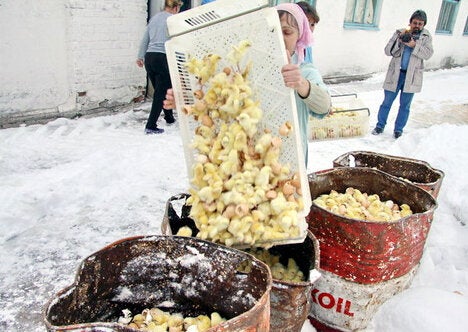 Encana is the anchor sponsor and BayerCropScience is a major sponsor, along with Agrium, et al. If you read Encana's Corporate Social Responsibility and Sustainability Policy, then someone has their wires crossed over at the new Bow Tower. As the major sponsor, Encana must accept a significant share of the blame for the deception of our children.
Enter the Calgary Board of Education. The CBE sends tens of thousands of our children every year. Children are sent home with propaganda from the event. Apparently Aggie Days is a full fledged partner of the CBE. I guess our children will be taught Creationist theory in science now as well.
It is critical for our children and students that learning is connected to a factual understanding of our world. Aggie Days are an inaccurate portrayal of the conditions on factory farms and battery caged operations within the Industrial Agricultural production system, yet the CBE persists (and insists) that our children be exposed to the deceit.
The Calgary Stampede Aggie Days has repeatedly denied local food and urban ag organizations the opportunity to participate in the event. The goal of making a food connection with students based on hands-on programming is deemed "too political".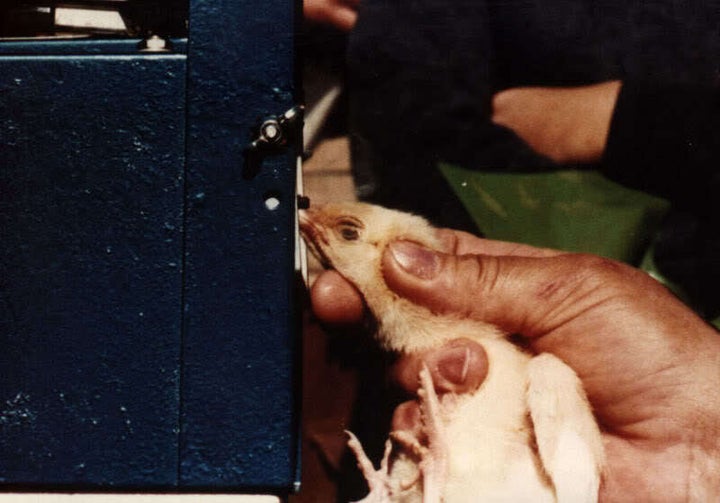 Modern agriculture is a mess. Arguably, industrialized beyond recognition, you will not find a single true example of a real world farm at Aggie Days. Profit is king. Return On Investment is the mantra of the modern producer. Producer organizations represent the farmer at Aggie Days and apparently it is no holds barred, with any and all forms of deception permitted in an effort to hoodwink students, children and the public.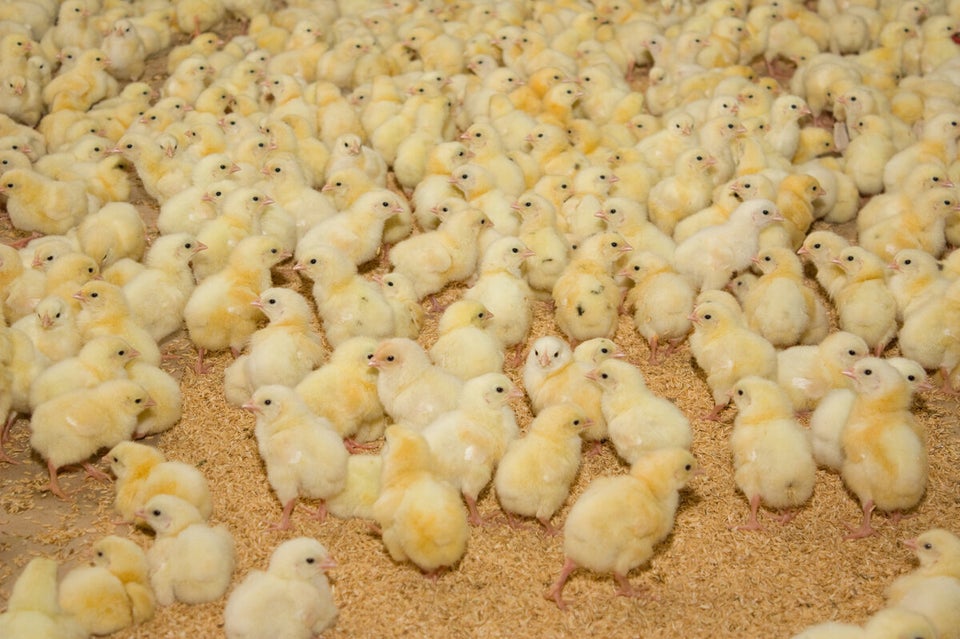 The Horrors Of Battery Caging
This is the 2012 exhibitors list. The 2013 list has been removed:
Alberta Barley Commission
Alberta Canola Producers Commission
Alberta Chicken Producers
Alberta Irrigation Projects Association
Alberta Pulse Growers Commission
Calgary & District Beekeepers Association
Calgary Stampede Heavy Horse Pull Committee & Draft Horse Town
Calgary Stampede Swine Committee
Calgary Stampede Queens' Alumni
Potato Growers of Alberta
Science Alberta Foundation
There's a Heifer in your Tank (University of Alberta)
University of Calgary Faculty of Verterinary Medicine
It's very unfortunate that 2013 marks the 5th year for the Calgary Stampede to deny local, sustainable, organic food organizations to participate. If this was Hockey Days, you'd bet Hockey Calgary would be there, promoting to children and students the many ways to become involved in the local system.
And that's the rub... Aggie Days is true to form on that one item. It does not want our children to become directly involved in food production. It simply wants them to be customers. And Encana, the Calgary Stampede, the producer shills and the Calgary Board of Education will do and say anything to keep it that way.