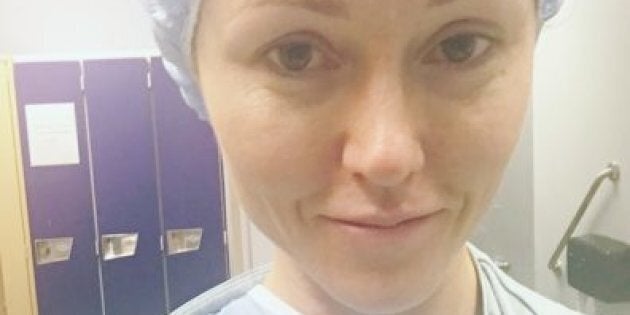 Struggling to have a baby is something I never imagined going through. As a Pilates instructor and wellness coach, being "healthy" has always been a huge part of my identity. I take my vitamins, exercise daily, eat an organic gluten and dairy-free diet, maintain a healthy weight and feel far younger than my 35 years. I coach women everyday on how to reach their health and fitness goals -- and have done so for over a decade. Basically, health and wellness is my thing.
Admitting that my husband and I can't reproduce on our own has been a crushing blow. I'm loathe to admit it, but in the past I'd be the first one to dish out the well-meaning advice: Eliminate inflammatory foods, eat more healthy fats, get regular acupuncture, always keep your feet warm, stop using bleached tampons, cut out caffeine and definitely try to relax (which any woman trying to conceive will tell you is the absolute worst thing to hear, ever).
We are in the middle of our first IVF cycle after three failed IUI cycles, one miscarriage and almost two years trying to conceive.
This journey has humbled me beyond anything. I never imagined I'd be posting a pre-surgery selfie in hospital scrubs looking like a scared animal about to go under general anesthesia for a procedure on my uterus.
The fact is, you cannot solve every fertility problem with a daily cocktail of Hawaiian spirulina, dandelion greens and inositol. Your dedicated meditation practice will not manifest you a baby. No matter how much acupuncture you do, or how pristine your paleo/gluten/dairy-free organic diet is, or how many naturopath recommended supplements you take – infertility still happens.
We are in the middle of our first IVF cycle after three failed IUI cycles, one miscarriage and almost two years trying to conceive. Being the patient instead of the health coach has been a new, often painful journey, but it has also taught me so much.
1) When in the past I might have immediately offered advice to "fix" the problem, I now understand the true gift of listening. No well meaning suggestions, no judgement. Just listen.
2) Everyone is fighting a battle you know nothing about.
3) Love is a lot like sacrifice, and never about blame.
4) Complaining usually has the opposite effect you're hoping it will have.
5) Gratitude is life's Prozac. The happiest, most resilient people find things to be grateful for, even when their world is falling apart.
Throughout this journey I have met others who have also walked this path -- some for as long as a decade. And they are still resilient and hopeful at one day growing their families. Their courage is what keeps me plunging forward into the abyss of uncertainty that is fertility treatments. Above all, I've come to see what a powerful community can form when we open up and share our most vulnerable moments with each other.
Yet shame around infertility still exists. Women often don't openly share their struggles precisely because of this outrageous notion that they've done something wrong to deserve it -- that they are somehow inadequate. Shame around this topic breeds silence, and silence is so, so isolating for the one in six couples experiencing infertility.
The fact is, women's bodies bear the double burden of invasive medical interventions and society's judgement when it comes to infertility, regardless of the cause. In fact, male factor infertility is the single most common cause of infertility. [1].
I'm sharing my story to let others know they are not alone. There is no more room for shame in this conversation of infertility.
[1]. Fritz MA, Speroff L. Clinical Gynecologic Endocrinology and Infertility. 8 ed. Philedelphia: Lippincott Williams & Wilkins; 2011.
Follow HuffPost Canada Blogs on Facebook