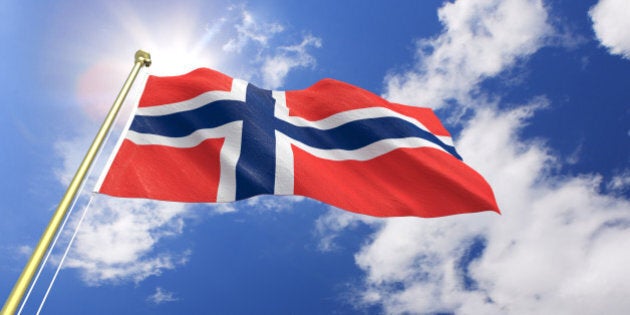 The ownership and the rights to develop and utilize resources, as well as access to markets, are all at the core of foreign policy for countries like Canada and Norway.
History shows how energy and foreign policy issues have been closely intertwined. There is little doubt that this relationship will continue to strengthen in line with increased instability in the international political system. I do not need to say more than Ukraine/Russia and the Middle East to underline this point.
Most academic writings on the topic of energy and foreign policy have centred on how geopolitical factors influence physical flows of oil and gas. Energy security, which plays such an important role in today's Europe, has been on the agenda for a long time.
Churchill de-facto nationalized the Anglo Persian Oil Company (Later BP) during WWI to ensure un-interrupted supply of oil to the British Navy
The oil embargo of the Western powers in 1973 that led to the creation of IEA
Reagan's failed attempts to block Soviet gas exports to Western Europe in the mid-1980s
Ukraine/Russian gas disputes in 2006, 2009, 2014.
According to Petter Nore (Chief Energy Analyst at the Norwegian Ministry of Foreign Affairs) energy security has recently been extended to analyze the stability (or lack thereof) of energy systems. Effects of natural disasters like hurricanes have often inspired such writings, he says. Many see these events, not surprisingly, in a climate context. Specific incidents like the nuclear accident in Fukushima, and the terrorist attacks in In Amenas, have contributed to widening the perspective of what constitutes "energy security".
Nobody knows what the future will hold. However, informed guesses are made. Oil companies like Statoil and Shell have formulated imaginative scenarios of a world where a deteriorating geopolitical situation has important, mostly negative, consequences for the global energy system. Will geopolitical issues have fundamental effects on long-term energy trends? Middle East production will keep its dominant position. Shale production will largely remain a North American phenomenon and not increase to more than approximately five per cent of world output. Oil prices can rise again. The speed of decarbonization of the international energy system will accelerate, but probably not enough to reach the two-degree scenario.
For Norway, energy diplomacy is higher than ever on the priority scale. This recognizes that to understand and act in a rapidly changing energy world, there is a need to understand how market and foreign policy factors interact.
Norway has, like Canada, a potentially important role in shaping the international energy agenda. Norway is the third-largest exporter of gas globally. We are also in the major league when it comes to oil exports (7th). We are the sixth largest producer of hydropower globally. Energy (both fossil and renewable) accounts, directly and indirectly, for around 70 per cent of Norwegian exports (2013). Norway has a large share of renewable energy (65 per cent) in the energy mix. (The share is around 65 per cent with the aim of reaching 67 per cent by 2020.) A little less than ten percent of the working population (250 000) depends for their employment on the oil and gas industry which constitutes around 20 per cent of GDP.
Area status of Norwegian continental shelf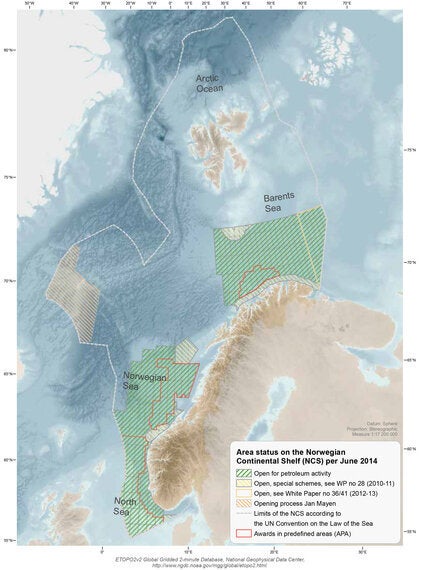 If the aim is to find out which oil price is necessary to balance the Norwegian state budget (Venezuela tops the list with USD 140\bbl), then the search will be in vain. The answer is zero. Norway's yearly spending of oil revenues is independent of annual oil income, and therefore of the oil price. On average, the annual spending shall correspond to a four percent rate of return earned by the State Pension Fund Global (see: The Norwegian Pension Fund -- A Success Story)
Petter Nore lists three (among many) examples of how geopolitical change and new energy landscapes interact and may have consequences for Norway's foreign policy position and energy interests.
U.S. shale production will increase dramatically the energy independence of the U.S., and thus also have a possible effect on U.S. foreign policy. What will happen to American alliance-building in the Middle East, and the country's general willingness to intervene internationally?
The emergence of the Islamic State has consequences for the oil market (Libya and Iraq) and must be understood in a regional and geopolitical setting. An understanding of the financing of IS must, among other factors, rest on an understanding of the oil sector in the Middle East. IS has access to both production and distribution lines of oil.
The Ukrainian/Russian conflict has put the energy security on top of the international political agenda. And here, Norway's role becomes interesting. Norway supplies oil, gas and electricity to the European market. Norway is, after Russia, the second largest supplier of gas to the European market. Norwegian hydropower is a perfect backup for intermittent power from solar PV and wind. Seven interconnecting cables to the continent from Norway either are in operation or are being built. One cable to the UK is in the final phase of planning.
Oil, condensate and gas pipelines on the Norwegian continental shelf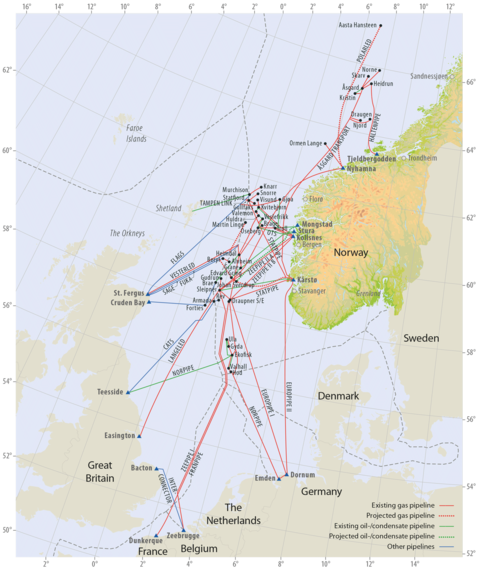 Norway's gas export to Europe was 107 bcm/yr in 2013. Possible production can reach 120 bcm\yr by 2020. According to the Petroleum Directorate only around 30 per cent of the gas resources on the Norwegian Continental Shelf have been produced. So, given the right conditions, our gas production and export to Europe can continue to grow. Our long-term commitment to this market does not only depend on Norwegian companies' actions. It also depends on European energy policies and in particular the long-term position of coal. Coal is an important competitor to gas in the power sector. Coal continues to have a strong position in the European energy mix. This is a paradox.
Norway provides direct energy related assistance to Ukraine, and has earmarked around NOK 300 mil for bilateral support to Ukraine in 2015. Around NOK 80 mil will go the energy sector, particularly to programmes aimed at increasing energy efficiency, policy reform, and nuclear safety.
Energy plays a steadily increasing role in the global development agenda. IEA has recently stated that sustainable African development would not take place without access to adequate and sustainable energy.
Sixty per cent of greenhouse gas emissions are related to energy. Climate change will not only bring rising temperatures and unstable weather, it will also bring fundamental changes in geopolitical positions between countries and regions. An interesting new link is emerging between security issues and climate change -- this has led a number of countries also to view climate change through a security policy perspective.
Energy exporting countries like Canada and Norway are conscious that energy and foreign policy issues are closely interrelated. The fight against energy poverty must be shared by countries like ours, at the same time as climate issues unite us -- and challenge the paradoxes of our economies.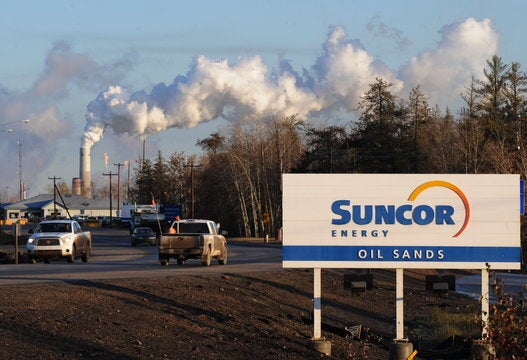 Alberta's Biggest Oil And Gas Companies