Nov. 28 might be a regular day for Canadians, but south of the border it's Thanksgiving.
And like the Canadian Turkey Day, it's a holiday about giving thanks, spending time with friends and family, and eating lots of tasty food. It's also a hectic time for travel, and one of the busiest days of the year for anyone planning to fly.
As one can only imagine, flight delays are bound to happen. And when they do, you have two options: You can take them on the chin, or you can do what Elan Gale did, and wage war on a fellow passenger in what may be the greatest example of passive aggressive note passing ever documented on Twitter.
But first, some context. According to Gale's Twitter account, the producer on ABC's "The Bachelor" and "The Bachelorette" was about to fly from New York to Los Angeles when his US Airways flight was delayed. He started tweeting the fallout after noticing a distraught passenger arguing with airline staff.
What follows next is an example of how not to respond to a grumpy flyer. It should also be noted that to the best of anyone's knowledge, Gale's seatmate did not have Twitter. As such, here's his account of the incident.
According Gale, airline staff tried to be understanding but it didn't do much to calm the frustrated passenger's fury.
Eventually, their flight took off. But the passenger was still not happy about it, according to Gale.
Nearly an hour and a half into the flight, Gale decided to offer his fellow a passenger a glass to wine to shut her up.
By this point, even the flight attendants were aware of the unhappy passenger in seat 7A.
And then things got interesting.
Gale's fellow passenger wasn't very impressed by his account.
And that's when Gale's fellow passenger/arch rival decided to introduce herself as "Diane."
Things probably won't be resolved peacefully any time soon.
But while it looks like Gale didn't have the internet's full support, he decided to carry forward with his plan anyways.
It was not very well received, according to Gale.
By now, there was less than 15 minutes before the plane would touch down.
But "Diane" had something to give Gale as well.
Here's the play-by-play according to Gale.
But Gale says he wasn't interested in pressing charges.
American Thanksgiving may be a holiday that Canadians don't celebrate, but let us all be thankful on this day for in-flight Wi-Fi and the entertaining magic of Twitter.
What do you think? Did Gale go too far? Was "Diane" justified in her actions? Let us know in the comments below.
You can see the rest of Gale's note by visiting his feed @theyearofelan.
Like this article? Follow us on Twitter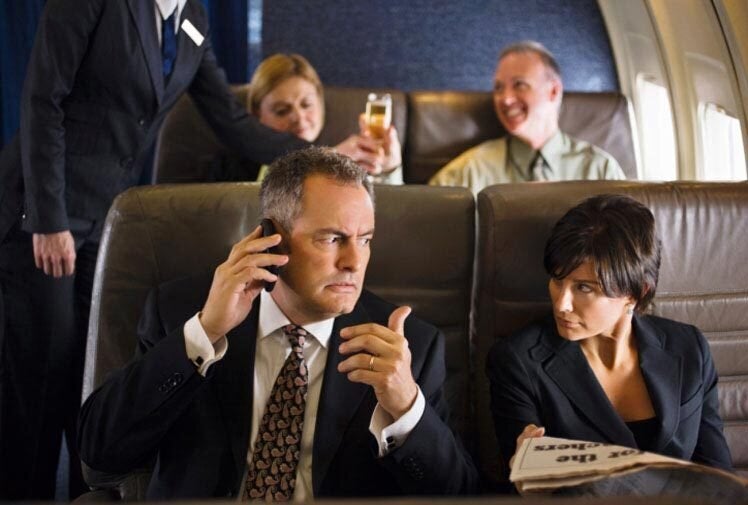 Worst Airline Passengers