We all have career dilemmas: to stay or go, to work with a corporation or a startup, to go freelance or full-time. The questions go on.
Toronto agency director Erin Bury, knows this feeling well--she has contemplated and answered all three of those questions and she's just over 30.
At 23, Bury was working with a North American public relations firm for a year, when she was asked to join a startup, then known as RedWire. While at RedWire, she quickly became an influential voice for startups in Toronto, and since 2008 has diversified her roles to include tech editor, and freelance writer to director, tech commentator, and columnist.
Bury is now managing director of 88 Creative, a communications agency in Toronto, and a speaker with the National Speakers Bureau. She recently shared her career influences and how to be true to yourself when stress and doubts get high:
Tell me about running a business.
Running a business is the best mix of stress, panic, and multitasking. Unlike other roles where you might be focused on one singular function like marketing or finance, running a business means you have to have your hands in every pie: you're managing a team of people, managing projects and in our case clients, making sure the new business pipeline is full and closing sales, marketing the company and growing your public profile, managing the finances so everyone gets paid and profits are healthy, and trying to maintain a great company culture.
The best small business owners and entrepreneurs don't take all of that stress on alone: they delegate to great people with complementary skill sets, and have a core senior team to help share the stress of meeting everyone's expectations (clients, employees, and stakeholders).
I love the challenge of building a business, and much prefer it to being part of a larger organization where you have less autonomy, and there's less creative thinking.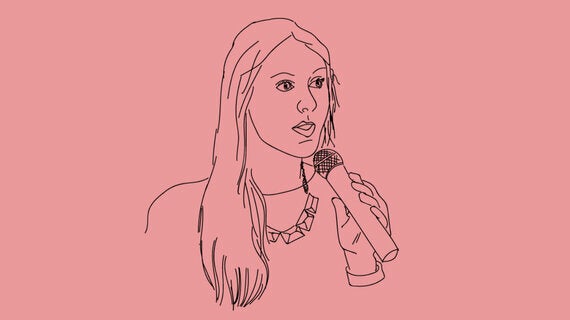 Photo credit: Kavi Guppta
What were some of your early influences?
My earliest (and biggest) influence was my mom, Shelley, who spent over 20 years in marketing at Nortel. She was (and is) extremely smart, business-savvy, and she's lovely but tough when it comes to fighting for her place in the business world. She taught me the importance of working hard; the value of working with a creative, invigorating team; and she opened my eyes to how rewarding a career in marketing could be. Another big influence in my life is Sarah Prevette, my former boss and a powerful female entrepreneur. She introduced me to the world of technology startups, and I haven't looked back since.
How do you keep your ego in check?
There's not a lot of ego in tech startups -- thankfully everyone is really kind, modest, and not obsessed with image or appearance. I would say that my ego takes a hit when people criticize my company or the work we've done, but I try to remember something venture capitalist Dave McClure said in a presentation: you can't iterate around indifference. It's better that someone hates your work than they don't react at all, since at least they're voicing an opinion and you have an opportunity to address it. We found this with our Agency or Porn campaign last summer -- people either loved it or they didn't, and I really didn't take offence at the people who didn't. If you don't get at least one negative reaction you're probably not pushing the creative boundaries.
What leadership lessons have you learned?
I'm still learning how to improve as a leader, but the first lesson I learned was from Chandler and Phoebe on Friends: you can't be friends with the boss (or Boss Man Bing, as Chandler was known around the office). You should get along with your team, you should enjoy spending time with them, but they're not your buddies. Having high expectations and giving firm, constructive criticism is as important as being fun. And I wouldn't say this is a lesson, but a value: treat your team with kindness, and care about their lives and their well-being. Treating your team members like a number is a surefire way to see your retention rate slide.
What else do you want people to know?
I think a lot of people have imposter syndrome -- they don't feel they deserve to be starting a company, running a business, growing a startup, or in a senior position at a company. I want people to know that everyone has self-doubt, and everyone questions their abilities.
My approach has always been to learn as much as I can, remember that no one else has any more right to be doing what I am, and surround myself with a team of people who complement my skill set.
I'm fascinated by creative women -- their passions, challenges, and contributions to society. If you know a creative woman to feature, please tweet @kmarano.
Follow HuffPost Canada Blogs on Facebook