Ontario MP and Tory leadership contender Erin O'Toole wants to vent. He's frustrated about a Liberal motion calling, in part, for the House of Commons to condemn Islamophobia and all forms of systemic racism and religious discrimination.
O'Toole wanted to support the motion, M-103, and reached out to its sponsor, Mississauga Liberal MP Iqra Khalid, hoping she would amend the language to make it more saleable to Tories.
Unlike some of his colleagues, he isn't concerned that it includes the word "Islamophobia." One faith group can't tell another what is or is not discrimination, he says as he sits down for lunch at Ottawa's South Block Whiskey Bar. "It would be like [a Christian] saying to Jews, 'you can't describe discrimination against you as anti-Semitism.'" O'Toole hoped, however, that a reference to petition e-411 could be scrapped because, he says, it was leading some people to believe the motion is an attempt to squash all criticism of Islam.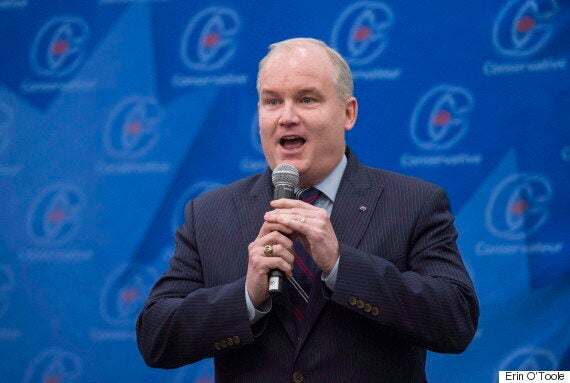 When O'Toole met with Khalid, she seemed open to his suggestion and said she'd talk to the Prime Minister's Office, he says. (Khalid didn't respond to a request to verify O'Toole's version of events). But then, O'Toole learned through a tweet by Katie Telford, Prime Minister Justin Trudeau's chief of staff, that no changes would be accepted.
If the Tories weren't prepared to support M-103, that suited the Liberals just fine.
O'Toole blames the media for not doing a good enough job telling people the motion would not curtail their rights to free speech. The Conservatives, he adds, allowed Ezra Levant to define the issue. Levant and his ultra-right-wing blog, The Rebel, promoted hysteria against M-103 by claiming it is the Grits' "first step towards outlawing criticism of Islam."
"That is my biggest frustration," O'Toole says, after ordering Diet Pepsi. (His first choice, Coca-Cola Zero, was not available.)
"What frustrates me is [Trudeau's principal secretary Gerald] Butts is playing chess and our team is playing checkers. If I win, there will be a wholesale change. Put it that way."
O'Toole is probably best known as the veterans affairs minister appointed by former prime minister Stephen Harper to ease tensions that the previous minister, Julian Fantino, had created.
Fantino watched over the department as it shuttered regional offices and was blasted for failing to provide mental health services. He showed little compassion towards a group of veterans on Parliament Hill and ignored a veteran's wife as she pursued him down a hallway while television cameras captured the incident.
O'Toole, in contrast, was approachable, engaged and helped defuse an issue that might have become an even greater Tory vulnerability during the 2015 election campaign.
O'Toole acknowledges that he lacks the flash — or as he calls it the "razzmatazz" — of other candidates in the Tory race who have attracted most of the attention so far.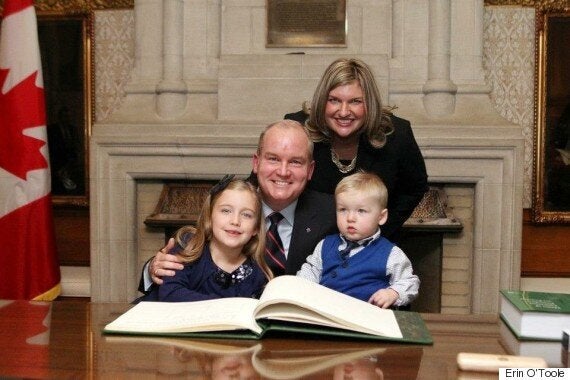 "I like to remind people in our party at least that I don't think the term flashy would have been applied to Stephen Harper either — and we had some very good, competent Conservative government in those 10 years."
O'Toole thinks he best represents what most Canadians are looking for. He's a small town boy, from a middle-class upbringing, who was brought up to believe in community service.
He was born in Montreal on Jan. 22, 1973. His father, John, worked at a General Motor's assembly plant in Sainte-Thérèse.
When his son was one year old, O'Toole's father was transferred to Oshawa. His parents moved to Bowmanville, Ont., where O'Toole spent most of his childhood. When he was nine, his mother died of breast cancer.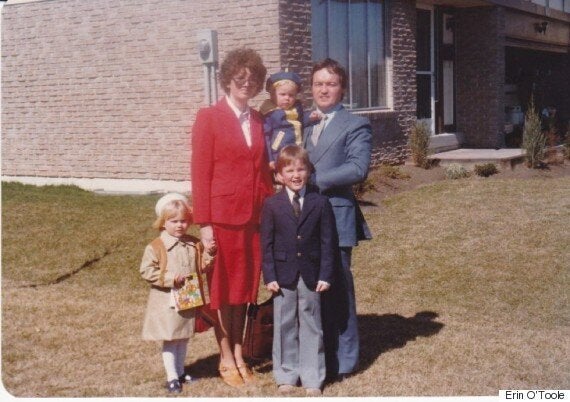 "My most formative memories of my mother Mollie are in her palliative stage of that disease," O'Toole said last year during a debate on medically assisted death. Despite watching his mother in pain and believing she was "likely fearful of the days ahead," O'Toole said he opposed physician-assisted dying and believed it would be a slippery slope to acceptance of euthanasia.
The eldest of five kids, O'Toole says he grew up in a family where they were taught to get involved. His father served as a school trustee during his childhood and would go on to be a municipal councillor and a longtime member of the Ontario provincial parliament, representing the same riding O'Toole does federally, from 1995 to 2014.
Straight out of high school, O'Toole joined the Canadian Forces — something he did, he says, because he considered it "the highest form of public service."
But he also loved the idea of pushing himself mentally and physically. And, as he told The Ottawa Citizen, he believed it would give him the "discipline to do well in life.
"… My dad thought I was crazy."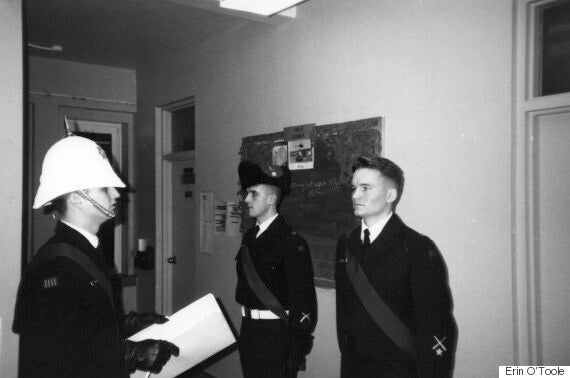 O'Toole earned a bachelor of arts degree in history and political science at the Royal Military College in Kingston. After graduation, he worked at the Rescue Co-ordination Centre in nearby Trenton while he waited to earn his wings. In Winnipeg, he learned to be an air navigator, and in 1997 was sent to Shearwater, N.S., where he worked on Sea King helicopters engaging in search and rescue missions and submarine hunting exercises for the navy.
On one of his last missions, O'Toole says, he went down the hoist to save a fisherman who had suffered a heart attack at sea. A video on his website references the dramatic tale.
"My team put that in the video. I don't usually talk about this stuff but they said you need to do it."
In 2000, after his commitment to the regular forces ended, O'Toole transferred to the reserves and worked as a training officer running flight simulators.
He wanted to be a lawyer. "From watching 'Matlock' and all those shows, 'L.A. Law.'" A legal career within the military never excited him, however. "'JAG' is much more fun on TV than the real JAGs."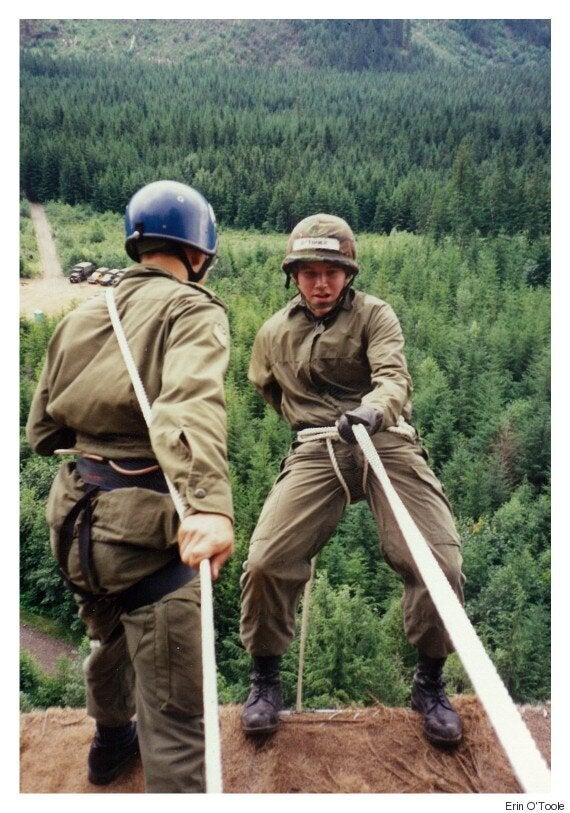 That same year, O'Toole married girlfriend and Nova Scotia native Rebecca Grant. The two had met through mutual friends two years before at a Halifax Mooseheads hockey game. "A quintessential Canadian story," he says with a laugh.
Shortly after he graduated from Dalhousie University, the couple moved to Toronto. They wanted to get out of debt and embrace bigger opportunities. Rebecca was pursuing a career in corporate public affairs and event planning, and O'Toole had several Bay Street offers.
While he articled, they lived in Toronto's Beaches neighbourhood. After O'Toole got a job as an in-house lawyer for Procter & Gamble, they moved to Durham — his home community — to raise their family. He wanted to live in the suburbs, near good schools and the hockey rink. His daughter, Mollie, who is named after his late mother, was born in 2006. His son, Jack, in 2011.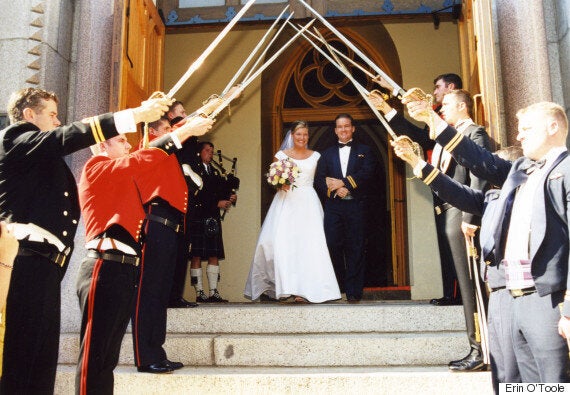 He left P&G, a job he loved (he was the global lawyer for Cover Girl cosmetics for a time) after the company offered him a promotion at its global headquarters in Ohio. He declined, in part, because of his wife's job — "her career is as important as my career" — and after that, he felt he couldn't remain with the company. He joined Heenan Blaikie, a major law firm.
Now out of the reserves, O'Toole volunteered with the Churchill Society for the Advancement of Parliamentary Democracy, a nonpartisan group that honours politicians. By then, he was involved with the Conservative party, having been bitten by the political bug during his father's provincial run.
In 2009, he helped found True Patriot Love, a large foundation that supports military families. The idea emerged out of a luncheon — a series he organized between members of the business community and the military — with Gen. Rick Hillier, then the chief of the defence staff. The project started as a dinner and snowballed into a large charity that could tap bigger donors and fund different projects.
"The first year just blew the lid off of it," O'Toole recalls. All the party leaders came, including the prime minister. His focus on the board was mental health. "I'm a believer in getting shit done."
$16 glass of orange juice changed everything
Then in 2012, a $16 glass of orange juice expedited his political plans.
Since his father's election, O'Toole had also wanted to run and represent his hometown. Every Christmas when he'd be home from the military, he says, his father would be greeted at the door by constituents in tears, with wine or cookies, thanking him for helping them.
Although he takes great pride in constituency work, he really wanted to be minister of national defence so he could "fix" the department. He hated how "politicized" national defence decisions were and was particularly livid at former Liberal prime minister Jean Chrétien's decision to cancel the Sea King replacements.
"I grew up in the decade of darkness. So I always had a bee in my bonnet about defence issues."
That summer, Bev Oda, the local Tory MP and beleaguered minister of international development, quit politics before being dumped from cabinet.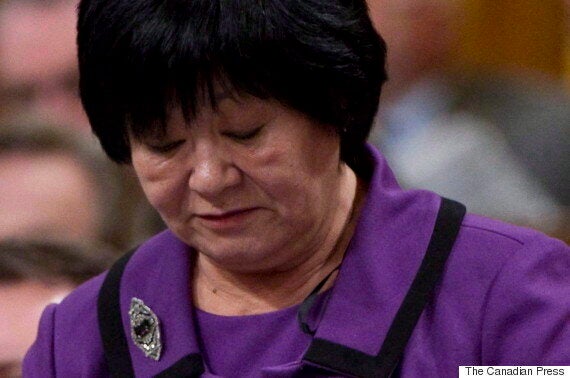 "She resigned and my phone literally went crazy, because even people at the PMO knew that Erin O'Toole was always going to run," he says.
O'Toole is close friends with Jenni Byrne, Harper's last campaign manager and former deputy chief of staff. They met through party politics, and Byrne dated O'Toole's best man for a time. During the byelection, Byrne was dispatched to Durham. She slept in his daughter's bed and became an even closer family friend.
While the two are quite different, O'Toole says he doesn't throw his friends under the bus and believes Byrne was badly treated during the last election. Competing leadership campaigns suggest Byrne is masterminding O'Toole's leadership bid. He denies she's involved. And Byrne, vacationing in Honduras, says she's not involved either.
After the 2015 election, O'Toole's phone rang again with supporters urging him to run for the leadership of the party. He didn't think he had the profile to mount a successful bid, and believed Jason Kenney and Peter MacKay, two big-profile cabinet ministers, would gun for the position.
So O'Toole decided to set his sights on the interim leadership — a job that ultimately went to Rona Ambrose after several rounds of secret balloting.
"I thought it will grow my profile and, more importantly, … reorient the party on my footing and my style," O'Toole explains. He wanted to make the Conservatives "a little bit more modern on a few issues" and figured it would be more difficult for a new leader to shift it in a drastically different direction if he did his job well.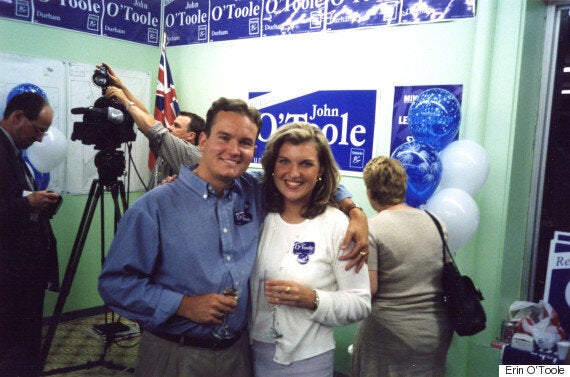 O'Toole's unsuccessful attempt at the interim leadership made him think more seriously about a bid for the permanent job. Sometimes you run the first time to set yourself up for the second time, he was told. Then late in the summer, he spoke with MacKay, who said he was less than likely to join the contest and urged O'Toole to throw his hat in the ring.
"Life just throws you curve balls, and you've got to go with it."
His reasons for running were still there.
He wants a friendlier, more approachable Conservative party, one that welcomes immigrants, that communicates more openly with the media, and is less socially conservative.
In 2013, for example, he was one of only 18 MPs (including fellow contenders Lisa Raitt, Michael Chong, Chris Alexander, Kellie Leitch and Deepak Obhrai), to first support a bill protecting transgendered individuals from discrimination. He remembers the gasps in his party's benches when he stood up to vote.
Story continues after slideshow: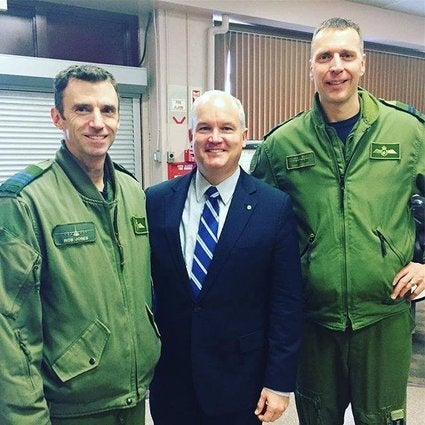 Erin O'Toole Through The Years
If elected leader, O'Toole says, he would allow debate on social issues, as long as they were advanced respectfully.
"I'm not going to put on my government's agenda anything on abortion or things like that, but if [social conservatives] want to have a private member's motion or something on a matter of faith, I respect that.
"...If we show we can [debate] respectfully, we can turn this around on Justin Trudeau, because he talks a lot about diversity but he doesn't accept diversity on different views on social issues."
Under his leadership, O'Toole says, the party will "respect" Charter rights.
During the last election, O'Toole says he met with Canadians across the country who liked what the Tories were doing as a government but not how they were doing it.
"We were portrayed as mean-spirited."
While he thinks the characterization is unfair, he believes the Tories didn't counter the narrative early enough.
"The war on science, the war on veterans, omnibus bills, these little things that had nuggets of truths — like we did do omnibus bills, and it allowed us to be portrayed as stifling debate," he said. "If we could have gotten our agenda done with a little bit more debate and no omnibus bills, why didn't we do that?"
"Style can kill you," O'Toole argues. "If we chase issues down rabbit holes, we lose. And that's why I want to step into the leadership role."
The waiter interrupts to asks for thoughts on lunch.
"I'm going to get the chicken Caesar please," O'Toole orders.
O'Toole wants to talk about the race, specifically how he is the only candidate who has been asking questions in Parliament about the screening of refugees. His questions didn't attract headlines, he says, because he did so "respectfully."
"One big difference between Stephen Harper and myself is: I'm much more comfortable with the media in trying to get our message out."
As public safety critic, O'Toole says he didn't press the Liberals to abide by their artificial deadlines for acceptance of 25,000 Syrian refugees because he wanted to ensure screening could take place.
Canadians don't want parties to play politics on matters like security, he says.
He describes himself as "light," "serious," and "thoughtful."
"One big difference between Stephen Harper and myself is: I'm much more comfortable with the media in trying to get our message out," he says. "Too often, we didn't engage."
"Blue Skies means we are optimistic," he says in the podcast's first episode.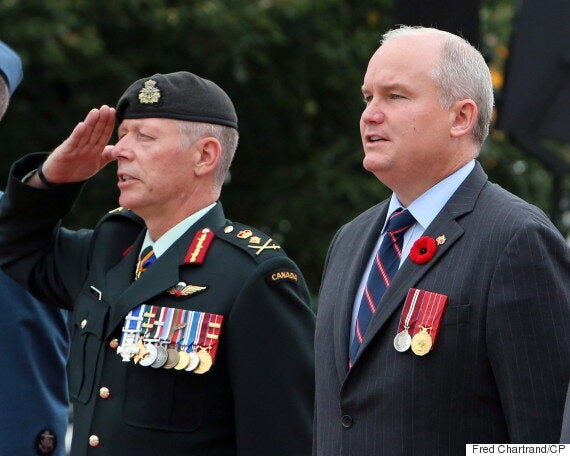 O'Toole doesn't like how the Liberals painted themselves in the last election as the only party optimistic about the country's future.
"Conservatives are roll-up-your-sleeve optimists," he says. "Rotary clubs, Lions clubs, legions, local volunteer groups that raise money for the hospitals, all those folks are Conservative, and they want to belong to a party that is also positive, optimistic," he says.
O'Toole will soon release what he calls his counter narrative to Trudeau's sunny ways. While the prime minister makes reference to a famous speech by Wilfrid Laurier, O'Toole will be harking back to Sir. John A Macdonald's days for a slogan, his "great country philosophy."
It's a reference to a famous Macdonald quote: "Whatever you do, adhere to the union. We are a great country, and shall become one of the greatest in the universe if we preserve it; we shall sink into insignificance and adversity if we suffer it to be broken."
The salad is delivered. "Thank you very much," O'Toole tells the waiter. He takes a lemon wedge and squeezes its juice on the large bowl of romaine lettuce covered in creamy dressing, croutons, bacon pieces, and roasted chicken breast.
Conservatives are equally interested with ending homelessness, helping the less fortunate, including those struggling with addiction and mental illness, he says, although he acknowledges that isn't getting much attention in this leadership race. The party risks being tarred with a certain brush and coming out of the contest looking worse than it did before it, he offers, as he takes a bite.
"I do think some people have tried to chase issues — like rabbit hole issues — to get attention," he says referring to Leitch's call for screening all newcomers for so-called Canadian values.
But he thinks most party members aren't interested in polarizing debate.
The leadership race is difficult to gauge, because the Conservatives will use a mail-in preferential ballot with 14 candidates, combined with a weighted 100-point system for each riding. That means constituencies with 10 Conservative members carry the same weight as ridings with 4,000 members.
Unprompted, O'Toole goes down the list of candidates and offers his assessment of his competitors' chances.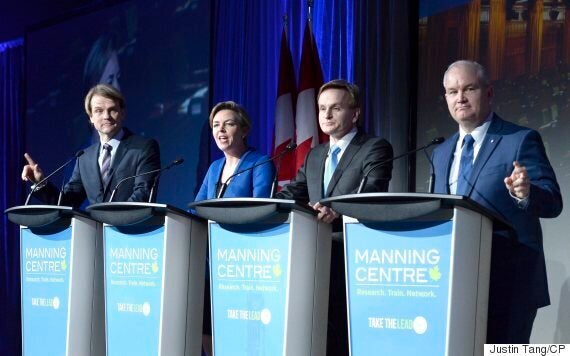 He thinks Leitch has "zero growth potential" and believes she is unfairly suggesting newcomers aren't screened. Immigration is "a strength for our country when it is done well — and it is generally done very well," O'Toole says.
Despite their differences, he says, he is ready to serve in a Leitch cabinet.
"Kellie is a friend, and if she asked me I would."
O'Toole claims he is the only candidate who can win the next election.
"Now, a lot of people say that. Michael Chong says that the Liberals only fear him. He can say that, he is running almost on a Liberal platform, [but] people already have the Liberals to vote for."
When Rick Mercer says hello
Suddenly, comedian Rick Mercer appears at the table. He looks like he's just emerged from the nearby washroom.
"Oh hello, Rick, nice to see you! How are things?" O'Toole says.
"Hi there, sorry I won't interrupt. I was walking by and checking what everyone was eating, and I was like 'Oh, that guy is having a Caesar, and then I looked over and thought, he must be running for leader!'" Mercer says with a smile. O'Toole laughs.
After Mercer's quick hello, O'Toole leans in. "I don't know him that well, we have a lot of mutual friends." He notes that both "This Hour Has 22 Minutes" and Mercer have done segments with a few of the other leadership candidates, and he so far has avoided that.
"I wouldn't mind doing it as long as I could control it," he says.
O'Toole guesstimates there will be 150,000 Conservative party members voting in the May contest. Twenty per cent are social conservative. Fifteen to 20 per cent espouse libertarian views. The vast majority of the party see themselves as economic fiscal conservatives, he says, and because he believes the race will be decided on several ballots, the winner will need to have respect from other parts of the Conservative coalition. "Second-place votes will really decide this."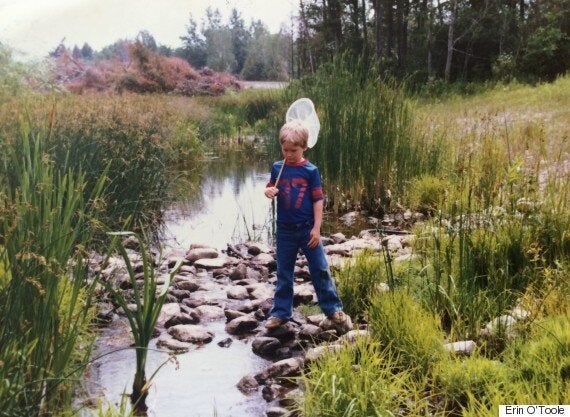 O'Toole suggests he isn't certain why former MP and immigration minister Chris Alexander is running. He doesn't mention Lisa Raitt or Andrew Scheer, other candidates who could be seen as middle of the road. He skips Brad Trost and Pierre Lemieux, the two ardent social conservatives on the ballot.
He also makes no mention of B.C. candidates Rick Peterson and Andrew Saxton, or Quebec MPs Steven Blaney and Maxime Bernier — the latter one of the strongest challengers.
He does reserve a few jabs for Kevin O'Leary, however. He candidly admits he lost key supporters to the TV personality from "Dragons' Den" and "Shark Tank," but he believes the businessman's past positions will infuriate Conservatives.
"The Liberals are going to have a thousand hours of tape of him."
He thinks it was disrespectful for O'Leary to miss the French debate in Quebec City. O'Leary has since announced he will also miss the bilingual Edmonton debate, stating that he doesn't like the agreed-upon format.
O'Toole is working heavily on his French, which he speaks with some ease. He learned the language in Kingston at RMC as recruits needed to be functionally bilingual to graduate.
Like Harper, O'Toole promises to improve over time. If he wins, he plans to take his family to Quebec on a summer tour to immerse himself in French and show that he respects the language and the culture.
He thinks people will warm to him. Trudeau's private island holidays and feel-good celebrity photo shoots are already wearing thin with Canadians, he says. In the next election, the prime minister will have to defend his record — one that, O'Toole suggests, is indefensible.
"His economic record is a disaster — not just a small disaster, epic disaster," O'Toole says, emphatically. "I think most people in the lower mainland of B.C., in the 905 did not vote for this economic train wreck."
Canadians are going to want to choose a party that can manage the economy, and what they need, O'Toole believes, is a leader who has their interests at heart.
"And that's me," he says.
O'Toole takes several jabs at Trudeau's image, suggesting he is an out-of-touch elite, consumed with optics. One of his Twitter posts showcases the contrast he hopes to present voters in 2019.
O'Toole's game plan is focused on visiting as many ridings as he can. He's doing tele-town halls. Every week, he wants grow the "mission," as he calls his campaign. So far, he has the backing of 19 MPs, second only to Scheer who has 24.
He has also released a fair bit of policy.
On foreign affairs, he wants Canada to stop funding the United Nations Relief and Works Agency (UNRWA) working with Palestinian refugees.
"UNRWA shouldn't exist," he says, it's been "empire building for certain interests." He believes the organization undermines efforts for peace in the Middle East and he wants the UNHCR, the UN's Refugee Agency, to take over the job on the Palestinian side.
His Middle East policy also states that illegal Israeli settlements are not a roadblock to peace, and he suggests an exchange program be established between the Canadian Armed Forces and Israel Defence Forces.
While he doesn't promise to abandon — or continue — Canada's current campaign for a Security Council seat, O'Toole says he would withhold 10 per cent of Canada's contributions to the United Nations as a symbol of protest in order to encourage the international organization to reform itself. The cash would still be spent overseas, by donating instead to World Vision, a Christian organization working in developing areas, and Médecins Sans Frontières (Doctors without Borders). An O'Toole government would encourage other nations to do the same.
On health care, O'Toole wants more private clinics in diagnostics.
"If it allows more Canadians to have access, how is that a bad thing?" There are already a lot of private operators in the healthcare field, he notes.
During debates, O'Toole frequently mentions his "kickstart" program, a plan to give young graduates an extra $100,000 in basic personal exemptions on taxes during their first three years out of school. Those with skills in short supply would get a $200,000 exemption over five years. O'Toole says his plan will help address brain drain, close the skills gap, and make the Canadian economy more competitive.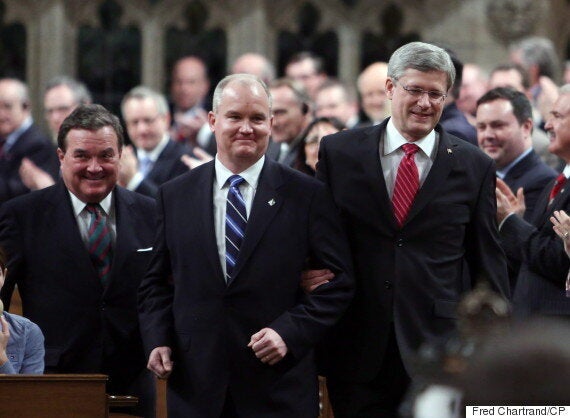 While O'Toole released policy on easing firearm bureaucracy, refocusing the immigration system on economic needs, increasing defence spending, and helping veterans take control of their benefits, he has no policy so far on the environment.
He proposes legislation that would fast-track environmental review and consultations for all pipeline projects that either go to foreign markets or deliver a resource to a refining or upgrading facility in Canada. He also proposes to scrap the ban on drilling in the North — unless northerners choose to keep it.
One can't help but notice that O'Toole's platform is carefully crafted to build a coalition of regional and ethnic interests. He even mentions continued support for the Halifax security forum — a big conference with large economic returns for the city.
Over coffee, O'Toole elaborates on his seemingly feminine first name.
"It means Ireland in Gaelic."
Some confusion over his name
His father named him Erin in homage to the family's Irish roots — at the time, O'Toole says it was name given to boys and girls. But the popular television show "Happy Days" changed that, he says.
Joanie Cunningham's character on the show, which ran for 10 years until 1984, was played by actress Erin Moran, and in the 1980s Erin became almost exclusively a name for women.
When he was working as lawyer, O'Toole says he used Erin Michael O'Toole. "Oh, by the way, I'm a dude." And there have been the odd time when he meets a grandmother who gets his emails: "Oh, we thought you were a woman!" he says in an old lady voice, laughing.
It does create a lot of confusion with people, he says. But it never really bothered him. In high school, if someone wanted to pick on him, his last name 'O'Toole' was just teed-up for that: "What a tool, he lives up to his name," he says, quoting his Internet trolls.
"If I become prime minister, I'll swing it back. People will say, this is open to boys and girls."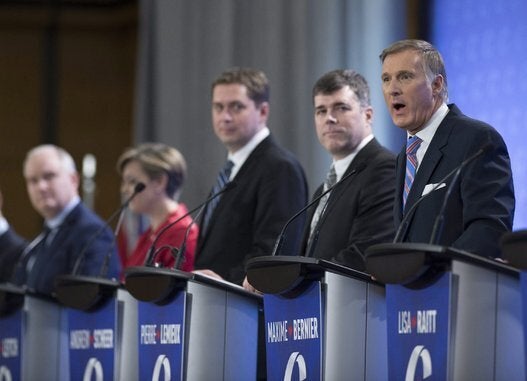 Conservative Leadership Candidates