A Liberal MP who flew CF-18 fighter jets is taking exception to a Conservative leadership hopeful's "Top Gun"-inspired promotion of himself.
"Mind explaining your role as a fighter pilot or even a pilot for that matter?" Fuhr asked O'Toole, noting the Tory MP enjoys "slagging" Defence Minister Harjit Sajjan.
O'Toole served in the military for 12 years and reached the rank of captain in the RCAF. After being posted to Shearwater, N.S. in 1997, O'Toole served as an air navigator on Sea King helicopters and participated in search and rescue missions and anti-submarine surveillance. A video on his website recounts how he helped rescue an injured fisherman.
When asked about his tweet Tuesday, Fuhr noted how interim Tory Leader Rona Ambrose slammed Sajjan in question period hours earlier for "vastly exaggerating his role" in the operation.
"Given Ambrose's comments in the House today I'll leave it to you to decide if O'Toole is 'exaggerating' his role in the military… have a look at his Twitter account," Fuhr said in an email to HuffPost Canada. "His tweets speak for themselves, as does mine."
Melanie Paradis, a spokesperson for O'Toole's campaign, told HuffPost in an email that O'Toole was having some fun and "has never claimed to be a fighter pilot."
Paradis accused Fuhr of a "sad attempt to deflect attention" from the serious questions now being asked of Sajjan and retaliating for O'Toole calling on the minister to step down.
"All they can do is point to a cheeky meme inspired by Top Gun as a criticism of Mr. O'Toole instead of focusing on matters of pertinence to our nation like meeting our NATO commitments or ensuring our men and women have the equipment they need."
O'Toole's service has been a key theme in his campaign, which invites its supporters to "join the mission." Former MP Pierre Lemieux is the only other Tory leadership hopeful with military experience.
And O'Toole seems to really enjoy the iconic 1986 movie about macho, ultra-competitive flyboys. He shared a 'Top Gun' GIF Monday celebrating the endorsement of new Calgary Heritage MP Bob Benzen.
Last week, he marked the final 30-day push in the campaign with a graphic boasting about 30 MPs backing him.
One of those MPs, John Brassard, rose in question period Monday to highlight #SajjanBattles, and how the minister was being mocked "relentlessly" for "his personal involvement in everything from the War of 1812 right up to the destruction of the Death Star."
Sajjan responded that he had acknowledged his mistake and will be learning from it.
"I in no way intended to diminish the great work of our Canadian Armed Forces members who served during that time," he said.
According to the Library of Parliament website, 17 MPs in the current Parliament have served in the military, including Fuhr, Sajjan, and O'Toole. Twelve of the MPs with military experience are Liberals, three are Conservatives, one is a member of the Bloc Quebecois and one is a New Democrat.
CORRECTION: An earlier version of this story stated Erin O'Toole was the only Tory leadership candidate with military experience. Pierre Lemieux also served in the Canadian Armed Forces.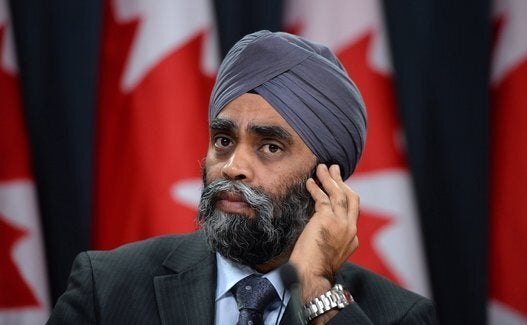 Current MPs With Military Experience (2016)