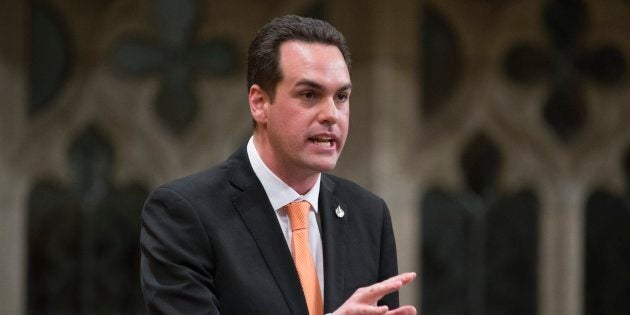 Saskatchewan NDP MP Erin Weir has been temporarily suspended from his duties pending an investigation into harassment allegations, NDP Leader Jagmeet Singh announced Thursday.
At a press conference on Parliament Hill, Singh said the party will appoint an independent investigator to conduct a "fair and full examination" of the accusations, which include harassing behaviour towards the party's female staff.
"While that process is ongoing, Mr. Weir's duties as NDP MP will be temporarily suspended. Once the work of the investigator has completed, the MP's role in caucus will be re-evaluated," Singh said.
Weir will remain a member of caucus but he will no longer attend committee meetings on behalf of the NDP, speak publicly for the party, or rise in question period.
Singh said he had become aware of the allegations 36 hours ago when an unnamed NDP MP — later revealed to be Quebec MP Christine Moore — emailed the party's caucus.
"The concern is serious enough for me to take actions, and that's why I am taking action at this point," Singh said.
Watch Singh's press conference below:
NDP Leader Jagmeet Singh responds to allegations regarding a Member of Parliament

Posted by HuffPost Canada on Thursday, February 1, 2018
The allegations are "vague," Weir's office told HuffPost Canada and Singh acknowledged that "no survivor" had come forward.
Moore reportedly replied to an email Weir sent Tuesday night announcing his bid for caucus chair, calling him the "last person" she would like to see in that role.
"There is too many women (mostly employee) complaint to me that you were harassing to them...," she wrote, according to CTV. "As a woman I would not feel comfortable to meet with you alone."
Singh said he wanted to a establish a survivor-driven process. The party will communicate with its employees to remind them they have different avenues through which they can raise concerns: the union-driven process and the House of Commons' chief human resources officer.
In a statement to HuffPost Canada, Weir said politicians are and should be held to the highest possible standards and it is "absolutely right" for the party to investigate any allegations of harassment.
'I am confident that I have not harassed anyone': Weir
"However, I do not know what is being alleged," he wrote in an email. "I am confident that I have not harassed anyone and welcome a prompt investigation to clear my name."
Weir later appeared on CTV's "Power Play," where he told host Don Martin that he didn't know what was being alleged.
"It's very difficult to be subject to a general accusation of harassment without a specific allegation," he said.
Weir said he couldn't think of a reason Moore might have an axe to grind with him and suggested the "attack" was politically motivated because of his candidacy for caucus chair.
Weir said he would cooperate with the process. He also told Martin he has no trouble sitting in caucus with Moore, saying "both of us would want to move past this."
"I'm certainly not happy that this has happened or the way it's unfolded," Weir told Martin. "I'm just trying to focus on getting through it and participating in the investigation to find a resolution."
HuffPost Canada has reached out to Moore's office to learn more.