Restaurant? Mildred's Temple Kitchen
Location? Liberty Village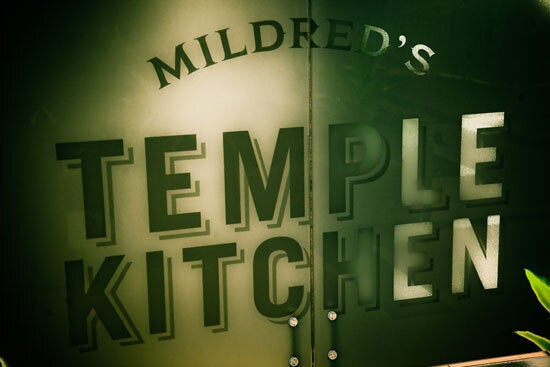 My best friend tells me men are like cheeses.
"What's your favourite cheese?" she asks her beau.
Uh oh. Red flag. Abort. This, gentlemen, is not a good answer. It's safe to say this culture-shy hottie didn't end up becoming her husband or even her boy toy -- for much longer. Don't get me wrong, my best friend and I aren't expecting graduates from the Ecole Cordon Bleu de Cuisine circa Paris, but referring to said cheese as "the orange kind," is plain unacceptable. Much to my surprise, tonight's date has perked my curiosity, but how will he bode a la the cheese test?
"So if you had to choose, what would be your favourite cheese?"
Hmm. Eyebrows raise. His answer is cryptic, a little vague, not giving too much away, I respect that. He said, "that's easy," I'd definitely have to disagree with him there. The world is filled with a whole lot of cheeses, the decision to choose just one, in my opinion, is just shy of impossible. Parmesan, eh? Does he mean good parmesan, like a nice parmigiano reggiano or are we talking that awful american stuff?
He has long hair AND a ponytail though, and everybody knows that's just like adding raisins to a perfectly good quinoa salad -- a really bad choice. Pretty sure we all agreed like a million years ago that Brad Pitt is the only man who can pull off a ponytail. I was going to give him the benefit of the doubt with the parmesan answer but alas the hair has got to be ditched because right now I'm getting a whole lot of I'm either a funeral director or a serial killer.
The restaurant. Mildred's Temple Kitchen gets an A-plus for decor, it's undeniably beautiful and equally parts spacious -- something I rarely experience on my foodie journey, eating in a cramped dimly-lit loud rooms seems to be a big thing in this city. Among the darkness, Mildred's Temple Kitchen is a breath of fresh air, nestled in the heart of liberty village, you can't help but arrive in a good mood -- what with all the eye candy (good looking, pseudo-wealthy professional men walking their dogs everywhere).
The brunch menu is decidedly underwhelming. A sad thing in a city where people's brunch loyalties run deeper than their political views. In Toronto, this is a meal we don't take lightly. Bring up a great brunch spot and prepare for a battle of the wits and fists because everyone has their favourite spot and yes it's better than yours.
Mildred paints a picture she simply doesn't deliver. Rosemary bacon, sounds good in theory, it even makes me feel a bit glamorous about ordering something so banal but in truth, there was nothing glamorous about eating what could of been microwaved bacon flecked with a few measly pieces of rosemary. Green eggs and ham. The twist? It comes served with a green salad. Boring. If you're a vegetarian or have no respect for eating a great mid-day meal on the weekend than Mildred's Temple might just be the place for you. Maybe not for the goji berry health freak, but certainly for the I-order-salad-granola-and-yogurt-at-restaurants type.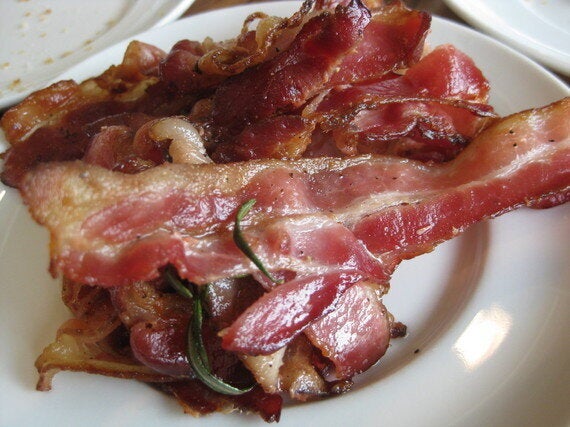 Just throw in the word "famous" before the granola and I'm sure people will eat that shit up. Wrong. Extraneous words like "classic" and "famous" can be very misleading when the goods don't deliver. What is so famous about this oh so average bowl of granola sprinkled with dried fruit that doesn't even look pretty? It makes you wonder what their putting in the sauce. Oh wait, that's just jam in a cool looking bowl.
I went with the classic poached egg on a flakey croissant with smoked salmon and béarnaise sauce. If by classic they mean very sub-par, I think I understand what they're getting at. What I thought was a spin on eggs benny instead came as a croissant sandwich, which was heavy on the croissant and very light on the smoked salmon, tears of regret form in the corners of my eyes, not even the pretty lighting scheme can brighten my mood.
OK, OK, calm down, the biscuits have yet to arrive and they really are known for their baked fresh every morning luscious currant scones. Call me plain Jane but I'm a sucker for biscuits. The mood lightens as I wait in anticipation for the warm little biscuits to arrive. You call those biscuits? Not warm. Not Flakey. No deliciously awesome spread. More like crumbling hope and corroding dreams, the mood darkens again as I shift back into my foodie depression. Is all hope lost at Mildred's Kitchen? The answer is Yes. My only advice? Don't go.