A 24-year-old Quebecer is on the cover of Glamour UK's January issue.
Esther Calixte-Béa, known as Queen Esie on Instagram, is of Haitian and Ivorian descent and was born in Longueuil, on Montreal's south shore. She's a recent graduate in painting and drawing from Concordia University in downtown Montreal. And she's on a mission: to shatter the taboo around women's body hair.
"I had never seen a woman with chest hair on the cover of a magazine before," she told HuffPost Québec. "And it's me! I never thought I could make a difference!"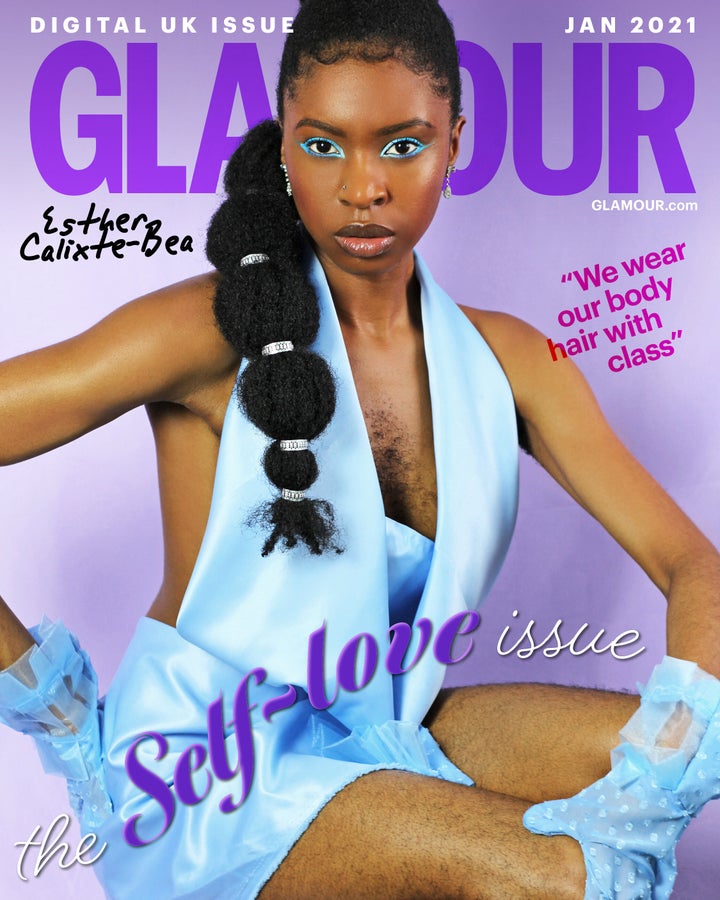 Making a difference
In 2019, the "Januhairy" movement aimed at breaking the taboo around female body hair was gaining momentum. It caught Calixte-Béa's interest
"I was fed up with shaving and waxing. I had horrible scars, the hair was growing back thicker and darker, it was painful. I decided to stop."
That's when she created her own project, The Lavender, a photography series about body hair and femininity. It questions what makes a female body, and why natural hair growth is considered abnormal.
"I questioned myself a lot at that time. 'Am I doing it for myself? Do I do it for others?'" she said. "But more broadly, it's about a woman's freedom to choose whether or not she wants to remove her hair, and about these taboos around body hair on women."
She now describes herself as a body-hair activist, but spent years hiding her own hair.
"When I was 11, I realized that I was different from other people, that I was hairier," she said. "I was going to graduate and wear a dress ... so I started working on getting rid of my body hair."
For years, she spent money on painful hair removal and stayed away from swimming pools, burning with the shameful feeling that she was different from other people.
And then, one day ...
"I was talking to one of my aunts on the Ivory Coast, and I found out that that some of my ancestors from the Wè tribe were also very hairy, and it was considered a symbol of beauty."
Beauty is an entirely relative concept, and it's evolved significantly throughout history, Calixte-Béa pointed out.
Time for acceptance
Last May, there was another body hair acceptance month: Maipoils, or "Hairy May," in French. The idea was that women, men and non-binary people could all consider their own body hair, and talk about why our ideas about hair removal are so deeply engrained. That's when Calixte-Béa made the decision to stop removing her own hair completely, and to fully embrace being a hairy woman.
"I went out with hairy legs, with a hairy chest. I could see people looking at me. Once someone even filmed me on my way to the mall ... but I didn't take that to heart."
She doesn't know what people are actually thinking when they see her body hair. But she's now comfortable with her body as it really is.
The Glamour UK cover is proof of that. The magazine contacted her about being one of the cover models for their Self-Love issue a few months after interviewing her. Because of pandemic restrictions, she took the striking cover photo herself. She also made the low-cut blue dress she's wearing on the magazine.
"I'm really proud of the cover," she said. "When I was a kid, I would have loved to see women like me, who showed off their hair. The idea that I could help change people's mentality ... "
Her Instagram account, which boasts more than 30,000 followers, is full of photos of herself with affirmations like, "Keeping my hair has been symbolic for me. Not only does this symbolize victory over the pressures of societal beauty standards, but it symbolizes taking charge of my body and the right to love it as it is."
"The comments are mostly positive,"Calixte-Béa said. "There are always one or two people going 'This is disgusting.' I just block them!"
She's hoping she can change attitudes and challenge beauty standards, one stunning photo at a time.
This story originally appeared in French on HuffPost Québec. Translation by Maija Kappler.