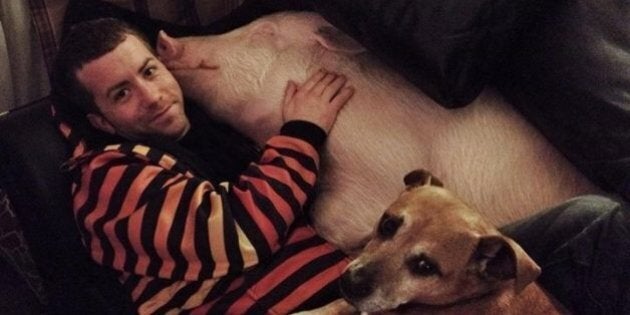 It's the stuff buddy comedies are made of: couple adopts a mini pig, discovers pig is a full-sized hog, can't bear to part with her, turns her into Internet celebrity.
You might think you can imagine what it would be like to live with a pig, but seeing it in action is a whole different story. Toronto couple Derek Walter and Steve Jenkins adopted Esther, a supposed "mini pig" after she was rejected from the commercial farm on which she was born in the summer of 2012. However, they soon discovered they'd been mislead, as Esther grew to a current 300 pounds, likely to gain 200 more before she is full grown, explains Walter in a video on Esther's website.
Now bigger than their two dogs, Walter and Jenkins have created a whole fan club around Esther, who gained instant popularity when they formed a Facebook page for her in 2013. The point of their endeavours, other than to post utterly adorable shots of this pig lounging around their house? To emphasize how smart and emotional pigs are, they explain in a blog on PETA's website.
Check out these shots of Esther at home with the guys, and her furry siblings. Story continues below: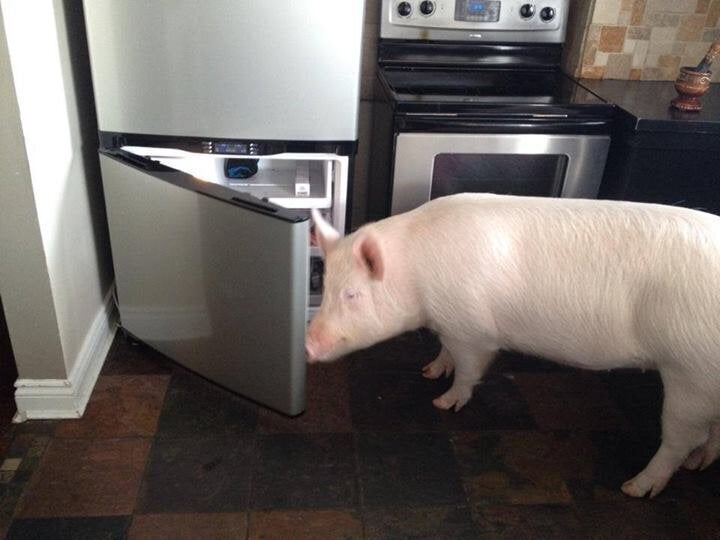 The couple, who were meat-eaters before Esther came into their lives, are also trying to encourage people to think about their daily choices, "like bacon, for example," they state on Facebook. They've become fully vegan in their diet, and are making more informed choices about clothing and furniture. As they say on the PETA blog, "We want people to see Esther and make the connection between her and the millions of pigs exactly like her who weren't so lucky."
But perhaps most importantly, they also warn people away from adopting a pig of their own, explaining they would never have done this if they hadn't been misled about her size.