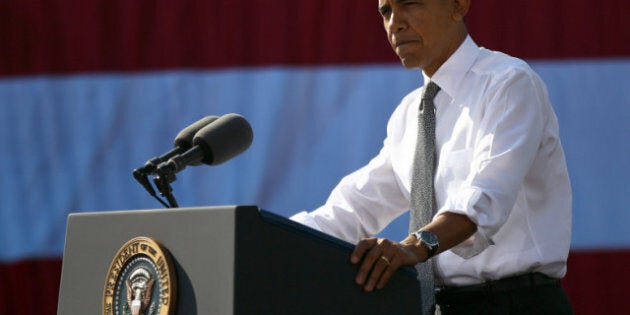 Julia Louis-Dreyfus is a very funny actress. Like the other enviro-trendy actors and actresses that have been leading the charge against the Keystone XL Pipeline plan, she's clearly better at reading scripts than writing her own material. In a video she's made for the anti-oil sands Tar Sands Action lobbying campaign, the woman famous for playing Elaine on Seinfeld takes shots at President Obama for considering the pipeline proposal.
"Remember when President Obama said, 'Let us be the generation that ends the tyranny of oil'? Man, that was great," says Louis-Dreyfus in the video. "Except, I just checked, and right now , Big Oil is still pretty much running the show. But -- Mr. President, -- you've got a fabulous chance to turn that around and make good on your word!"
Funny thing about that Obama quote. It wasn't actually about what Louis-Dreyfus, or her anti-ethical oil comrades, claim it was about. It wasn't about 'Big Oil' -- as in American oil companies -- but about conflict oil. Obama delivered that line at a 2008 policy conference for the American Israel Public Affairs Committee (AIPAC). Here are his remarks in context:
And we must free ourselves from the tyranny of oil. The price of a barrel of oil is one of the most dangerous weapons in the world. Petrodollars pay for weapons that kill American troops and Israeli citizens. And the Bush Administration's policies have driven up the price of oil, while its energy policy has made us more dependent on foreign oil and gas. It's time for the United States to take real steps to end our addiction to oil. And we can join with Israel, building on last year's US-Israel Energy Cooperation Act, to deepen our partnership in developing alternative sources of energy by increasing scientific collaboration and joint research and development. The surest way to increase our leverage in the long term is to stop bankrolling the Iranian regime.
There's no question Obama is calling for an end to America's "addiction" to oil, as every president since Nixon has done. But he's doing it for very specific reasons: because of America's dependence on "foreign oil and gas" that "pay for weapons" that kill Americans and Israelis.
We couldn't agree more. We'd love to see someone come up with an economic, reliable alternative to oil capable of powering our modern global economy. But, as we pointed out, that's something the U.S. has been striving for since the Vietnam War. It hasn't happened yet, and until it does, the most important step to ending "the tyranny of oil," as Obama so eloquently pointed out, is to stop sending Western currency to hostile regimes that would use it to attack the U.S. and its allies.
What a travesty that the Tar Sands Action lobbyists and Julia Louis-Dreyfus would so deliberately and irresponsibly distort Obama's real message to suit their own cause, essentially contorting it to mean nearly the opposite of what he said. Anyone who reads Obama's words can clearly see he wasn't railing against Petro-Canada and Suncor, but Gadaffi and Ahmadinejad. And anyone who takes Obama's message seriously would realize that the most effective solution to end the "tyranny of oil" -- in the sense the president meant it -- would be for Americans to transition to as much ethical, Canadian oil as possible, until it can figure out how to transition off of oil altogether.