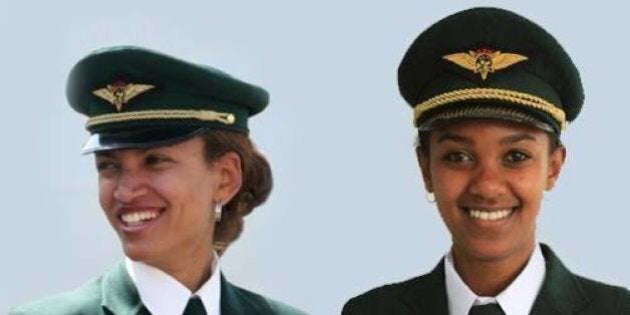 It's about time women took the wheel. On Thursday, Ethiopian Airlines sent an all-women flight crew on its trips between capital city Addis Ababa and Bangkok, Thailand.
A first for the airline, women filled every role on the plane, from the pilots and cabin crew to ramp operations and flight dispatchers on the ground, the company said in a press release.
Coincidentally, Air Zimbabwe accomplished a similar feat last week. An all-women team was #PaintingTheSkyPink and made history by commanding a flight from the nation's capital Harare to Victoria Falls. The co-pilots, Chipo M. Matimba and Elizabeth Simbi Petros, grinned wide and snapped a few celebratory photos once they landed.
Ethiopian Airlines' group CEO Tewolde GebreMariam said, "Women are the continent's greatest untapped resources." He called this flight an opportunity to inspire young African female students to aspire to a career in aviation.
This initiative comes after the United Nations ranked Ethiopia 174th out of 184 countries in its 2011 Gender Development Index. Following this ranking, the Sustainable Development Goals Fund began an initiative to help rural women working in agriculture, but not in other sectors. Their ranking then rose to 173 in 2013.
Ethiopian Airlines, which has stated they aim to promote "women empowerment for a sustainable growth," says its overall staff is 30 per cent women. The number does shrink, however, when it comes to female pilots and technicians.
But Ethiopian Airlines is certainly taking steps in the right direction, and this quest for equality doesn't end at employees. The company has also stepped up its amenities for new mothers on long flights. It now offers nursing rooms equipped with reclining chairs, breast pumps and fridges to store milk.