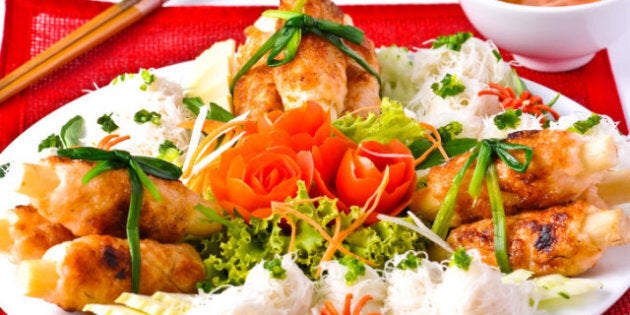 It's official: We love our ethnic food.
What's more, 73 per cent of Canadians want full-service restaurants to start expanding their menus by serving up more ethnically-inspired offerings. Seventy per cent of us even claim we'd try more daring and exotic dishes if they were on the menu. When it comes to eating out, food quality is the number one concern among Canadian diners, even more so than value -- in fact, less than 10 per cent of people are influenced by coupons and discounts when it comes to choosing a restaurant.
"With so many cultures existing in Canada, it's no surprise that consumers expect to see these influences reflected in the restaurants they visit," Robert Carter, executive director of Foodservice at The NPD Group, told The Sun. "Global-, fusion- and local-oriented cuisine is very much part of the mainstream now, so Foodservice operators would be wise to cater to their customers' desire for variety and their increasingly sophisticated palates."
So what kinds of exotic cuisine are we after? Italian, Thai, Greek, Chinese and Japanese are Canadians' top picks for ethnic eats, but one of the fastest-growing trends is to combine multiple flavours:
Gourmet hot dogs: Hot dogs are everyone's favourite fairground food, but gone are the days when relish was considered the craziest thing you could dress your dog with. Bizarre hot dog toppings now include wasabi, mac n' cheese and Cap n' Crunch cereal.
Deluxe poutine: This isn't exactly ethnic considering it's a world-famous French Canadian dish, but have you seen what they're putting on poutine these days? Curry poutine, nacho poutine, buffalo chicken poutine... it's no wonder poutine-only restaurants are popping up all over the country.
Perogies: Once upon a time, perogies were something your Ukranian Grandmother made a point of force feeding you. Nowadays, no force is needed thanks to innovative perogie dishes -- like duck perogies and dessert perogies.
Pies: Are pies the new cupcake? If so, they're certainly more diverse. Gourmet meat and cheese pies are being enjoyed with gusto and the traditional sweet pies are being made with more mouth-watering ingredients than ever.
Of course, it should go without saying that while all of the above may be great for satisfying your appetite, they won't do any favours to your waistline. Enjoy them in moderation by sharing with a friend.