Eva Longoria has one solution to help the world move towards gender equality: get more Latinas into STEM.
In an essay for Refinery29, the 42-year-old actress reflected on the underrepresentation of Latina women in the fields of science, technology, engineering and math (STEM).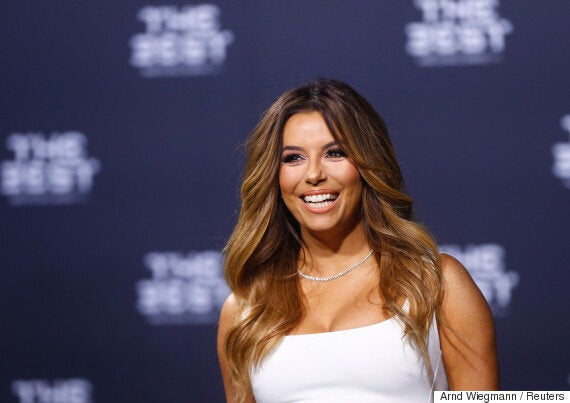 Eva Longoria at the FIFA Awards Ceremony.
But it's not just about income. Longoria notes that the U.S. Department of Labour has estimated "1.1 million computing-related job openings by 2024," but without the proper education and qualifications, many Latinas won't be able to break into these fields.
"More than half of these jobs may go unfilled due to the insufficient pool of qualified college graduates," Longoria warns. "The job market is changing rapidly, and those in the workforce will need computing, engineering, and physics skills to be ready for the future world of work."
As an advocate of gender equality, the "Desperate Housewives" star launched the Eva Longoria Foundation in 2012 to specifically help Latinas break out of poverty and find support through education.
"Since 2013, my foundation's STEM education programs have helped more than 1,600 young women develop technology skills," she explains in her essay. "Lessons on coding, robotics, video game design, and 3D printing empower these girls to learn concepts that define our new job market."
In a 2014 interview with Los Angeles Magazine, Longoria revealed that Latina women in STEM fields experience both sexism and racism, which could explain the lack of women in these fields.
However, Longoria believes that with the right amount of encouragement and support, women can not only break into male-dominated fields, but also find success.
"When girls feel safe, comfortable, and encouraged by role models, they build confidence in their abilities and dive into technical math and computing projects," she writes in her essay.
She also adds that all women, not just Latina girls, should be encouraged to break into STEM. "When women have the education and skills that meet the needs of the modern job market, individuals, families, and our entire global community benefit," she notes. "Their participation improves companies' bottom lines, expands the qualified workforce, promotes equality, and drives innovation."
Longoria has always had an interest in education and STEM. In fact, despite becoming an actress, the 42-year-old continued her education, earning a master's degree in Chicano Studies at California State University. And to top that all off, her thesis was titled "Success STEMS from Diversity: The Value of Latinas in STEM Careers."
Longoria's essay for Refinery29 was written in honour of 50/50 Day on May 10, which is a day dedicated to discussing how to make a more gender-balanced world.
To end her piece, the actress makes a powerful statement about fighting for equality: "If we don't have a seat at the table, then the unique challenges women face will continue to be ignored."