OTTAWA — Newly minted Liberal MP Eve Adams plans to run against Finance Minister Joe Oliver in the Toronto riding of Eglinton–Lawrence, The Huffington Post Canada has learned.
Adams, the MP for Mississauga–Brampton South who shocked political Ottawa on Monday by crossing the floor, could face a challenge from Toronto lawyer Marco Mendicino who has already signalled his intention to contest the Liberal nomination in that riding.
UPDATE: Adams has confirmed she plans to run against Oliver and will move to his Toronto riding.
Sources tell HuffPost that the former Tory MP hopes to be a "giant killer" and beat Oliver the same way Liberal MP Hedy Fry beat former prime minister Kim Campbell in Vancouver Centre in 1993.
The riding of Eglinton–Lawrence was held by Grit MP and cabinet minister Joe Volpe from 1988 until 2011, when Oliver defeated him by 4,062 votes. The Liberals had held the seat continuously since the riding's creation in 1979.
The potential contest between Adams and Oliver could explain why the former Conservative parliamentary secretary kept mentioning the Tories' income-splitting decision as one of her main reasons for jumping to the Liberals during her press conference.
The Conservative government was pitting one group of Canadians against another, Adams said, "forcing the middle class to pay for what amounts to a rather substantial tax cut to the wealthiest families in Canada.
"It's not just I that has come to this realization," Adams said, noting that the late Jim Flaherty, while finance minister, had also been critical of the income-splitting program.
"People have now been coming to this realization and being very vocal about it, saying that this is not fair to Canadians, this ought not to be how we spend any purported surplus. And if this genuinely the main plank going forward in the next election, how profoundly an unfair Canada do you want to build?" she asked.
Adams ran during the 2011 election on the Conservative platform that included a version of income splitting that gave high-earners an even bigger break than the one announced by the government last fall.
Ottawa has been abuzz with talk about what the defection of Adams and her fiancé, Dimitri Soudas, could mean for the federal election scheduled for this October.
Soudas, Stephen Harper's right-hand man for several years, often described the prime minister as a father figure. He spent many years as Harper's director of communications and later as executive director of the Conservative Party of Canada, charged with drafting the party's re-election strategy.
While the Tories are publicly trying to tarnish Adams' reputation and decrying her as an opportunist who had been barred by the party from running in any other riding. In confidence, Conservatives are expressing deep concern that Soudas knows much of their game plan and their secrets and saying that the split reflects one of the biggest personal betrayal in Canadian politics.
Late Monday evening, during a press conference with German Chancellor Angela Merkel, Harper said Adams' move to the Liberal party was the simple result of the Conservatives' barring her from running anywhere else.
Adams, Harper suggested, had been found to have acted unethically during a nomination battle in the riding of Oakville North–Burlington.
"I think the situation is very simple, the national council of our party is responsible for an honest, clean nomination process. It informed MP Adams some 10 days ago that she could not be a candidate for the party for reasons that I think everybody understands, and that's obviously the reality of the situation, and that is the sole reason we obviously have the development we have today."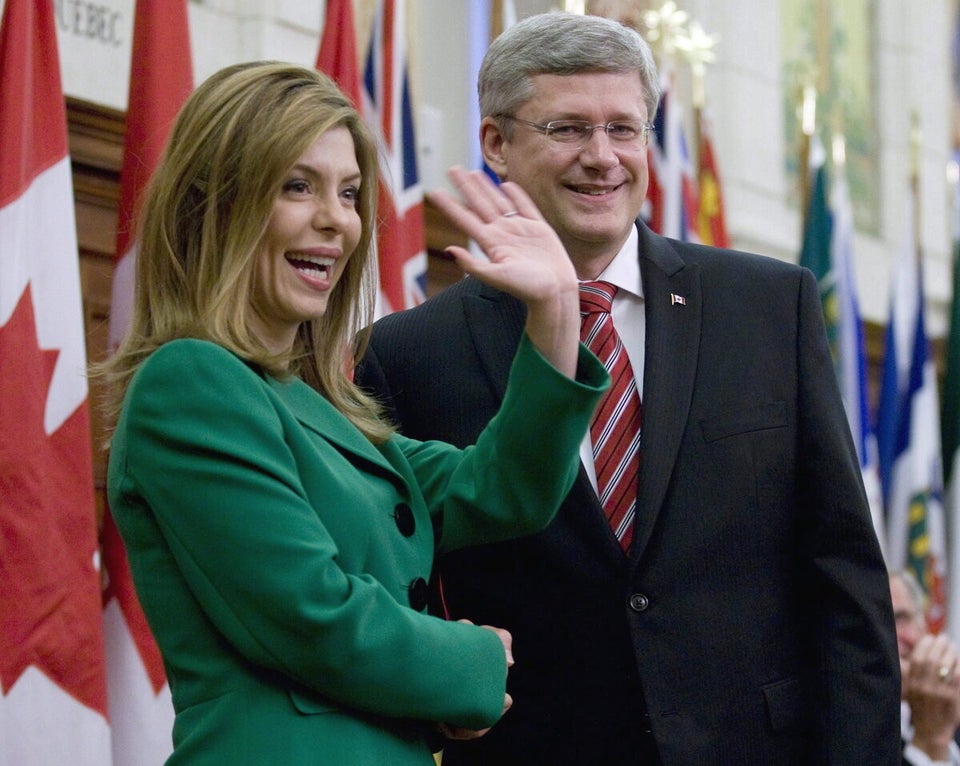 In Photos: Eve Adams
Popular in the Community