University of Alberta students are preparing to make history this summer, when they launch the first satellite made in the province into space.
The Experimental Albertan 1 — or Ex-Alta 1 — is a small, cube satellite that will be launched into low earth orbit in July, where it will rendezvous with the International Space Station. Then, it'll be sent into its own orbit along with 49 others as part of the QB50 ("cube 50") Mission, in order to gather data that will predict space weather phenomenon like solar flares (bursts of radiation released by magnetic energy on the sun's surface) and the Aurora Borealis.
"It's never been done in human history."
The issue of space weather is an important one. Major solar flares can disrupt satellite and GPS communication, or even electrical grids, causing big problems back on Earth.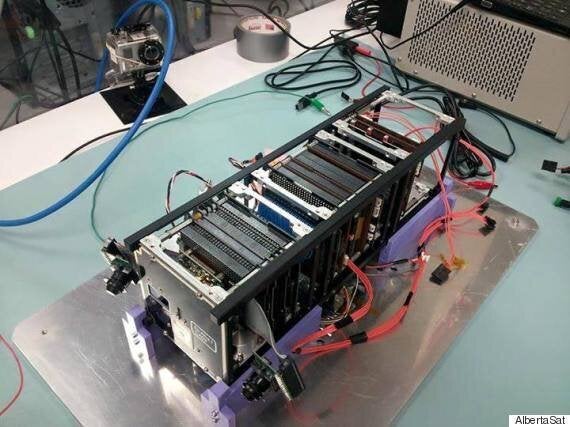 The satellite, partway through assembly, in October 2015. (Photo: AlbertaSat)
Studying space weather is just the satellite's primary objective. It has a secondary purpose: educating Albertans about the importance of space science and engineering, and laying the groundwork for "the development of an Albertan commercial space industry," according to the project's mission statement.
"AlbertaSat is about breaking down the doors for a space industry in Alberta," Darian van Paridon, a third-year engineering student said, in the university's Faculty of Engineering newsletter.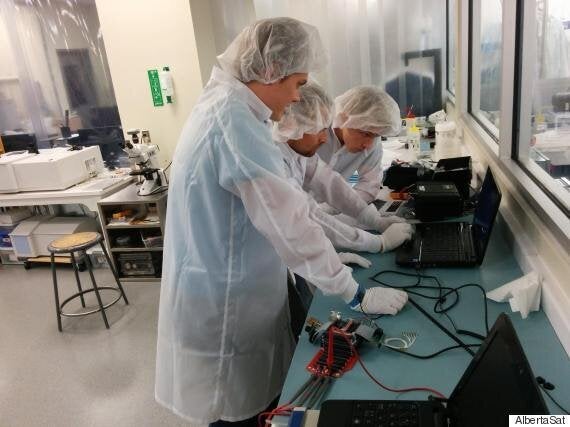 Charles Nokes, Collin Cupido and Taylor Robertson use a software interface to study the outputs from Ex-Alta 1's Attitude Determination and Control System. (Photo: AlbertaSat)
The team behind the satellite is made up of both undergraduate and graduate students at the U of A. The entire team has volunteered their time for the project, which has been in the works since 2010.
The satellite was paid for by a crowdfunding effort, as well as donations by the school and different space organizations.
After years of work and nearly $800,000 in expenses, the satellite is finally in its assembly, integration and testing phase.
The team hopes what they've learned will carry on far beyond this project.
"This isn't just a one and done thing for us. We want to continue this and bring a space industry here, a space culture here. Hopefully this is just the beginning," mechanical engineering student Tyler Hrynyk told CBC.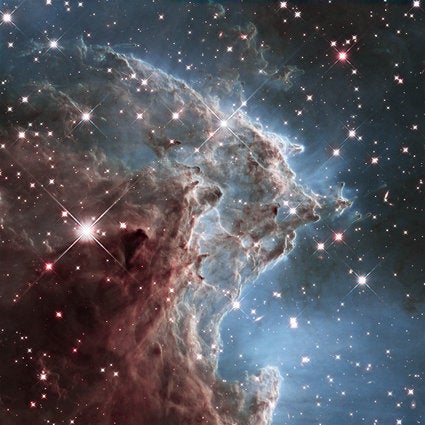 Best Space Images Of 2014