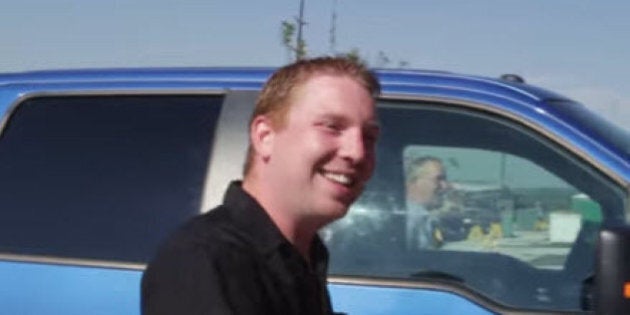 As Barrett Budgell pulled up to his new home in Cochrane, Alberta, he immediately knew something was up when he saw a massive red bow wrapped around his garage. The single father of four-year-old twin boys, Lucas and Logan, moved into Cochrane to make the commute back and forth to Fort McMurrary for work easier on his family.
When Barrett exited his vehicle, our president Lance Floer was there to deliver a big surprise:
As the owner of our 10,000th home, Barrett received a new backyard including sod, fencing, a deck off the back door and a magnificent stainless steel barbeque. To the delight of the twins, the family also received a massive children's backyard play set, backpacks filled with gifts and a cheque for $10,000 to go towards the boys' education.
"We're just over the moon," says Budgell. "This goes an awfully long way in securing a tremendous future for our family."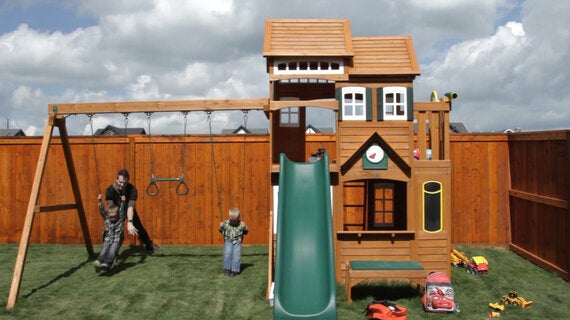 In order to properly celebrate the occasion, we then hosted a block party for Barrett's neighbours and for all the residents of Cochrane's Heartland community. There was food, entertainment, games and, of course, world famous McKay's Cochrane ice cream cones!
Over the past 26 years, we at Excel Homes have had the pleasure of building homes for wonderful families and hearing countless heartwarming stories of people just like Barrett.
Whether it's our commitment to sustainable building practices through our partnership with the Built Green® program or surprising our homeowners and their neighbourhoods, community is at the heart of everything we do.
In addition to the 10,000th surprise, we are continuing our celebrations of 26 years and 10,000 homes built by continuing to give back to the people who make us proud to do the work that we do. Starting September 12, 2014, we are offering a chance to win $10,000 for someone in the greater Calgary community. Head over to our Facebook page for more details and the first clue!