A Canadian project that partly relies on a child's neighbours to help prevent mental health problems at a young age has been proving for more than two decades that early intervention makes a difference.
Better Beginnings, Better Futures (BBBF) was earmarked by the Ontario government in the early '90s as a "demonstration project," according to researcher Dr. Mark Pancer, professor emeritus at Wilfrid Laurier University. That meant if it was deemed a success, pieces of its framework would have a better shot at being adopted into policy.
Children up to the age of eight were recruited from five of Ontario's poorest neighbourhoods, areas residents described as "physically unattractive" and marked with high rates of crime and violence. One First Nations reserve was also included among selected sites.
From the outset, one of the project's primary goals focused on curbing the development of preventable, long-term emotional and behavioural problems among children up to the age of eight.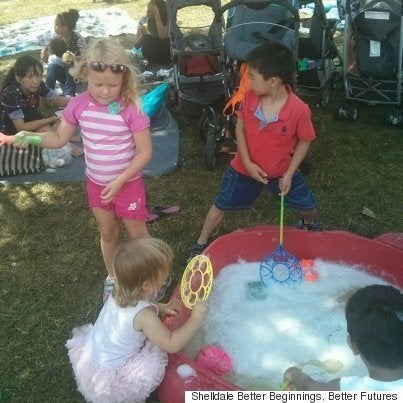 Kids have fun at an event organized by the Shelldale Better Beginnings, Better Futures program in Guelph, Ont.
Its holistic approach was, and continues to be, innovative. Rather than relying solely on professionals for special education, health care, social welfare and disability programs, the program linked children and their parents with neighbours.
"When you have that more integrated, connected community, you're likely to see a significant impact over time," BBBF researcher Dr. Geoffrey Nelson explained.
"The involvement of community residents as partners in program development, rather than merely recipients of programs, has produced a unique experience for all those who have been part of the project," reads a report Pancer co-authored in 1998.
One newly arrived Chinese immigrant described how the BBBF network helped her daughter find a place in a special needs program.
"I can see big changes in my daughter's social behaviour and language development," the unnamed woman told researchers, crediting program with making a "big change" her family's life.
Significantly, the interconnected supports helped address the mom's own mental health issues, leading to a healthier environment for her daughter to grow up in.
"I started to feel that the world around me wasn't so strange and fearful, and I was concerned about and taken care of by many people."
The mother's lack in English resulted in a crippling fear of stepping outside her own door. She was left alone at home when her husband went to work. And when she became pregnant, the cumulative stress of all her personal and impending parenting problems were catapulted into focus.
"I felt even lonelier and more hopeless. There was nobody to talk to or share my feelings with," she recalled. The BBBF paired her with a "family visitor" who began dropping by the house.
"She migrated to Canada three years earlier than I did, and spoke the same language and came from the same country as I did, so we freely shared our feelings and experiences together," the mother said. The walls began to disappear around her.
"I started to feel that the world around me wasn't so strange and fearful, and I was concerned about and taken care of by many people. I didn't feel lonely anymore," she said.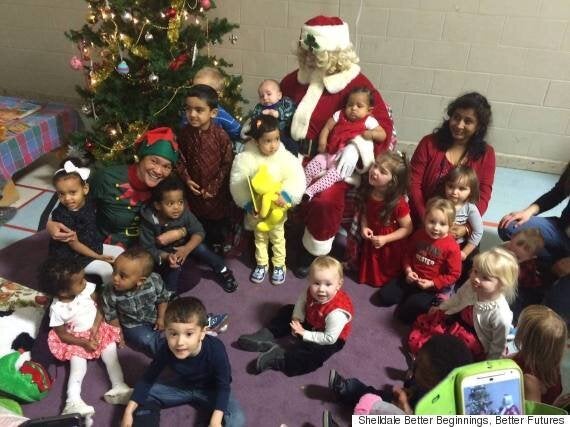 A group of kids meet Santa at an event at the Shelldale Better Beginnings, Better Futures program in Guelph, Ont.
Kids enrolled in BBBF were separated into two age groups: newborn to four, and four to eight. Then researchers followed up with them in Grades 6, 9 and 12.
The children had the opportunity to be involved in field trips and creative arts, for example, that they would have been unlikely to have access to without BBBF. They also learned to play and interact with other kids.
The project found that kids raised in the community-driven network of support services were better adjusted than with peers from comparison communities. BBBF children showed fewer internalizing problems, signs of depression, and withdrawal behaviours. There were fewer special education needs.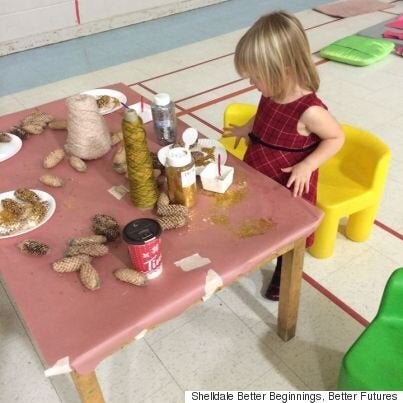 And the benefits were also observed among their moms and dads, who according to Pancer, grew better adjusted within their communities and — in many ways — became better parents.
One parent described how the children were destroying the house due to the lack of available affordable activities and they were at their wits end before being provided access to a psychologist.
... it was like hell. It was just like this situation with me and my kids, it was just all downhill, you know, because with the three older ones it was hard, you know, brother and sister fighting and not knowing how to play with each other but it's not like it is now.

Before I didn't know [how to talk to] my own kids. Now I know how to talk with them. Before I get upset. Now, no, no, they are hyper you have to be cool. Then you can handle these kind of children. In the beginning, I didn't know that kind of thing.
Under the program, 51 per cent of a child's support network relied on his/her community. That way, researchers put a priority and burden of expectation on people who lived there to come through with designing services tailored to their neighbourhoods.
At one site where violence was rampant, neighbours established a "club house" — an informal parenting group — to bring their children and to socialize with each other. At other locations, house calls by a designated visitor from BBBF were preferred.
Because of the long-term scope of the study, community participants became "frontline" volunteers, and others were hired as paid staff members.
Today, eight BBBF programs are still in operation in cities across Ontario. More than 5,000 kids from infant to eight years old are enrolled in Guelph, Kingston, Ottawa, Toronto, Sudbury, Cornwall, Etobicoke and the Walpole Island First Nation in Wallaceburg.
Ontario currently allocates $99 million to family-support programs, including BBBF.
"Our government is committed to providing the right supports to children, youth and their families when they need them to enable positive mental health and to eliminate addictions," said May Nazar, an Ontario ministry of education spokeswoman.
UNESCO has featured BBBF as an "exemplary model" in a book distributed to 33 countries, but after more than 25 years, why has the early childhood program not expanded further?
BBBF is "one of many evidence-based approaches that school boards may choose to review and consider," Nazar wrote in an email.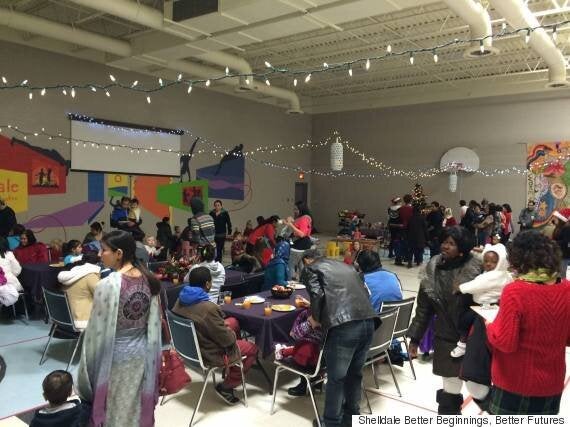 Part of the success of Better Beginnings, Better Futures come from involving the community in designing programs.
In Canada, educational and social support services get their funding from provincial governments. But because governments change every few years, new agendas get adopted and funding priorities ultimately shift, said Nelson. Some pilot programs, despite their success, never see wider implementation.
Liberal Premier Kathleen Wynne made full-day kindergarten a hallmark mandate — which was also a political mantelpiece shared by her predecessor Dalton McGuinty. Before him, Progressive Conservative premier Mike Harris tried to make early years education a top priority.
According to the province, approximately one in five children and youth face a mental health challenge. Last month, the Ontario government announced a $6-million investment for early intervention services. The money will help hire 80 new child and youth mental health workers, it says.
"When you have kids in dire need, it's very tempting to put your money into helping those who are desperate."
Though the provincial government has yet to decide to review BBBF, its cost savings may prove it worthy of a second look.
According to researchers, for each dollar invested in a child in the project, $2.50 was saved in government services.
"I think there needs to be a lot more prevention," explained Pancer. "When you have kids in dire need, it's very tempting to put your money into helping those who are desperate."
Young Minds Matter is a new series designed to lead the conversation with children about mental and emotional health, so youngsters feel loved, valued and understood. Launched with Her Royal Highness, the Duchess of Cambridge, as guest editor, we will discuss problems, causes and most importantly solutions to the stigma surrounding the mental health crisis among children.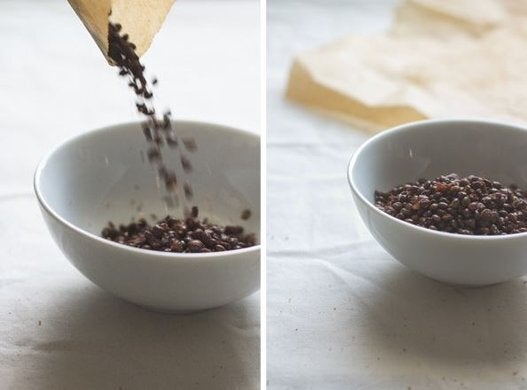 Kids' Snacks That Boost Their Mental Health
Popular in the Community