No matter what line of work you're in, you've probably experienced some pain in your lower back. Considered one of the most common ailments — it affects 80 per cent of Canadians at least once in their lifetime — lower back pain is caused by all sorts of factors including overuse, aging, arthritis and compression.
Depending on its cause, lower back pain can be dull or sharp. Left untreated, the pain can even travel to the legs and knees.
As painful as it is at the moment, lower back pain generally soothes itself, but if you're not willing to wait, Shane recommends doing two to three sets of 10 reps of gentle exercises like the hip hinge, which looks a lot like a modified squat.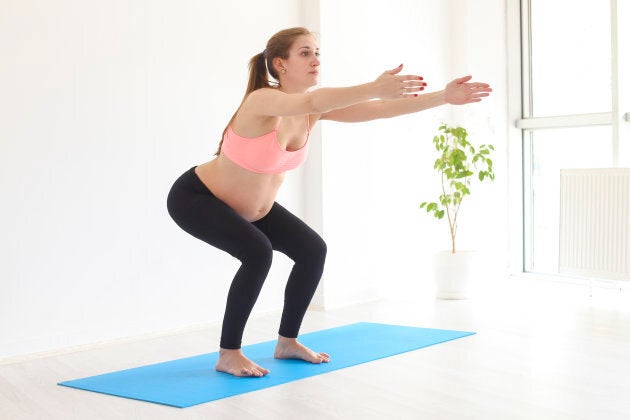 Holding your arms out in front of you for balance, slowly sit back with knees slightly bent. Imagine you're about to sit on a chair, lower down half way and then straighten back up. This move releases pressure on the lower back and teaches you proper form while sitting and picking things up.
Maintaining good posture will keep your spine healthy and strong, preventing back pain altogether. To improve your posture, focus on keeping your body parts aligned. At an office job, this could mean using an ergonomic chair that supports your spine. You'll also benefit from getting up every now and then to prevent compression.
Watch the video above for more tips on improving your posture and preventing lower back pain.
In The Quick Fix series, we look to fitness and well-being experts for three exercises to relieve common pains and ailments. What condition would you like to see us tackle next? Shoot us an email at CanadaLiving@huffingtonpost.com or let us know in the comments below.