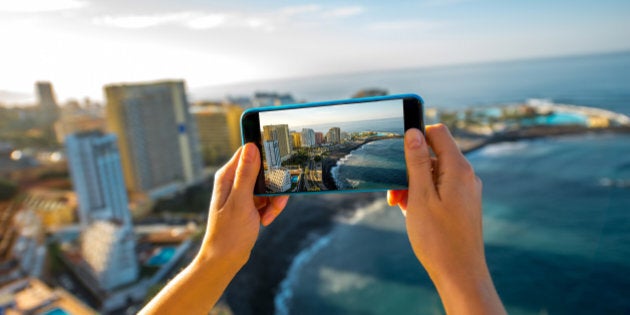 Already struggling to keep up with your phone storage this year? It's said that the average smartphone user will snap around 3,600 photos in one year, taking up space and overloading storage. Though it's become second nature to document our lives with photos, but not every photo needs to be kept.
"Photographs are a great way to remember and relive the important moments of your life," says Marie Potter, marketing director of Professional Organizers in Canada. "The trouble in an age where your smartphone is in constant use, is that people are swept away in a steady stream of photographing life instead of living. Couple this with not making time to purge photos and you're stuck with an overwhelming digital backlog of photos and disorganization!"
Manage this year's photo bulge and free up space to store that next great escape by following these expert tips.
Use apps to help you purge
Leverage your photo sharing apps to help free up your photo storage. Apps like Instagram, Snapchat, Pinterest and Facebook allow you share and store your memories without having to keep them on your phone. Once you've posted them, just remember to purge!
Make a habit of doing daily or weekly photo transfers onto your computer, online service or external hard drive. Once they're safely stored, delete them to save space on your phone. Tip: To make your life even easier, adjust the settings on your smartphone to automatically download your photos to another device.
Give yourself a photo "time out"
A new year is sure to bring countless photo opportunities, which mean countless times your phone will be overloaded with pictures. Give your storage a break by taking a photo "time out." Put down your phone and live in the moment instead of capturing it.
Implement an organizing strategy
Smartphones are equipped with unique folders that allow you to organize your photos using a method that works best for you. From your photo stream, panoramas, to even a folder just for your selfies, store your photos in specific files instead of losing them in your never-ending camera roll.
Micro-moments are short breaks that come to us throughout the day. Take advantage of your micro-moments to be ruthless and delete! Whether you're on the bus or waiting in line at Starbucks, use this time to purge your photos. Here are some photos you may want to delete:
Duplicates or photo bursts
Photos with poor lighting
Out of focus photos
Shots of something you were documenting that you no longer need
Using hashtags is a trend that is here to stay for 2017. You can create a personal hashtag on social media that acts as an online photo album. It allows you to pull up everything with that specific wording attached to it, making it easy to store and scroll through your photos online. You'll never forget about #JaneGoesToEurope again!
Capture all of 2017 without overloading your storage by implementing some of these simple photo organizing tips. If you need help with photo organizing, click here to learn more.
Follow HuffPost Canada Blogs on Facebook