It's been over 30 years since renowned Canadian Chef Susur Lee made his last visit to Muskoka to a friend's place in Deerhurst. Upon arrival at the Deerhurst Resort, he immediately fell in love with the peace and tranquility of Muskoka. In fact, he went on a foraging trip in the woods to pick wild leeks and shiitake mushrooms.
Rory Golden, Director of Food and Beverage and former Executive chef at Deerhurst, invited Lee to Deerhurst for a cooking weekend near the end of May. Having known each other know for many years, the two hammered out a menu over the course of several weeks weekend.
The resort itself is situated on 800 acres of rolling, wooded countryside on Peninsula Lake. It boasts lakeside rooms, condominium suites, and 400 room main houses. The resort contains the Shizen Spa, an elegant oasis offering a range of services from pedicures to full body massages. Deerhurst contains three full service restaurants, a bar to greet you in the lobby, and pool deck patio and grill. Did I mention the championship golf course? Deerhurst, if you recall, was also the site of the 2010 G8 Summit when thousands of muscled up security teams and world leaders descended on the resort for two weeks. The resort is still buzzing with stories from that period. If you are a huge foodie like me then you can't go wrong with a weekend jaunt like this one.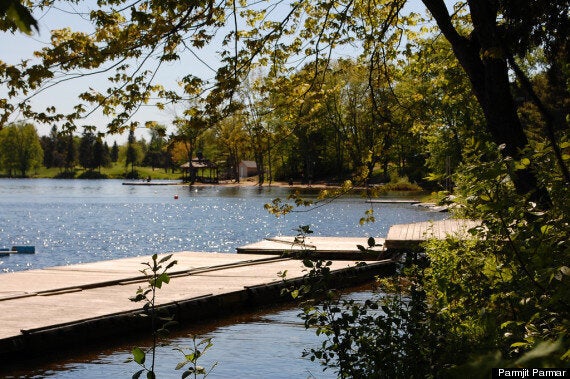 Rory Golden, a strong advocate of the "Savour Muskoka" initiative, is co-founder of the movement which focuses on highlighting the use of locally grown and sourced food products. Bread served at the resort is sourced from Huntsville's Windmill bakery, fresh trout is brought in daily along with local meats such as beef and lamb. The ice cream and gelato is produced right onsite in the historic lodge kitchen. Shelley Westgarth, owner of Belly Ice Cream, helps produce this sumptuous dessert by incorporating local ingredients with Deerhurst's own maple syrup. According to Golden, Deerhurst staff taps about 2,000 trees each season for sap, which is transported via plastic pipes into barrels and processed in the sugar shack onsite. They even ship various grades of maple syrup to key stores in Southern Ontario and Toronto.
To help him with his goal of transitioning only the best ingredients from the farm to the plate and revamping the culinary offerings, Golden has also recruited David Bakker as the new Executive Chef. Bakker's credentials are impressive and he has plans to bring his knowledge of modern food trends and Canadian ingredients to the kitchens of the resort.
Poppa Jim's Bees to Honey
The resort keeps a small bee hive apiary on the property, managed by local bee keeper Poppa Jim, a colourful character. It is quite the eye-opening experience if you have never seen one in person. I had the chance to visit where the bees were kept and was amazed by how delicate the process was. The honey they produce is bottled and sold under Poppa Jim's label in the Deerhurst general store.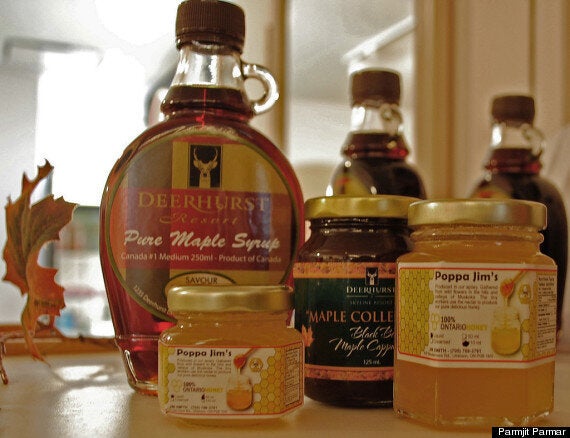 Chef Lee cooks up a storm of flavours
Learning about the different cultures and their food preparations is something Chef Lee has done most of his life. While visiting Thailand on vacation with his young family, Lee entered the kitchen to warm baby food and encountered fifteen different women grinding spices for various green curries. After conversing with them, he started tasting the authentic curries and exchanged recipes with the women. Since then, Lee has utilized green curry spices in his various soups and dishes.
Over the course of the weekend, Deerhurst guests who had signed up for the cooking weekend learned more about Lee's background and culinary exploits. Having grown up with six siblings in Hong Kong, Chef Lee spoke about his mother's one-pot-feeds all method, which he said was uninspiring. Motivated to do better, Lee strove to incorporate unique ingredients and create personalized dishes.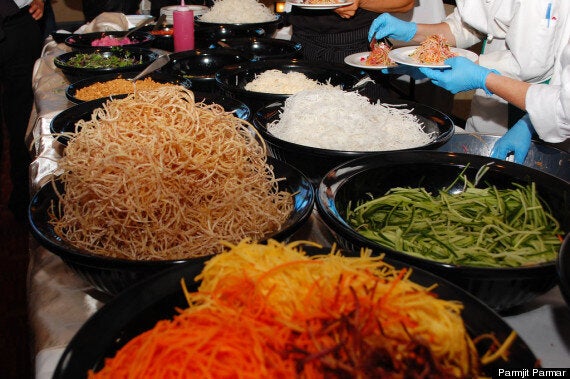 At Friday evening's event guests were served Chef Lee's signature dish -- Singaporean-style slaw, packed with 19 different fresh ingredients, from taro root julienned to coriander seedlings. It was a smorgasbord of colour and flavour (I feel that's still being modest -- really, the flavours were incredible!). Chef Bakker set up various tasting stations to compliment and showcase Deerhurst's most popular dishes to compliment the tasty evening. These included: roasted fingerling potato poutine with thornloe cheese curds, foraged wild leeks, and maple mustard soy-glazed house-smoked trout salad spinach, red onion, local four season seedlings and pepitas -- view the Photos on Pinterest. Although everything was wickedly good, my weakness when it came time for desert was the bread pudding. Guiltily, I went back for seconds.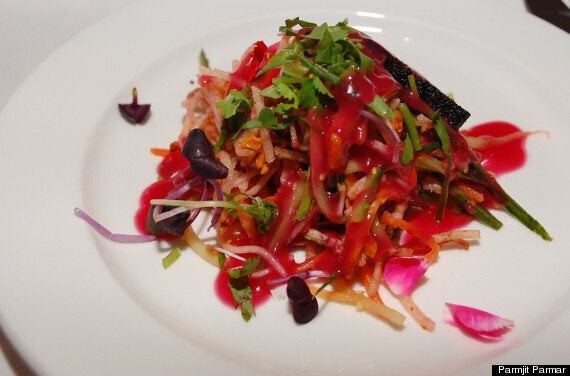 Chef Lee began the cooking demo on Saturday by explaining his approach to preparing the ratatouille tart with tonatto sauce (a caper and mayo based sauce) that was dazzled with calmansi lime juice. Over the course of going through each cooking step Lee entertained the crowd with his personal kitchen adventures from the years past. While he explained what to do with each ingredient he also suggested alternatives that you could use to substitute. Not a fan of eggplant? Then substitute with okra instead. I was amazed at the cross-mix of guests who attended this event, from young couples to families and retirees -- all fans of Lee and here to pick up a few cooking tips, eat great food and have a weekend getaway.
Saturday night's dinner consisted of five elegantly paired courses. The first surprisingly started out with a cappuccino. Did I say cappuccino? Yes, but this was not the like the one you would find at your coffee shop -- it was Lee's take on a cappuccino, perhaps redefining the word itself. The small dish was a delicious soup consisting of Thai green curried crab, okra, and tomato all blended well together with a topping of puffy rice.
This was quickly followed up by the second course, consisting of Hunanese lobster ravioli with a bit of spicy HK XO sauce and yuzu butternut squash puree. I never thought that the flavors of Hunan, China would pair so well with lobster, but Lee was able to augment the flavour of the lobster while exploring the Far East.
The third course consisted of a pressed octopus ceviche. Let me assure you I am not a strong seafood person, let alone an octopus one (EEK!), but the pomegranate vinaigrette quickly smoothed over my fears as the octopus melted in my mouth, which I was thankful for, because the next course was a coffee-marinated ostrich. How many different animals were we going to consume with this meal? No matter, it was way too good to worry.
The evening finished out with a lemon curd topped with strawberries and served with a light pastry. I didn't think I could eat any more, but I would hardly ever say no to desert. All in all, the storm Lee and the Deerhurst team cooked up blended some of the best and freshest ingredients I have ever tasted.
In the midst of all of this, it is hard to imagine that Susur Lee also has a personal side. Not only is he a internationally renowned chef, he is also a family man raising three sons with his wife Brenda Bent. Their sons are 21, 23, and 15, serve as his toughest critics. In fact he has now opened a new restaurant with his sons called Bent.
If you missed out on this culinary experience then you will be happy to hear that Food network star Michael Smith will be returning to Deerhurst for a second year in a row on November 15-16, 2013.
Note: My visit to the resort was hosted by Skyline Investments.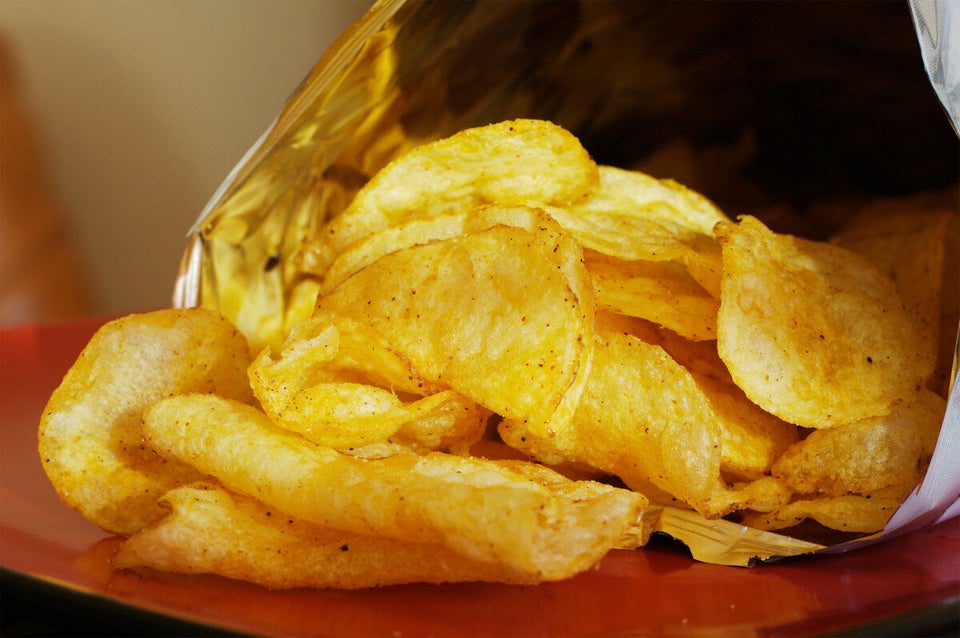 Perfect Side Dishes For Summer
Popular in the Community