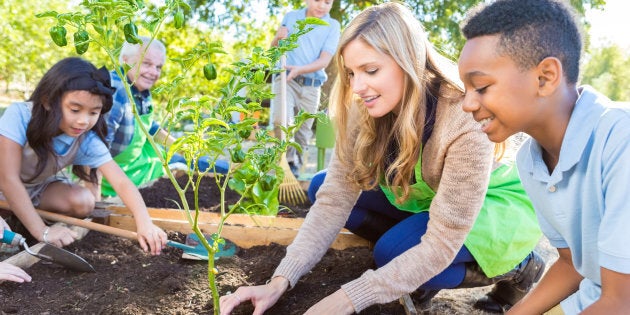 Once September hits, it's back to regularly scheduled programming, which means enrolling your kid in some after-school activities. The usual suspects are great, but as satisfying as it is to see your kid advance through Red Cross levels, there's a whole world of cool extracurricular activities beyond swimming and karate.
Read on for our favourite outside-the-box picks that are sure to make your little one extra well-rounded.
1. Lego class
If you've got a Lego-lover on your hands, Bricks 4 Kidz is a no-brainer. The company offers hour-long classes after school where kids can explore architecture, engineering, and technology concepts using Lego bricks. Programs are built around models designed by architects and engineers according to themes like space, amusements parks, and natural disasters. The company has over 750 locations worldwide, with one in most major Canadian cities. Click here to find a location near you.
2. Cartooning
A departure from the traditional art school offerings, cartooning classes are a unique way for your kid to develop their artistic talent. Enroll your aspiring Charles Schulz in cartooning at Toronto's Avenue Road Arts School, where there are classes for kids of all ages from Grade 1 through 10. Kids ages six to 12 in Alberta can get in on the fun too, at Young Rembrandts' cartoon drawing class.
3. Gardening
What kid wouldn't "dig" gardening class? We want to enroll ourselves in the Jr. Masters Gardening Group at Burlington, Ont.'s Royal Botanical Gardens — never mind the kids! The upcoming winter session runs on the first and third Saturday of each month, and by the time it's done, your kid will have familiarized themselves with the greenhouse and have started growing their own root vegetables.
West Coasters can take their little green thumbs to the Horticulture Centre of the Pacific in Victoria, B.C. There, kids of all ages can participate in the Kids' Garden Club (however, children under five must be accompanied by a parent). Aimed at younger kids, Family Farm at the University of British Columbia hosts a preschool "Junior Saplings" program to spark your little ones' interest in gardening and the outdoors from as young as two-and-a-half years old!
4. Sewing class
Nourish your kid's creativity by enrolling them in a sewing class. The lost art is regaining popularity thanks to sites like Etsy, and we couldn't be more excited because there's nothing more satisfying than using something you actually made, right? Saint John Sewist Academy, operating out of New Brunswick, runs classes for kids ages six to 17. Kids learn about fabric, how to operate a machine, cut patterns, and so on. Older kids, ages 13 to 17, can also enroll in a costume design class where they will make a costume for an actual theatre production!
Toronto-based studio Sew Be It offers two weekly two-hour long classes for sewers as young as eight, and Seams So Easy in Calgary offers classes three times a week for kids and teens, starting September 5.
5. Girl Guides & Scouts
Girl Guides and Scouts aren't exactly new ideas, considering the former has been operating in Canada since 1909 and the latter, since about 1914. But in the world of swimming, soccer, and taekwondo, we definitely hear less about one of Canada's original extracurricular activities.
We love Girl Guides and Scouts because belonging to either offers your kid the opportunity to dabble in a variety of activities, from outdoor adventures to art and science. The icing on the cake is that enrolment is affordable (about $200 for the year!), and groups are widely available across Canada. Visit Girl Guides or Scouts to find a group near you!
6. Mathnasium
Math as a fun after-school activity? You bet! Mathnasium was born in California when educator and dad Larry Martinek realized there was a disconnect between how children were being taught math and the curriculum they were supposed to be able to handle as they progressed through school. Fast forward to today, and there are over 700 Mathnasium locations across North America.