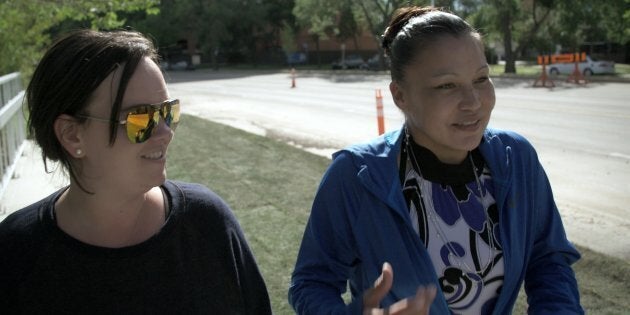 "They're angry at white people. They just always get money, and handouts," boldly states a white woman talking about the Indigenous population in the trailer for the documentary series "First Contact."
Another woman, with short blonde hair styled into a fauxhawk, says that when she thinks about Indigenous people, she thinks of alcoholism and drug abuse.
"They want you to feel sorry for them!" exclaims a bespectacled man.
It's unlikely that anyone living in Canada, whether they're Indigenous or not, would be surprised to hear these views expressed. More than half of Canadians have said that the government spends "too much time" apologizing for residential schools, for instance. And ignorant and cruel opinions are regularly expressed in online comment sections in news articles related to Indigenous people.
"First Contact" is a three-part documentary series developed by APTN (The Aboriginal Peoples Television Network), based on an Australian show of the same name. The doc takes six non-Indigenous Canadians, all of whom have some degree of hostility towards Indigenous people, and immerses them into different communities over a 28-day journey across the country. They travel to a fly-in reservation in Northern Ontario, participate in a seal hunt in the Inuit community of Kimmirut, and head to theNorth End streets of Winnipeg.
In the first episode, Donald, a retired truck driver from Alberta, shows off a shirt with the acronym FIFO, which he explains stands for "Fit in or fuck off."
Ross, an accountant, defends the residential school system: "We were trying to help them! We were trying to indoctrinate them into our society. If we had done nothing, it probably wouldn't have been any different."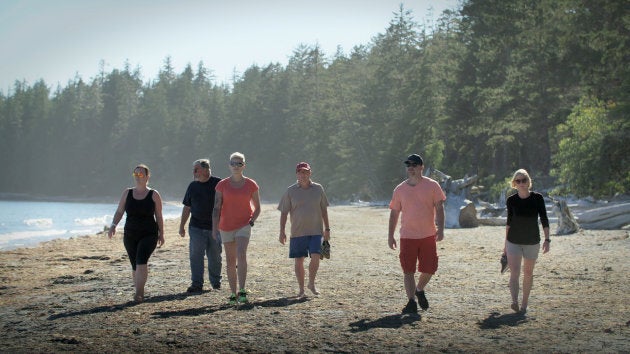 Many people have asked the production team how they were able to find people willing to express those views publicly — but that part was easy, says the show's writer, director and producer Jeff Newman.
"None of them thought they were saying anything that controversial," he told HuffPost Canada. "My family would say, 'How did you find these crazy people?' But they're everywhere."
Stephanie Scott, another producer on the show, adds, "They're very real."
None of them thought they were saying anything that controversial.Jeff Newman, producer
The participants weren't specifically told they were being recruited for an Indigenous-focused show, just that Newman, Scott, and third producer Vanessa Loewen were looking for people with strongly held political opinions. Newman says Canadians who feel strongly about politics also tend to feel strongly about Indigenous issues: "It goes hand in hand for the most part."
Scott says she wasn't particularly surprised by the views expressed so publicly on the series — as an Anishinabe woman, she's had worse said to her face. But she was still struck by some of the commentary in the first episode, where several of the show's participants join Drag the Red, a volunteer movement that combs Winnipeg's Red River for potential evidence connected to the thousands of ongoing cases of missing and murdered Indigenous women. (Tina Fontaine's 15-year-old body was discovered there in 2014, wrapped in a blanket and weighed down by rocks.)
"It disturbed me. It didn't surprise me," Scott says. "The fact that they would talk about our Indigenous women putting themselves in certain circumstances, [saying] it was essentially their fault — that's hurtful, it's harmful."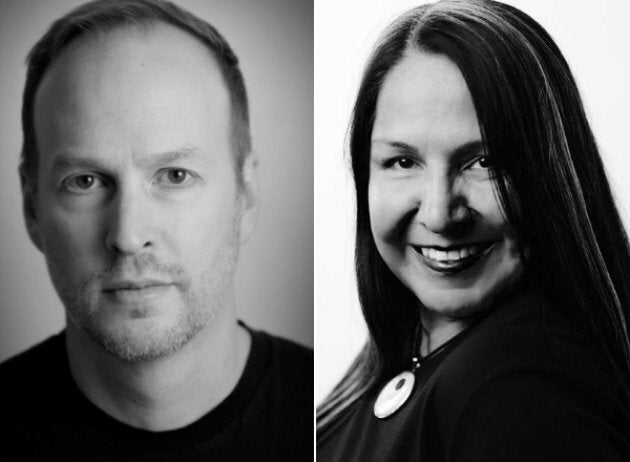 The show's purpose is to explore the knowledge gap that exists between the lived experiences of Indigenous people and the perception of some Canadians.
It came as a surprise even to producers that one of the participants was unfamiliar with what residential schools are. "We realized that we'd even taken that for granted, that she'd at least have some knowledge of it," Newman says.
Not about assigning blame
That lack of awareness was sometimes frustrating, says Scott, who used to work for the Truth and Reconciliation Commission. "Almost 7,000 statements were shared about that experience [residential schools], and all of those survivors wanted to share their stories, so that they could educate," she said.
"But she does know now!" Scott adds of the participant who learned about residential schools during the filming of the show. "And she's sharing that story."
"First Contact" is not about assigning blame — it's about showing people perspectives they may not have an opportunity to see otherwise. "This is not about trying to berate people or make them look bad," says Newman. "It's about saying, look at what people can do when they're immersed. The show at the core is a dialogue."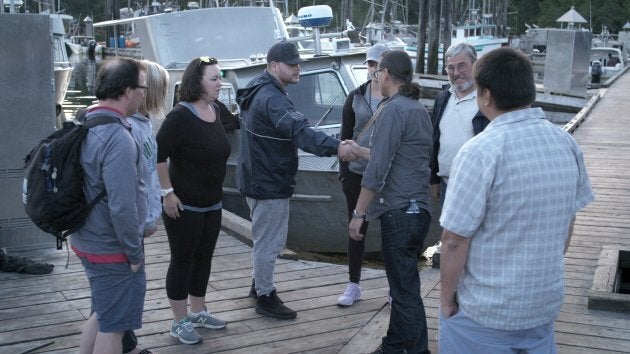 One of the most rewarding parts of the show is watching the dynamics change within the group. In many situations, the participants may start out with the same long-held beliefs, but some shift their mindset, and try to teach one another what they've learned.
And there are subtle moments of understanding. Atlantic fisherman Dallas goes to Nunavut, wary of the Inuit people who live there. But, after observing a seal hunt, he's awed by the community's skill. "They're the true Canadians, when I really think about it," he says of the harsh landscape. "I couldn't live out here."
Ross leaves the hunt amazed at the deftness of the elderly members of the community. "I was chasing some 78-year-old lady yesterday — I couldn't even keep up with her!" he says, almost giddy.
The show is about overcoming fear in many different ways, according to the producers. "I think a lot of the people thought it would be scary going into a First Nation," Scott says. "But once they arrived, they were welcomed."
Even the idea of reconciliation, or of education about Indigenous life, can be scary to some people. The show touches on some of the barriers that can prevent Canadians from learning, and several of the show's participants are defensive about the idea that they could learn more about Indigenous people. Newman says it's as if they're resistant to learning because they think learning necessitates taking on a burden of guilt they don't feel they deserve.
"I think most of them embody that to a certain degree: 'I didn't do this. Why should I have to do anything about it?'" Newman says. "It seems intimidating, it's this really massive thing. But by simply altering your mindset a little bit, and acknowledging the privileges that we have — a simple mindset shift, that alone, can go miles in terms of affecting change."
Scott says she hopes anyone who hasn't spent much time in Indigenous communities will watch the show. "It's hard to watch sometimes, but stick around," she says. "The outcome is hopeful."
The producers agree that the show is one small step towards bridging the gap in knowledge the average Canadian has about Indigenous life. "This will scratch the surface," Newman says. "There's so much to learn."