One of my best friends since high school (that's a long time!), recently told me I looked the best I have in a long time. She said it was due to my eyebrow care. I posted a photo to Facebook and she texted me to say "I can finally see your eyebrows!"
I do agree that great eyebrows certainly frame the face.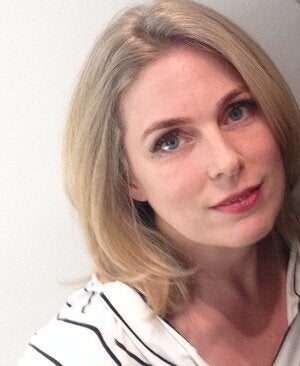 Sacha DeVoretz with improved eyebrows
Recently, I spoke with Kiran Darred, Certified Esthetician and Threading expert and owner of Blink Brow Bar in Vancouver. Kiran shared with me the hottest trends for eyebrows for 2015.
The hottest trend for 2015 is thicker, fuller and bold eyebrows with a slight arch.
Megan Fox and Camilla Belle are wearing this bold look.
To get this hot look you may need to grow your eyebrows fully before you see a professional. Try to see an expert who uses the threading method to shape your eyebrows. With this method of eyebrow shaping you can pull even a single hair from its root. This will give you the desired look for your eyebrows.
Never ever pluck your eyebrows.
When you pluck your own eyebrows, you never achieve the shape you desire. It can be tricky to get both eyebrows even and at the right arch. See a professional for your desired look. When you do see a professional they should never use the tweezers for any left over hair. This is not a good practice for your eyebrows.
Here is another tip. Apply a couple of drops of Coconut oil or Vitamin E oil every night before you go to bed. This application can help to stimulate the growth of your eyebrows.
For over-plucked eyebrows
Apply Coconut Oil or Vitamin E oil every night before you sleep. This may help get the growth of your eyebrows back. Do not pluck your eyebrows for at least six weeks before seeing a professional. Your hair grows in three different cycles in nine months. It goes into a resting stage for two to three months every year. The hair you tweeze today, may take up to six months to grow back.
Depending on the desired shape of your eyebrows, your esthetician or threading expert can advise you which hairs should be left untouched.
Is waxing your eyebrows the same as threading your eyebrows?
No. It is difficult to get precise shaping with waxing. Waxing can pull more than one hair at a time, ruining the shape of your eyebrows. With threading you can pull a single strand of hair at a time and with this method it is easier to achieve your desired look.
Waxing can strip the skin of its natural oils. These oils are called Sebum. With the reduction in Sebum, over the years your eyebrows may start to look droopy.
I am going to continue to care for my eyebrows, it takes time but it is worth it.
Your suggestions are always welcome, as I continue on my journey to enjoy life to the fullest. Let's have the very best 2015!