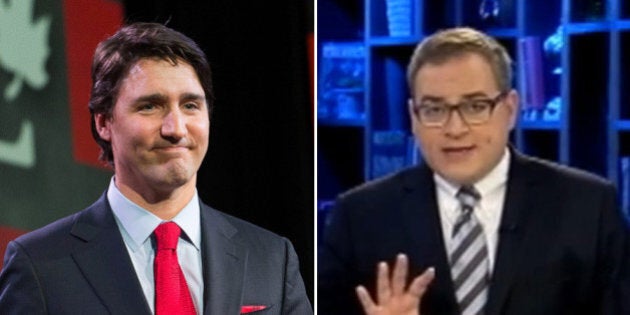 Ezra Levant's latest project he's promoting on various Sun News platforms is a Justin Trudeau attack site that asks visitors for donations.
"This website cost us about $200 to set up, Please feel free to chip in on PayPal, if you want to help us out!," the site explains.
Inspired by "Where's Waldo?" the site is designed to scrutinize Trudeau's absence from an emergency late-night debate requested by the Liberal leader on Tuesday.
WhereWasJustin.com made waves on Thursday after Twitter Canada's Steve Ladurantaye called it a Sun News subsidiary site. Levant denied the claim.
At the bottom of the Trudeau attack site is a link that says "A Project of ForCanada.ca" – a not-for-profit corporation described as being funded by "grassroots Canadians."
According to information from whois, a registrar of Internet domains, "ForCanada" domain name was registered on Feb. 24. The registry also links the site to a Calgary address and the e-mail address ezra@ezralevant.com.
The same Calgary address listed also matches the same one used by EthicalOil.org, Levant's website that promotes oilsands support.
Industry Canada filings reveal ForCanada was incorporated on April 29, registered to an Ottawa address. Documents also show three directors: Toronto consultant Michael Diamond, Toronto-based oilsands advocate Amanda Achtman, and Levant.
The conservative pundit repeatedly shared links to the attack site on Twitter Thursday and Friday.
Despite the lack of an overt mention of his involvement anywhere on WhereWasJustin.com, Levant told the Ottawa Citizen's Glen McGregor in an email he isn't pretending there's no connection between him and ForCanada.
"I sign the letters and lead the events; I'm the guy talking about it every week on TV," he said.