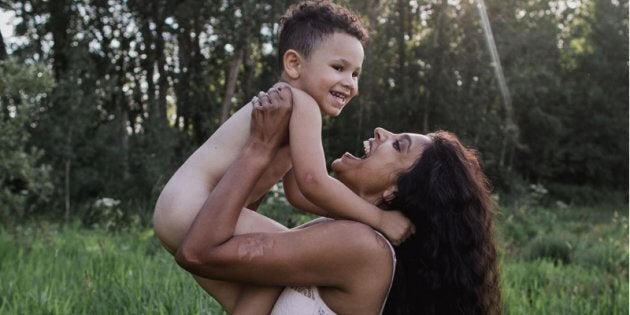 Alberta sisters-in-law Aimee and Jenna Hobbs say they've recently come under fire from both social media platforms, after posting pictures from their annual project, A Mother's Beauty.
The project captures women and their children posing, playing, and occasionally breastfeeding. Sometimes the subjects are in their underwear; sometimes they decide to doff their clothes altogether.
Story continues below video:
Which is all too much for social media, apparently.
Over the weekend, Instagram deleted several of the project photos from the Hobbs Photography page, and Facebook imposed a three-day ban on both sisters' personal and professional Facebook pages, the pair told HuffPost Canada in a phone interview.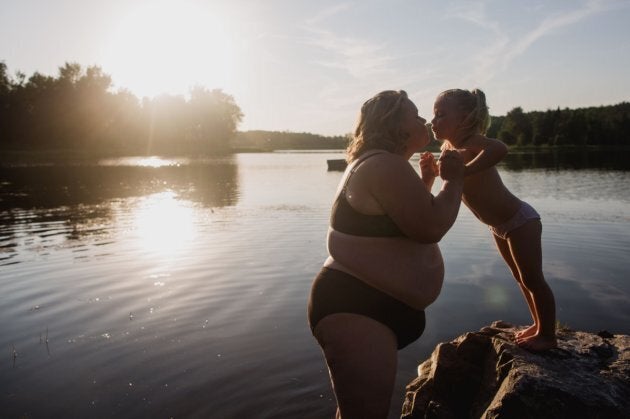 It's something that happens to them often. Not one year has gone by where photos don't get removed and accounts temporarily locked, they said.
One of the offending photos removed from Instagram (and pictured below) features a mom in her bra and underwear holding up her naked toddler.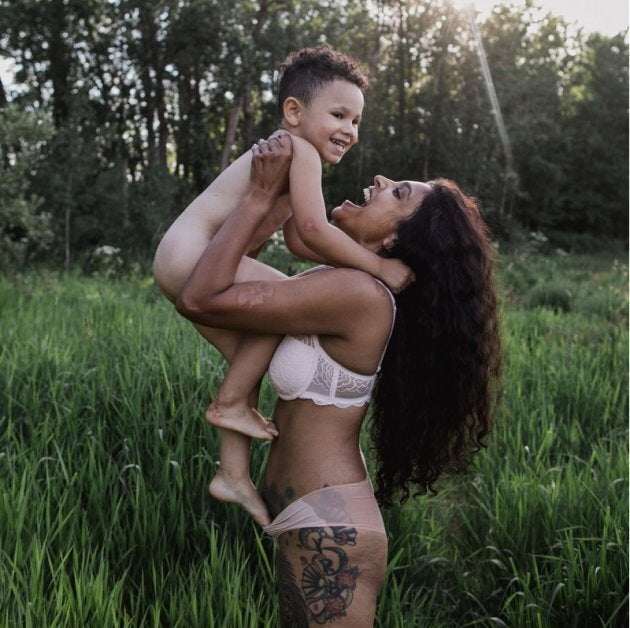 Another photo, featuring a woman wearing "granny panties" and turned away from the camera but looking back over her shoulder, was also deleted — something the sisters describe as "confusing."
"...We don't allow nudity on Instagram. This includes photos, videos, and some digitally-created content that show sexual intercourse, genitals, and close-ups of fully-nude buttocks. It includes some photos of female nipples, but photos of post-mastectomy scarring and women actively breastfeeding are allowed.
People like to share photos or videos of their children. For safety reasons, there are times when we may remove images that show nude or partially-nude children."
"Sure, the kid is naked, but it's not even like you can see his bum or anything. And the one of the mom in her granny panties, you couldn't see anything," Jenna said, adding that a recently posted photo of a naked, pregnant mom went untouched by Instagram's censors.
"There's no rhyme or reason for the photos that we've seen deleted," Aimee said.
Aimee admits Instagram and Facebook have made strides in recent years — both are more tolerant of (Warning: images in these links are NSFW) breastfeeding and childbirth photos. However, she says it's baffling why photos showcasing the reality of motherhood are still deemed so offensive.
"We're kind of walking on eggshells and trying to work around their rules, even though those rules are very inconsistent and we don't really know what they are," she said.
The sisters say they aren't sure whether it's individuals or an algorithm that's flagging their content to censors, but both agree there's a "terrible" double standard in what is deemed appropriate for social media.
"This is all a pretty tough pill to swallow when social media flaunts endless accounts focusing on the hypersexualization, objectification and degradation of women," they wrote in a blog post on their website.
"It's just reenforcing what society is so good at telling others — if a woman doesn't bounce back after they give birth, they're somehow broken," said Aimee.
The Hobbs sisters aren't the first to ask why content related to a woman's motherhood experience are is offensive to the higher powers of social media.
Popular in the Community