Faith Goldy — currently a Toronto mayoral candidate, formerly a journalist, but always a far-right troll — recently tweeted a photo of some "volunteers" for her campaign. The photo would have been relatively mundane, if not for the presence of two uniformed Toronto Police Service (TPS) officers and their squad car.
This addition to the typical assortment of people you'd expect to see campaigning against the "decline of the white race" should concern all of Toronto, as it already does members of racialized groups frequently targeted by the TPS.
This is because Goldy is a far-right figure that should be marginalized instead of normalized, and the officers may have been violating their codes of conduct by posing for the photo.
On Twitter, Const. Scott Mills, via the Toronto police corporate communications account, tried to provide context for the photo, but his explanation just made it worse.
As I've written before, Goldy was fired from far-right Rebel Media for going "too far" after appearing on a neo-Nazi podcast. She has also recited the most popular white supremacist slogan publicly, demanded a modern crusade against Muslims, champions ethno-nationalism, and bemoans "white genocide."
Goldy has been banned from PayPal, and from Patreon for "violating [their] Community Guidelines on Hate Speech." There is always a crank or two in every election, but unlike the usual suspects, Goldy has a worldwide following. She is not your average candidate.
This is why — regardless of the fact that Goldy isn't expected to win, or even be a contender — people are concerned by the photo. While the officers were not volunteering for Goldy, as her initial tweet misleadingly indicated, they may have still been violating municipal and provincial codes of conduct.
According to the Toronto Police Service Board, the chief of police is supposed to remind officers at the beginning of each election campaign that they can't use their status to endorse candidates, and must "discipline any police officer who contravenes this policy."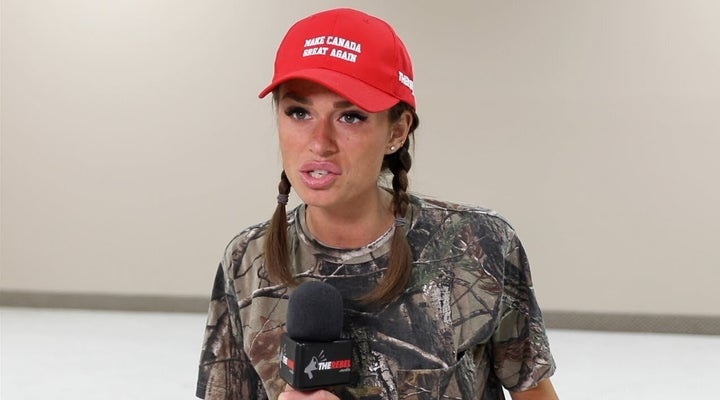 Provincially, according to the Police Services Act, "No municipal police officer shall engage in political activity," except under conditions that do not appear to apply in this case, such as an officer appearing out of uniform at certain political activities, or giving their opinion on non-police related issues while making sure not to associate the view with the force.
This means that beyond just facing public scrutiny, the police force should discipline officers who engage in political activity, as a way to reassure the public they take the violation seriously.
Unfortunately, the TPS has batted away this opportunity thus far by announcing that the officers in question won't face any form of discipline, or further investigation.
I reached out to TPS spokesman Mark Pugash for further clarification of their explanation, and dismissal of people's concerns. He hasn't replied, but here's a summary of what I asked.
How did they still not know they were at a political event?
It was reported that a member of Goldy's campaign called the police and told them about the "possible trouble." This raises a few questions. Did the caller identify themselves as a member of her campaign on the phone? If they did, how did the officers not know they were heading out to a political event?
If the caller didn't identify themselves as a member of her campaign on the phone, how does Pugash know the caller was from her campaign, and when did he find out?
When the officers got to the scene, wouldn't they have talked to Goldy and/or her campaign team to get a better understanding of the "potential trouble," or at least to know if it had been resolved?
In the time it took to chat with those assembled, and pose for the photo, how didn't the officers see all the campaign paraphernalia? Or Goldy's shirt, which said, "Faith For Toronto!"
How did they still not know they were at a political event?
Sure, officers may often get asked to pose in photographs, but did this group of people wearing campaign shirts and buttons, having just called the police for help, look like the typical selfie-seeker? Is this what the average request looks like? To call this event "no different" than drunk university students posing for photos on St. Patrick's Day, for example, is ridiculous.
This incident, and how it has been handled, matters, because the TPS are often critiqued as a racist institution by marginalized people across the city, to whom this story is not surprising at all.
With this in mind, condemning officers for posing with a white nationalist would be the absolute bare minimum expectation if the TPS expects to regain any sort of trust from racialized Torontonians, who are disproportionately targeted by police.
More from Davide Mastracci:

Stop Faith Goldy From Having A Platform At Wilfrid Laurier University

The Toronto Police Service Deserves No Praise After The Van Attack

Doug Ford's Victory Is Also One For White Nationalists
As a whole, the TPS' response to the event is insulting to our intelligence. Unless the officers' justification for being photographed can withstand genuine questioning, they should face some reprimand, and the TPS should publicly state their conduct wasn't acceptable.
Have you been affected personally by this or another issue? Share your story on HuffPost Canada blogs. We feature the best of Canadian opinion and perspectives. Find out how to contribute here.