There's mom style and then there's mom style. Blame it on the infiltration of the "mom jean" coming to a crotch near you and you've got a recipe for a normcore fashion disaster; or is it?
We can resist the growing impulse to dress like Rebecca Katsopolis (née Donaldson) or we can give into our inner '80s matriarchy. That being said, you never wanna go full retro with the mom look, unless you're capable of approachable style moves like those made by Eva Chen, who does mom like no other Facebook employee with over 600k followers. She's like the coolest mom out there.
Take a page from some of the best dressed moms, from then and now, and forge a mature identity through your upcoming fashion choices this fall. And don't forget the proverbial MILFS; being a mom doesn't mean you have to forgo sexy. In fact, some of the most stylish moms out there do a great job of balancing those warm, nurturing curves with lots of sex appeal. Yes, I'm thinking Kim Kardashian and Teyana Taylor.
Whether you're a dog mom, a cat mom, a baby mom, or an office mom, there's definitely something powerful about you. You're typically a leader but also know how to feel compassion. Of course, your style choices can totally communicate that to the outside world. And for those of you who are lucky enough to have a "mom" to look up to, now is the time to steal their style sense and their clothes, and make them your own.
Here's a few items for your "Mom Style Starter Kit":
You can't even begin to call yourself a mom until you own a pair of mom jeans. We ask you, what came first? The mom or the mom jean? An age-old riddle, that only can be answered by Calvin Klein. Pick a pair, the more vintage, the better. But if you can't find a used pair, there are some contemporary versions that do a good job at emulating the token sartorial trait that makes a denim mom-approved: a high-waist, straight leg and you definitely need to see those crease marks at the crotch causing the denim to bunch up in the nether regions.
Call it breastfeeding, call it confidence. All the young mothers of my memory never wore bras. If you're going to attempt this look, it's better that the tank top is as tight as possible without suffocating you. It's sort of a tank top that also acts as a support system. Anyway, true mothers go braless.
I've never met a mom who didn't rock a mean windbreaker. The more '80s and bubble-like, the better. You can wear the windbreaker with leggings or jogging pants, or better yet, your mom jeans. Duh.
Full bum. Full stop. Enough said.
All hail the nail polish colour of choice among mothers: OPI Bubble Bath. Ever ask a mother their favourite nail polish colour? Nine times out of 10 the answer is Bubble Bath. (Big Apple Red, also OPI, is often a close second).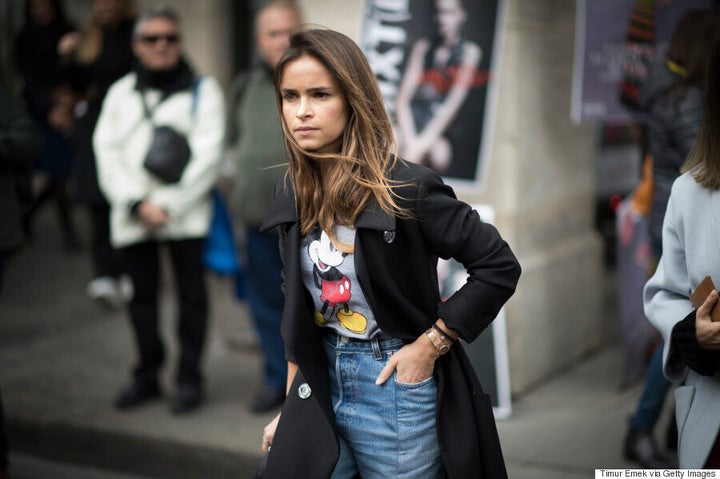 If you're a mom, you buy those crazy souvenir T-shirts from every single place you visit and wear them to bed. It is just comme il faut. (And you also buy one for every person you know).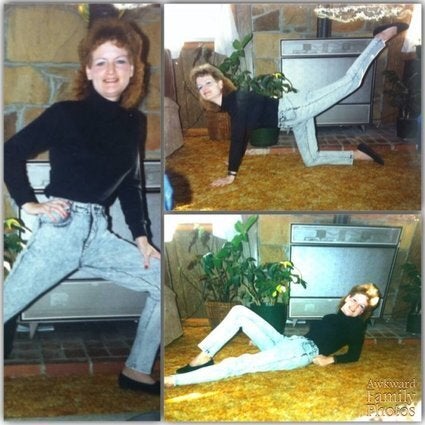 80s Mom Style