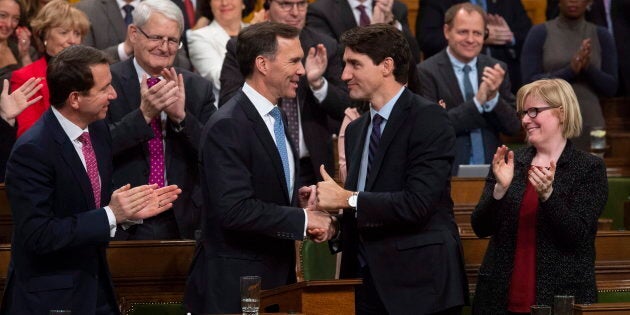 OTTAWA — The Liberal government has unveiled its arms-length attempt to save the country's struggling news industry by introducing three new tax measures to incentivize Canadians to pay for journalism.
The measures, included in the fall economic statement Wednesday and estimated to cost $595 million over the next five years, are intended to open new avenues of financial support for domestic news organizations that produce "a wide variety" of original content.
The changes come on the heels of promises in last spring's budget to allocate $50 million over five years to support local journalism in underserved communities.
Starting in January, people will be eligible for a new refundable tax credit to help both non-profit and for-profit news outlets cover labour costs that come with producing "original news content."
Watch: Tory MP asks if Liberals are trying to 'buy' media before 2019 election
A temporary, non-refundable 15-per-cent tax credit is also coming for subscribers of eligible digital news media. The credit is meant to encourage Canadians to change their reading habits and move to online platforms.
Another credit will introduce a new business model for publishers to allow charitable and philanthropic contributions for "trusted, professional" and eligible non-profit journalism organizations.
But despite the long-awaited announcement, details remain sparse on the eligibility criteria, contribution limits for the charitable tax credit, and a working definition for what constitutes professional journalism.
Those definitions and standards will be determined by an independent panel of journalists, the government said. A senior official told HuffPost Canada the measures are admittedly "ill defined" but will be developed and clarified before next year's federal budget.
"We want it to be as arms-length as possible from government to decide on eligibility and how that should work and we want to push it to that process," the official said, adding it will be up to the panel, and not government, to iron out the details.
"We don't want any kind of impression that government is getting political," the official said. "We're just putting a marker down that we believe in a strong, free press."
The panel will be responsible for defining and promoting "core journalism standards," defining what constitutes "professional journalism," and proposing standards for tax credit eligibility.
Tories launch fundraising attack
Heritage Minister Pablo Rodriguez, who is tasked with the challenge of finding diverse business models to help news outlets survive, brushed off the opposition's attacks as nothing more than a conspiracy theory.
Following the fall economic update announcement, Conservative finance critic Pierre Poilievre told reporters that he was concerned about what the proposals would mean for the "independence" of journalists.
"We think the media should be independent from the government. We should not have a situation where the government picks a panel that then decides who gets to report the news," he said. "That's very dangerous."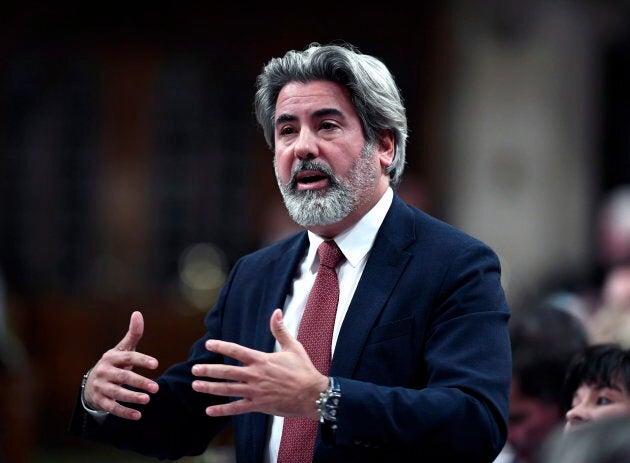 Poilievre thinks taxpayer dollars should not be used for a government-selected panel to "decide which media survive and which don't" in an election year.
Asked if he was setting the stage for Tories to blame the media if they lose the next election, Poilievre said: "We're planning to win the next election."
Canadian journalism industry in 'death spiral'
The ideas draw heavily from a heritage committee report tabled in the House of Commons last year. The report, which took 15 months to compile, explored ways to save Canadians' access to local and regional news.
Its members admitted the issue of dying news media opened a "Pandora's box" of complex challenges and issues to which it was previously oblivious.
"The ground seemed to be shifting beneath our feet daily, and we needed to recall, on occasion, witnesses whose testimonies demanded clarification or had become outdated, and incoherent," reads the report.
Industry-threatening trends started 10 to 15 years ago when advertising dollars began to drain away from newspapers and broadcasters because of the internet, according to Chris Waddell, a professor at Carleton University's Journalism and Communication program.
The veteran journalist participated in a government consultation back in May to help bureaucrats find possible solutions to help publishers. At that point, he said, bureaucrats seemingly "had no idea" what they were going to do to support Canadian journalism.
We should not have a situation where the government picks a panel that then decides who gets to report the news. That's very dangerous.Tory finance critic Pierre Poilievre
The announcement hasn't convinced Waddell that the government has a thorough grasp of the challenges facing journalism.
The issue is multi-faceted: not only have newspaper and broadcasters been losing revenue, they've also been losing their audience, he said. Waddell questions the strategy of supporting organizations that fail to move online and refuse to acknowledge research that indicates 90 per cent of Canadians are reluctant to pay for online news.
"I'm not sure that giving greater subsidies that continue to produce a printed product that audiences are generally abandoning is a good long-term strategy," Waddell told HuffPost. "There's no evidence they have a long-term future."
Several reports have noted the surge of smartphone use has shifted newspapers and broadcast news audiences online. Young people are reading less print so circulation is also declining.
"And of course it becomes a self-reinforcing problem because the advertisers you've got left don't want to spend as much if the newspaper is not going to as many people."
Outlets can find themselves stuck in a "death spiral," moved to cut reporters in order to trim budgets, which affects coverage, he said. "Which means less revenue and you go around the circle and go around the circle again."
Waddell said the announcement "reflects the government's belief that it wants to do something, but there's still not enough in the announcement to actually figure out how it's going to be applied, who's going to benefit or what the real implications are."
To put labour cuts in the journalism industry into perspective, over 3,000 jobs at Postmedia have been cut in the past decade, according to a release by media union CWA.
Union president Martin O'Hanlon warned a weak press "leaves almost no one to hold local politicians and powerful interest to account in many places."
He welcomed new federal aid, but sharing a sentiment similar to Waddell, said the union won't endorse the package until further details are finalized and released.
With files from Ryan Maloney