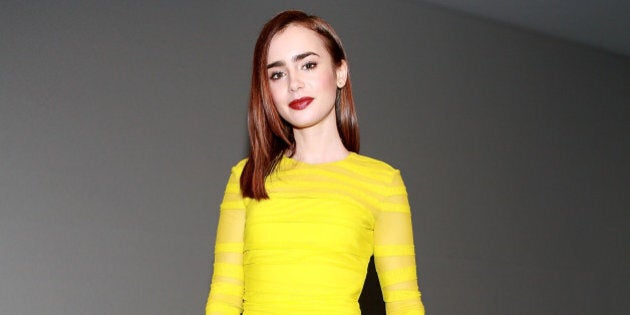 Fall's nearly here, and we all know what that means: everything is better. (The clothes, the food, the lack of humidity – seriously, autumn is a gift.) However, before you begin loading up on the season's big trends, stop, collaborate, and listen – or at least consult this round-up of go-to Fall 2013 looks we've seen on our favourite celebrities.
We promise it's easy to master the look of F/W 2013 (especially since it's so vast), but to ensure shopping for back-to-school or back-to-work remains stress-free, we've laid out ten wearable styles, and a few tips to go with them.
Story continues below the slideshow: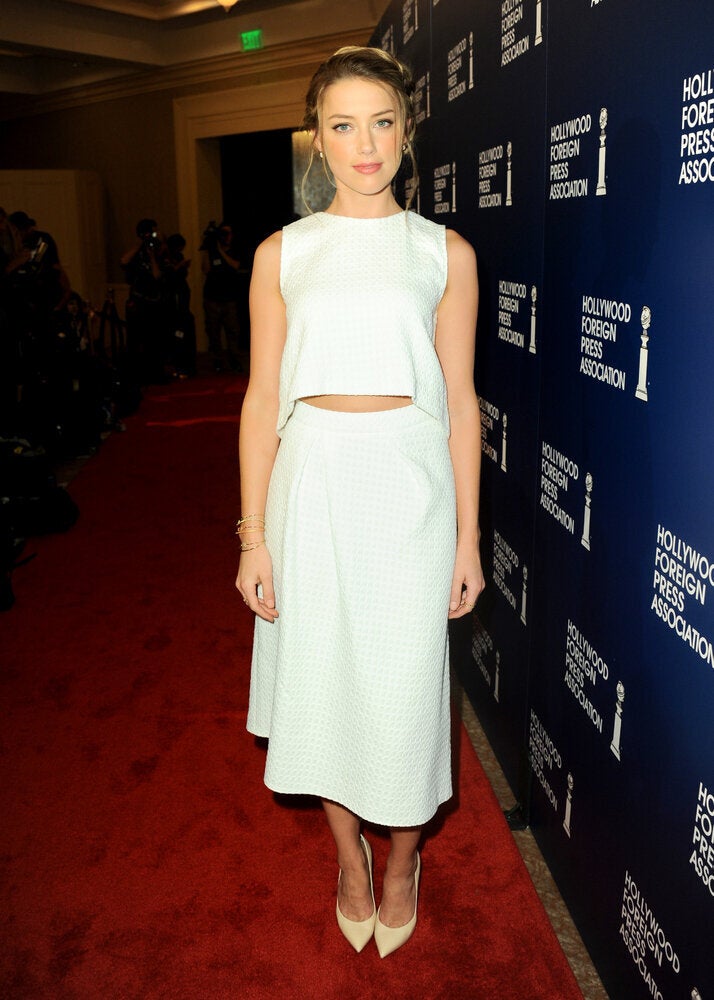 Fall Fashion Ideas From Celebrities
1. Amber Heard In Winter (Kind Of) White
2. Amanda Seyfried In Leather
Showcased in collections by Valentino and Jil Sander, leather is another F/W 2013 staple – and thank goodness. (Leather is a precious life raft.) In London recently, Amanda Seyfried combined the hardness of a leather bomber with the femininity of a light summer dress to transition between seasons. Doing the same can help you usher in fall, too – especially when you mix and match delicate pieces with a leather skirt, jacket, or even pants.
3. Shaun Robinson In Lace
Credit it to "Downton Abbey" (we certainly do), but in contrast to bared midriffs and leather, lace made a place in Fall 2013 via collections by Jason Wu and Stella McCartney. The "Access Hollywood" correspondent's choice to combine lace with one of the season's big colours at "The Butler" premiere in August is a great way to bring lace into the 21st century – another would be to wear lace over a tank or bandeau for a more casual, albeit evening look.
4. Bella Thorne In Bold, Traditional Patterns
There's a return to tradition this season thanks to Burberry and Marc Jacobs, but actress Bella Thorne proves you don't need to look dated when channeling traditional patterns. Updating her stained glass print through a snugger fitting dress, and shorter skirt, Thorne, at "The Mortal Instruments: City of Bones" premiere, isn't lost in it. Instead, her style looks clean and on-point – especially thanks to her neutral-toned footwear and minimal accessories. Let the pattern do the work.
It wouldn't be fall without a form of layering, and clearly the singer is aware of that. Balancing a mini dress through a long, short-sleeve jacket at the Invisible Children's 4th Estate Leadership Summit, she creates contrast through the opposing fabrics, tones, and even skirt and jacket length. Then, to add a little more colour, she tops with aquamarine jewelry – an in-between in terms of each piece's colour -- to tie everything together. And remember: the more the layers, the more colours and accessories there are to play with.
6. Christina Hendricks In Below-The-Knee A-Line Skirts
There's no in-between with Fall 2013 – unless you're talking about skirt lengths, which you'll find anywhere between the ankle and knee. Since the midi is a hard style to wear, channel the "Mad Men" star's fitted top and defined waist, which Hendricks wore at the D3 Epxo – especially since a baggier shape can make you seem shapeless with a skirt that doesn't show off your legs. Also, add length: heels are a quick way to make you seem tall and balanced, but flats can cut you down, making for a less streamlined silhouette.
7. Rochelle Humes In High Top Sneakers
8. Tiya Sircar In '60s Throwback
We could say vintage is back, but we also know vintage never really went anywhere. In addition to the popularity of actual vintage, designers like Anna Sui and collections by Opening Ceremony paid homage to the 1960s – much like actress Tiya Sircar did at a screening of "Short Term 12." Fortunately, it's an easy look to master: letting the dress speak for itself, keep yourself in 2013 by donning ankle boots and loose curls. However, for a more retro look, opt for ankle boots, bracelets, and backcomb your hair. Frankly, you can never be too 1960s (unless you begin acting like any "Mad Men" character), so have fun.
9. Michelle Dockery In Blazers
We know blazers are a firm staple of the autumn landscape, but "Downton Abbey" star Michelle Dockery represented a more masculine cut of blazer at a recent photo call. Using the blazer as part of a short suit (which is another great way to transition from summer into fall), she channels business aspects of the early '90s. You can do the same by pairing a blazer like that with short, trousers, or even jeans. Just avoid pairing it with a non-fitted skirt – thanks to the excessive fabric, you might end up lost in cotton-blend.
10. Lily Collins In Sheer
We saw a lot of sheer fabrics throughout the summer, but rest assured that it's possible to wear them year-round. Lily Collins is the perfect example: thanks to "The Mortal Instruments: City of Bones" star's yellow dress (with a visible underlay), she keeps covered up, but still represents the sheer trend through her sleeves and collar. So remember that while coats will keep you physically warm (which may help you justify a full-on sheer style), once you take it off, you still want to look season-appropriate as the temperature drops – or at least balance any sheer pieces with ones that offer a little more warmth.
Popular in the Community