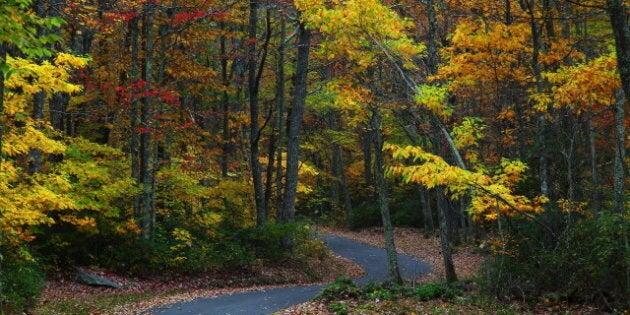 With the NHL lockout in full effect and no end in sight, it looks like Canadians hoping to watch the Maple Leafs will now have to turn to the outdoors to get their fill. It's nothing close to a hockey game but what fall foliage trips lack in goals, penalties and shootouts, it makes up in raw, natural beauty.
Sure, the leaf viewing season may be a precursor to those irritating weeks of raking, blowing or bagging dead leaves on front lawns across the country, but it's actually a strong selling point for Canadian tourism during the Autumn.
After all, fall doesn't offer too many incentives for Canadians to go on a vacation. The kids are back in school, there aren't any long weekends (save for Thanksgiving which is pretty much reserved for craving turkey with family) and most people are still waiting for the frigid weather of winter to kick in before flying off to farthest sun-soaked beach.
And while Canadians can enjoy the beauty of fall in their own backyards, there's no shortage of choice across Canada's ten provinces for those looking for a short road trip.
Just be sure to enjoy the leaves while they last because, much like the Maple Leafs, it's only a matter of time before they make their way to the bottom.
The best places for fall foliage viewing across Canada: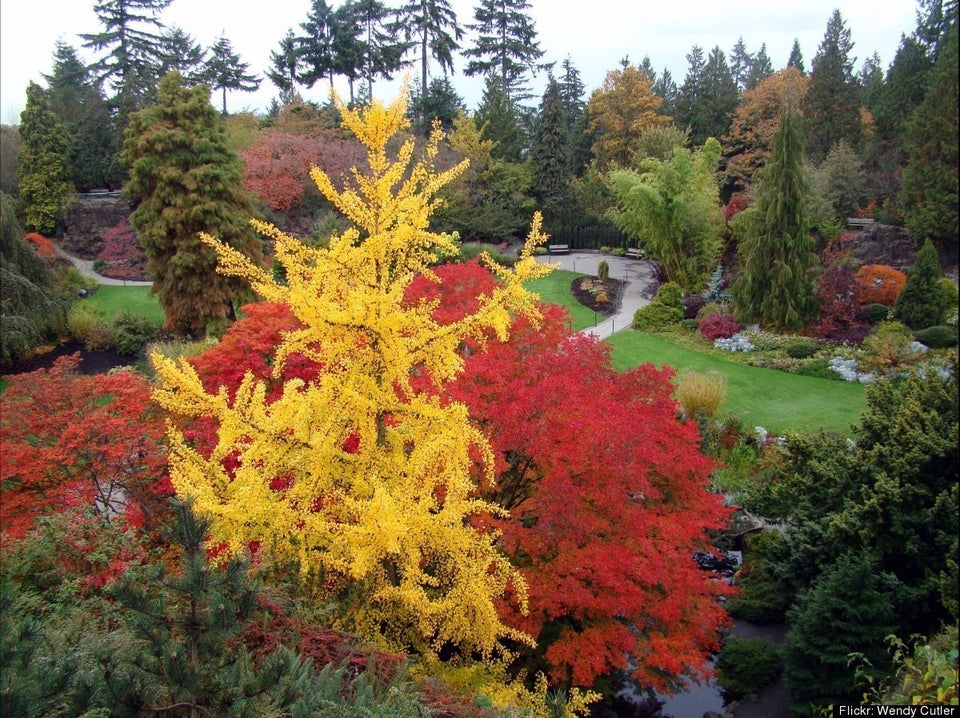 The Best Canadian Destinations For Fall Foliage
Located In: Vancouver, British Columbia
Situated in central Vancouver, Queen Elizabeth Park is a 130-acre park that features a mixture of evergreens and deciduous trees (the kind with leaves the change colour). The mixture of the trees provides a contrast which makes the red and yellow leaves really pop out against the green pine needles.
Located In: Banff, Alberta And Jasper, Alberta
It doesn't get more picturesque than the gold and red leaves across a canvas of the Rocky Mountains. Travellers who've had their fill of the stunning aspen, birch, and willow trees can find plenty of other activities at the nearby Banff or Jasper National Parks.
Located In: Lumsden, Saskatchewan
Fans of fall foliage might have a hard time in Saskatchewan since the province is mostly dominated by wheat fields and flatlands. However, a 30-minute drive Northwest of Regina will take travellers to Lumsden, Saskatchewan. The city rests on the Qu'Appelle Valley which plays host to lovely shades or red, orange and yellow when Autumn rolls around.
Whiteshell Provincial Park
Located In: Whiteshell Provincial Park, Manitoba
Visitors of Whiteshell Provincial Park can be expect to be dominated by golden leaves, thanks in part of the numerous Fallgold Ash trees that dot fill the park. Also worth nothing is the park's closeness to the Ontario border making this location a strong contender for a weekend road trip for Ontarians.
Algonquin Provincial Park
Located In: Nipissing, Ontario
While there West has its share of fall foliage locations, Eastern Canada has leaf viewing destinations in spades. Algonquin Provincial Park is just one of the many places in Ontario with lovely shades of red and orange due to the numerous types of spruces, pines, ashes, maples and aspen trees in the park. Travellers can also capitalize on the best viewing locations with a fall colour report.
Located In: Laurentides, Quebec
Mont-Tremblant may be a top destination for skiers and snowboarders during the Winter but come fall, the resort city plays host to the Symphony of Colours festival. The festival celebrates the city's orange hues from the plentiful sugar maples, yellow birches and American beeches with free concerts and musical performances.
Located In: Corner Brook, Newfoundland
Located in Corner Brook, a town that runs mainly on its paper and pulp industry, Humber Valley's fall foliage is well known for attracting tourists every fall and is even a destination on a few Atlantic cruises.
Located In: Cape Breton, Nova Scotia
The Cabot Trail is known for the beautiful coastal drive, its various gold courses and the beautiful crimson reds, stunning yellows and vibrant oranges during October. Like Ontario, there's even a foliage report that visitors can fill out to give other travellers an idea of what to expect and when to expect it.
For travellers who find themselves in the Maritimes during Thanksgiving weekend, pass on the turkey and take on the leaves instead. The hues or yellow will remind you of roasted potatoes, while the oranges will have you craving a pumpkin thanks to their vibrancy.
Located In: Prince Edward Island