There is no such thing as a woman with too many shoes. As far as we're concerned, you can never have enough shoes. And what perfect time to add to your ever-growing collection of footwear than fall?
Sure, summertime might bring the magic of pompoms and espadrilles (which, every girl totally needs) but fall is the glorious season of knee boots, thigh highs, ankle boots and quite frankly, anything and everything that we can get our filthy hands on. Ballerinas? Check. Unnecessary fur-lined loafers? Check. Sneakers with emoji faces? Make that two.
We know you'll want to buy your staple fall shoes such as black stiletto heels, a sweet pair of knee-high boots in leather and suede and of course, a pair of rubber boots for those rainy October nights when Drake isn't home to keep you warm. Early fall is also a great time to invest in a pair of waterproof, weather-proof, salt-proof boots for the impending doom that is winter.
But for those of us who want to go beyond the basics, there are a few staple fall 2016 shoe trends that are definitely worth trying.
We've rounded up the top 10 shoes you should consider splurging on this season and some affordable alternatives if off-the-runway isn't your style. Still, a girl can dream!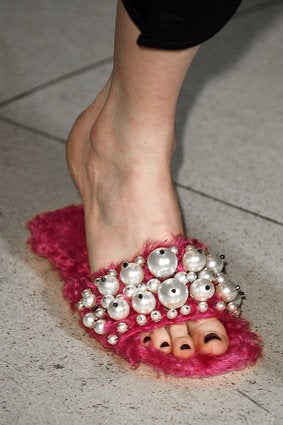 Fall Shoe Trends 2016
Popular in the Community