Autumn is rapidly approaching and with that, so is cooler temperatures.
Meaning? Well it's about time to brush up on the fall styles of 2014—particularly the top fashion trends that will be everywhere this coming season.
Thankfully, there's something for everybody this season, whether you're into '60s prints, shearling coats, cozy knits, showstopping shoes or elegant dresses (or all the above!).
To help you ease into the fall shopping madness, we highlight the top 10 fall fashion trends for 2014.
Story continues below the gallery: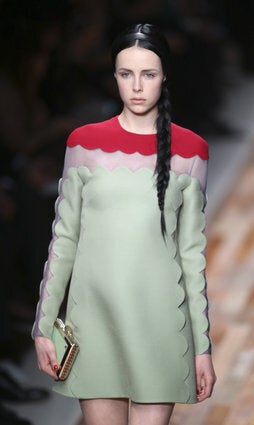 Fall Styles For 2014
1. Swinging Sixties Baby, Yeah!
Thanks to designers such as Louis Vuitton and Gucci (just to name a few), we'll be hanging out in mini-skirts, Mary Janes, graphic tees and the modern-day version of the go-go boot.
2. Shearling Is A Safe Bet
Who says you can't wear a beautiful dress in the fall? No one, that's who. So thank God then for designers such as Givenchy, who sent dreamy frocks down the runway, which, when styled right, could definitely be worn to the office.
Fall is the gateway to winter, which means black, black and more black, right? Wrong! Autumn is actually the perfect time to wear bright and bold colours, seen on the runways of Alexander Wang and Blumarine among others.
Really though, menswear never goes out of style but it's back in full force for fall 2014. So, if you're not feeling like wearing a dress or a mini-skirt, there's a cool alternative that's definitely a head-turner.
Animal-print is omnipresent but the print was featured everywhere in the fall/winter collections on tailored coats, boxy sweaters and plenty of accessories. But if you're afraid to dive in and get a jacket, start off with a small accessory like shoes or a bag.
8. Shoes To Write Home About
Sure, boots are cool and a total necessity for fall. But for those of us who want to get a bit more fancy there are plenty of options. Think sparkly Mary Janes, crystal encrusted boots and cool kicks that give your outfit that extra razzle dazzle.
You don't have to look like Sporty Spice to get the "sporty" look so check out the collections of Celine, Louis Vuitton and Miu Miu for their modern take on sportswear. Fabrics such as fleece and mesh in bright and primary colours will ensure you stand out for all the right reasons (while being comfortable, to boot).
If Canadians have to face another bone-chilling winter like last year, then they're going to want to stock up on warm, voluminous coats. Luckily, they don't have to look like the Abominable Snowman to look chic thanks to designers like Chloe and Kenzo.