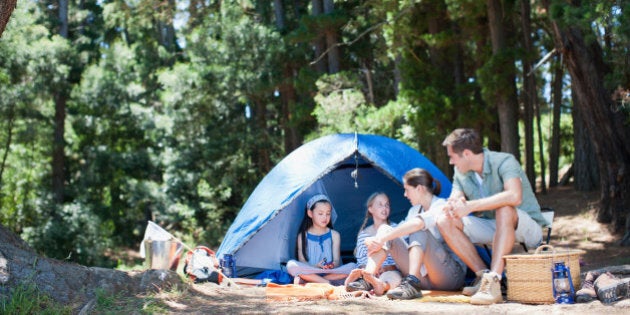 Camping, no matter how loosely that term may be used these days, is an incredible way to build family memories. I'll even argue that it's one of the best family vacations out there simply because it brings people back to the basics.
When I camped as a kid, it meant jamming everyone into one tent, sandy sleeping bags, spider hot dogs, deer flies, bear spray and entire days spent at the beach.
But, nowadays, it means much more. From karaoke nights to furnished cabin rentals, campgrounds morphed into "camp resorts." There's really something out there for everyone, whether you're after the sound of a mosquito buzzing overhead at night or the breeze from a ceiling fan.
As creator of The Family Travel Guide, a website dedicated to family travel, I put together a list of my ideal places for family camping. From the backwoods to hardwood floors, I try to cover it all.
The 1000 Islands Camping Resort is located near Brockville, Ontario which is approximately three hours from Toronto or one and a half hours from Ottawa. As a teenager I went there often with my family. I credit repeat visits to the varied activities -- from wagon rides and hiking to children's crafts and mini-putt, there's so much to do. I remember meeting other kids on my first night there and hanging out with them throughout the trip.
The camping "resort" is nestled in an area that offers boating, swimming, hiking, golfing and fishing so if you're looking for location, this is it.
Resort offerings: camp store (snacks, groceries and gifts), washrooms with hot showers, laundry facilities, 50-foot-pool, scheduled kids' activities, crafts, Bingo night, wagon rides, mini-putt and for the gamers there's even an arcade. I've got a ton of fond memories at this place so if you're looking to take your family somewhere to get the camping experience with a few extra super-fun amenities, this is your place. That said, if you're looking for the deep-woods, private experience of authentic camping this likely isn't for you. Some sites are out in the open and few offer much in the way of privacy.
Ok, I'm a little bias with this one but I am putting it on the list because I worked there as a teenager and I know it well. It's only an hour and 20 minutes north of Toronto so it's easy to access (although with summer, weekend traffic it can take longer). It's located on Lake Simcoe with cute, small towns nearby (for restaurants and stores). Sibbald Point is one of Ontario's Provincial parks and it's maintained as such. In contrast to the 1000 Islands Camping Resort mentioned above, Sibbald's is a more historic, natural experience. There's a huge sandy beach, a large playground for kids, hiking trails and an historic museum. Campsites, while in wooded areas, are easy to spot and don't offer that deep-woods seclusion. But, there are great picnic areas and camp sites are large enough to include multiple vehicles (buy additional permits).
Visitors can purchase day passes as well, which is a great way to check it out before booking an official stay. Because it's a provincial park, Sibbald Point books up very fast. You'll want to plan a stay here (especially summer weekends/long weekends) well in advance. I recommend this place because you're close enough to towns to access emergency services (for kids), restaurants and supplies while still getting that outdoor, camping thrill (campfires, canoeing, tents etc). It's less of a resort style place and lets the kids take a break from city life and explore nature.
Another great Provincial Park, which tends to be more commonly discussed, is Sandbanks. It's similar to the above but offers sand dunes, bird migration and is located in Prince Edward County instead of up in the Simcoe area.
A second honourable mention goes to Kawartha Highlands. This park is the largest in Ontario and is actually quite new. It's a more rugged experience and offers tranquility and backcountry camping. Here you'd be looking at more wildlife, darker night skies (forget Saturday night Karaoke and crafts). You can even canoe up to some sites, which gives it more of an authentic, outdoor feel. This is for the hardcore camping family as opposed to the grounds that are geared toward kids activities.
This is a great option for tourists visiting the Toronto area who don't mind paying a pretty penny for some outdoor fun. It's close to main, Canadian attractions (like Canada's Wonderland) and is within 40 minutes driving distance to downtown Toronto. A lot of people stay here as part of a larger trip to visit Toronto and the surrounding areas. Although it's expensive compared to other camp grounds, it's more of a kiddie playground/park than a serious camping excursion (think Disney Land and Wonderland). Families can "camp" (I use this term loosely here because it's more of an amusement type experience than a woodsy, bug repellant, beans in a can type camp), sing karaoke, play mini-golf, swim in a large, heated pool and then go out during the day on urban excursions. Yogi Bear and his friends roam the park and as a parent you can appreciate why/how this is one of my top recommendations for those with little kids.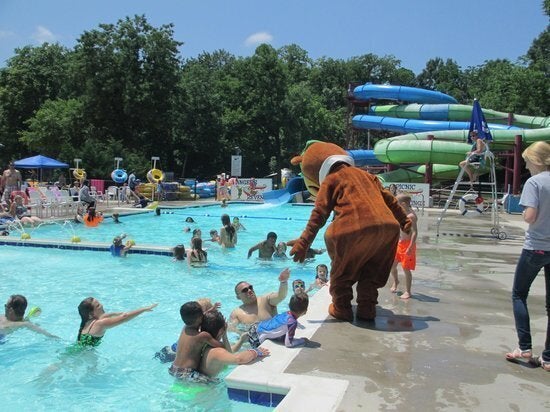 Some of the extras (like mini-golf) cost extra and there's even charges for kids in terms of your overall stay. But, if you've planned for the expense and know what you're getting in to, most people say it's a high five, two-thumbs up kind of place.
For more on what this camp offers and the prices check out their facility info.
(4) Toronto and Region Conservation (TRCA): Albion Hills, Indian Line & Glen Rouge.
The TRCA offers three distinct camp grounds all within daily-driving proximity to downtown Toronto and for much more of a reasonable price than some of the other mentioned options. These are great alternatives to hotels for families passing through the area. These parks offer canoeing, hiking, mountain biking, picnic areas, playgrounds, swimming and more. Depending on the time of year, there's even cross-country skiing and a maple syrup festival.
Glen Rouge: this is the only actual campground located in Toronto along the Rouge River on the city's very east end. Backpackers are welcome and amenities include the basics -- showers, fire pits and washrooms. It's near the Toronto Zoo, beaches and Petticoat creek so there are educational things to do nearby on day trips. It's a simple way to "camp" with your family and still be within the city limits (it's even walking distance to public transit).
Albion Hills and Indian Line are both located a bit further from Toronto but are good alternatives to hotels during the summer. They're also a great, quick, simple activity for downtown families to get out of the city without taking on too much cottage country traffic.
From tent-trailers to RVs, this family-focused campground caters to all things "trailer" (tents are not allowed). Cedar Park Resort is located near Bomanville, Ontario (Bomanville Zoo, Jungle Cat World), which is approximately an hour and 15 minutes outside of Toronto (at the city's east end). This place is your standard summer amusement centre for kids -- mini-golf, a giant water park area, picnic spots, tennis and a pool. There's a lot of day-use visitors here and school/camp excursions so if you're trying to avoid noise and a lot of kids, this might not be ideal. But, the buzz and energy of excited kids does have its place and if you're looking for that sort of experience I would recommend Cedar Park.
The mini-golf and large water slides cost extra ($5 and $7 respectively) and for $390 a family of four can stay for a week. No pets are allowed here though and it's honestly more of a destination than a stop-over type place.
Ok, Ok, I said five but I had to slip in an extra recommendation. I wanted to mention Bon Echo because you can rent cabins and tents, which you don't see a lot of these days. The cabins even come with their own kitchens. It's a bit pricy ($975 for a week) but when compared to hotel rooms it's a good deal. You can rent canoes too so all you really need are your clothes, and you're all set to camp. Among other reasons, Bon Echo states that their relationship with nature, the lack of commercialization and clean, safe beach are just a few reasons why they're superior to other family-focused resorts.
Ok, I'm all fired up and ready to bask in camp fire smoke now. I hope this list helps you and the fam-jam plan a fun summer holiday. Happy Camping and send me your favorite spots in the comment section below or via email. For more on my travel reviews, check out my website at www.familytravelguide.ca
Popular in the Community