New Canadian research has found that sitting down for dinner together as a family can improve the eating habits of teens and young adults, even if some members don't always get on or spend much time together.
Carried out by researchers at the University of Guelph, the new study looked at 2,728 U.S. participants between 14 to 24 years of age and living with their parents.
Participants were asked how often they sat down for dinner with their families, how well their family functions — defined by how family members manage daily routines, communicate, and connect emotionally with one another — and about their intake of fruit and vegetables, sugar-sweetened beverages, fast food and takeout food.
The results of the study, published in JAMA Network Open, showed that when families sit down together, adolescents and young adults are more likely to have better dietary habits such as eating more fruits and vegetables and less fast food and takeout.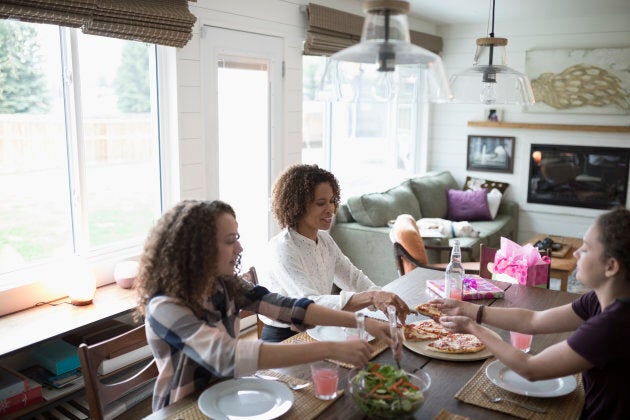 The findings also held true regardless of whether the family was defined as high-functioning or low-functioning.
"Gathering around the dinner table is sort of a magical thing," said lead researcher Kathryn Walton, PhD. "It's a time when families can slow down from their busy days to talk, spend time together and problem-solve. It's also a time that parents can model healthful eating behaviors."
Walton also added that if family members don't always have time for dinner together due to their own individual commitments, even just sitting down once a day, perhaps at breakfast, can help.
"To reap the many benefits of family dinners, the meal doesn't have to be a big drawn-out affair. Even if it's something you pull out of the freezer, add a bagged salad on the side and you'll have a decent nutritional meal."
Food prepping as well as eating can also be a way to get the whole family together, with Walton explaining that when everyone participates in making the food, they are more likely to eat it.
If food is already prepared, for example by planning for the week ahead and food prepping on the weekend, it can also reduce temptation to grab something quick and less healthy, as well as teaching teens important food skills.
"Our research found that family dinners are a great way to improve the dietary intake of the whole family, regardless of how well the family functions together," Walton said. "Preparing and enjoying a meal together can also help families bond. It's a win-win."