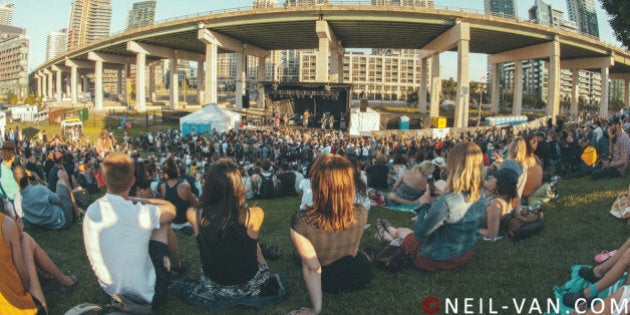 "Is that the band from Yellow Submarine?!?"squealed my four-year-old son Emile upon first seeing Man Man at this year's Toronto Urban Roots Festival. It was not an untoward question considering the experimental Philly band's frontman Honus Honus was wearing a blue blazer with military epaulets and a bizarre mask before donning a fluffy white fur coat, among other costume changes.
Man Man was playing the small, south stage of TURF, awkwardly yet wonderfully located between a steep hillside and the towering Gardiner Expressway, a retro-futuristic slab of skyward highway ferrying cars and trucks alongside the retro-historic festival grounds at Fort York.
We climbed the hill to get a better vantage point of the craziness onstage. I had initially thought the music might be too avant-garde for him, but it had a great drum through line that kept his foot unconscionably tapping, extremely exuberant piano playing (complete with kicks!) and, well, the thing about little kids is that there's almost nothing too crazy for them.
To whit, by far his favourite gig at TURF was Gogol Bordello, a band of New York gypsy punks who jumped and yelled, sang and rapped, chugged red wine and elicited amplifier feedback from an accordion. Requesting his noise-cancelling ear muffs and a prime seat up on my shoulders, E drummed along on my hat to their world music mashup, never taking his eyes off the stage and proving exactly why making these indie music fests family-friendly is such a great idea.
See, that's become the new watchword for Toronto music festivals. Both the three-day TURF and the two-day Field Trip, which took place in the same locale earlier in the month with Broken Social Scene and Interpol headlining, specifically presented themselves as family focused festivals.
Importantly, neither line-up kowtowed to a preconceived notion of what kids might like musically -- which is good, because most "kids music" is terrible. Though Field Trip did boast a bicycle-powered kids stage where people like "Good Sex" singer Kevin Drew crooned his impromptu tune "We Like to Party," Andy Kim sang his ancient Archies hit "sugar, Sugar" and Stars frontman Torq Campbell delivered "Let It Go" to the tiny crowd's delight.
Rather, the idea of these new fests is to program for grown-ups because kids are just as likely to enjoy the boy-girl intensity of July Talk, the acoustic beauty of Jenny Lewis or the laidback father-son folk-rock of Tweedy. But to ensure parents can bring their little ones along rather than staying home, the fests let kids in for free and had special areas with TURF providing giant Jenga and face-painting while Field Trip upped the ante with a field of hula hoops, many of which lit up at night, and a full-on bouncy castle.
This might seem weird to young adult festival-goers, but while indie may have started as youth subculture, it's become a scene that people aren't aging out of. Many of the first-wavers of the post-millennial movement now have kids and they want to bring them out to enjoy a weekend of sun and song together.
This isn't new, by the way. I was raised by hippies and have fond memories of attending the Vancouver Folk Festival every summer. It's just new for a scene that, however much members might want to deny it, has always been rooted in coolness. And kids are supposed to be coolness killers. But whatever.
I apparently now bring Emile out enough with me that when I attended TURF on Saturday solo, almost everyone I saw asked where he was. That's the first trick to bringing your children to music events -- make it a regular enough thing that they get used to it. (Same goes for restaurants, by the way.)
But I have a few other tips in order to have a good festival experience for your kids and everyone else, too, because melting down kids are as unpleasant to be around as drunk dbags -- and more easily avoided.
Emile's first concert was at 18-months to see "Weird Al" Yankovic, and his first festival was a Mad Decent Block Party at age two. (He danced to A Tribe Called Red onstage at Yonge-Dundas Square.) At three, he attended last summer's Field Trip, TURF and Grove fests, so by this year he was looking forward to festival season as much as I was. In fact, this morning en route to daycare he asked when our next festival is. These long days that we spend together watching and dancing to music is some of our most powerful bonding time.
Pick Your Festival Carefully
Do not bring your kids to EDM events like Digital Dreams, even if they love electronic music. Pick something that's more laidback and less party hard. Wasted people don't want to be around your kids, and your kids don't want to be around wasted people, especially if that person is you. Go and have fun yourself, but hire a babysitter.
Your kids might not like the same thing that you like, but they need to have the power in this sort of situation. You are bringing them to an event populated by thousands of proportional giants. If you want them to behave, they have to have fun which means they need to feel in charge. You might miss watching your favourite set so that they can build a dinosaur apartment at TURF or take a few turns in the bouncy castle at Field Trip. But that's just how it goes. (Which is why I didn't bring Emile the previous day when Violent Femmes were playing.)
Don't Make Musical Assumptions
At Field Trip I was pretty sure that Emile would like Austra because he likes beats and would be impressed with Katie Stelmanis' operatic vocals. I was right, but I had no idea he'd love Interpol as much as he did. By the time they went on, it was a couple hours past his bedtime, but he demanded to go up on my shoulders into the middle of the crowd. He was riveted the entire time they were onstage. So bring your kids to different acts and let them decide if they want to stay or go.
You're putting kids in a situation where they will be overly stimulated and probably up past bedtime, so the least you can do is ensure they're not hungry. That's the quickest way to invite a meltdown, and if you wait too late you might get stymied by long lines or a cranky kid no longer willing to eat fancy food truck offerings. Better to keep them grazing all day, and keep some favourite treats on hand in case of emergency. (Another benefit of festival concerts, being able to bring your own food.)
Bring Noise-Protecting Ear Muffs
Seriously. They might not need them for most bands, but they're way more sensitive than you and they'll wanna get close without hurting their ears. Get good ones, too. It's also a good idea to get kids used to them before going so that they don't refuse to wear them once there.
Bring More Than You Need Of Everything
Colouring books, sunscreen, snacks and change of clothes for ice-cream messes and night time chills. The moment your kid is uncomfortable is the moment they'll want to go home.
Leave When They Want To Leave
Speaking of, when they do decide your festival experience is over, don't fight it. It's probably been a long day and once the sun goes down the festival might even get a bit spooky. So if they want to leave, even though you're only 30 minutes into Neutral Milk Hotel's headlining slot, then you got to go. The endgame is to leave while they're still excitedly saying things like: "Know what I'm gonna tell mommy when we get home? I SAW LOTS AND LOTS OF CONCERTS!"
That way they'll want to go with you to the next one.