 There are names that are synonymous with fame that have become part of our culture. You hear the name and recall a scene in a movie. By happenstance and coincidence, there are people that are in our midst that have a completely different reaction when they hear it. They say, "yes," "present" or "that's me."
My friend has a friend named Corey Feldman. Having been a teenager in the 80's, Corey Feldman was someone that I was a fan of. I know that my friend's Corey Feldman, is not THE Corey Feldman, but I admit that every time I see him comment on one of her posts on Facebook, I smile and snicker a bit. Totally natural reaction, right?
I have vested interest in names. It's my business and I pay more attention than most to these things. Recently I began to reach out into the great abyss that is Facebook and can now announce that I am friends with Corey Feldman, Matt LeBlanc, Kate Winslett, Jennifer Garner, Matt Dillon, Celina Gomez and Julia Roberts. It's true. They have shared their experiences -- the good, the bad, the funny and the ugly -- about what it's like walking around with some of the most famous monikers in our culture.
If you think that with a name like Kate Winslett you can get a great table at the hippest-hard-to-get-a-reservation restaurant in LA, you're right. What you might not think of is that upon arriving the maître d will demand to see your ID, at which point you will (perhaps begrudgingly) be shown to your table anyway. You might also receive glances that you imagine to be disappointment from the staff when they realize that you aren't the Kate Winslet that they were hoping to wait on. So, you get the table, but not the service that goes with the name.
When it comes to getting in the door, there is none more important than a job interview. When your name jumps of the page on your resume and you get called for that all-important interview, having the name Jennifer Garner does just that. "The recruiter at my job admittedly said she brought me in because of my name," she says. "I guess it just stood out to her and she wanted to meet this Jennifer Garner." The same goes for Celina Gomez, a self-employed photographer. She explains that it's fun for her brides to share that she is going to be at her wedding, "my name is so memorable and in business, that's always a plus."
Having a name that is synonymous with celebrity makes for a fun and interesting icebreaker. Julia Roberts, a blogger, writer and speaker finds it especially helpful: "it's memorable and it's hard for people to say they don't remember me." Matt Dillon, a publicist in New York City, is able to get through to just about anyone on the phone. "It tends to open doors. I hate to disappoint them when they realize it's just the PR guy calling to woo them with my latest story." But hey, he gets closer than most publicists do most of the time.
To be sure, it is fun having a celebrity name -- it opens doors and conversations, but it can also be nuisance. Corey Feldman is currently penning his first children's book and is very aware of how his name will look on the cover. "I worry I might lose sales if they see the name on the cover," Feldman says. "FHe doesn't really come across as the sensitive children's author type." With his hopes set on his own success, he admits that he looks forward to the day that people confuse him with the "other" Corey Feldman.
There are also the moments when you need to be serious and make things happen for your business. You've prepared yourself for that client call and then it starts like this: "They put me on speaker phone because there were two of them on the other end. They started by telling me to say, 'How are you doing?' So I pause, and said, 'How are you doing?' with a bit of confusion in my voice. They started to laugh and they said 'That's not how Joey says it.'" Matt LeBlanc does have some fun with it though: "People actually think that the billionaire from Friends is now painting abstract art." There are people who have pieces of his work hanging in their homes or offices that start conversations by telling people "this is a Matt LeBlanc original." True it is.
Celina Gomez started carefully screening her calls when she started getting Selena Gomez fan calls. "I'm assuming that my phone number must have been published on a fan site," she says. "For a while I was getting a lot of calls from screaming girls."
Julia Roberts received a fax from someone pleading for help financially and for assistance breaking into acting. Corey Feldman has received notes from agents and publicists reaching out to him through social media. He does admit that it can contribute to increased hits to his website (which by the way has the tagline "Not the '80s actor"): "I get a chuckle when I look at my blog stats and see searches for 'I hate Corey Feldman.'"
The rise and accessibility of the Internet and social media has made for a fun and interesting playground. I am sure that I am not the only one that has googled my name or searched Facebook to realize that there are others out there with the same name. And I'm no Julia Roberts.
PEOPLE WITH CELEBRITY NAMES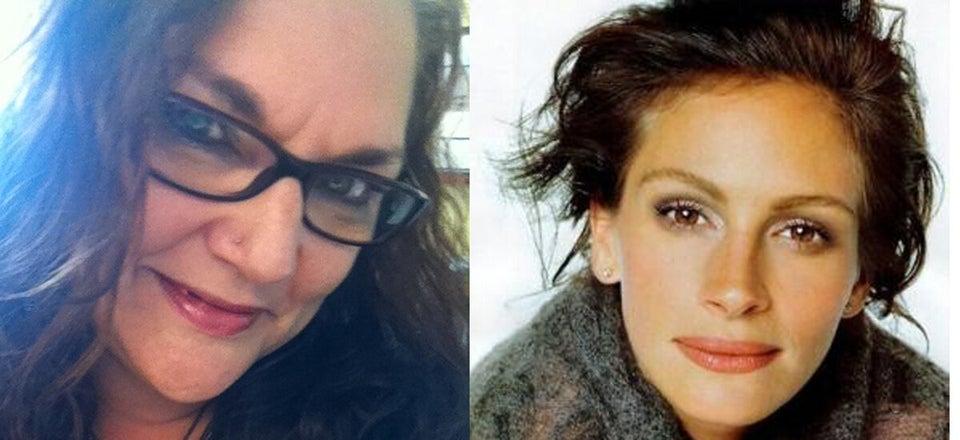 People With Celebrity Names