A school feeds its entire student population with fresh, healthy, nearly organic produce, grown two kilometres away.
The school is in rural Uganda. The students are some of the most impoverished in the world.
Fifteen years ago, Twesigye Jackson Kaguri, a native Ugandan, was living the American dream -- until his brother, and then his sister, died of HIV/AIDS. Coming face to face with the scale of Uganda's HIV/AIDS pandemic, Kaguri took the $5000 he had saved for a down payment on his own home and built Nyaka Primary School. Its goal: to work on behalf of HIV/AIDS orphans, and break the cycle of poverty in this area of rural Uganda.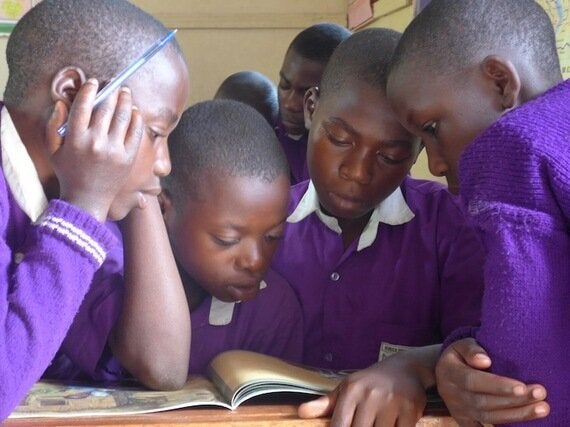 Nyaka students, hard at work
Since then, the Nyaka family has grown to include another primary school, a library, a computer lab, a medical clinic, a program for grandmothers, a vocational secondary school, and the Nyaka farm, which produces vegetables, fruit and rice, and is home to several cows, chickens and goats.
"For a child who walks 15 miles a day to and from school, a meal is a necessity," Kaguri explains. "Lack of nourishment is one reason why there are 70 million children in the world who still do not attend primary school."
The man behind the farm is 35-year-old Richard Munyakazi. Together with two other employees, Munyakazi runs a tight ship, keeping 340 students and 34 staff members fed.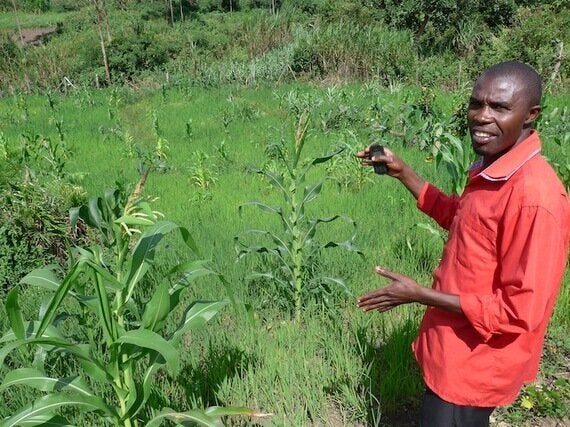 "But Nyaka farm isn't just about food," Munyakazi explains. "Every year, during school holidays, many local secondary school students come to here to learn how to plant crops, control pests, and manage the factors that go into growing food."
Extra produce from the farm feeds students at the other Nyaka-supported school in Kutamba, and goes to some of the Nyaka grandmothers, many of whom are raising grandchildren after losing children to HIV/AIDS.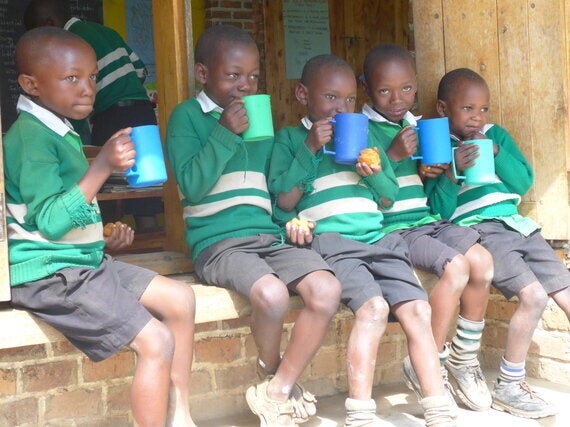 Breakfast time at Kutamba School
Organic gardening is even becoming part of the Nyaka farm, but not for health reasons. The artificial manure that was used to fertilize the farm's crops became too expensive, so Munyakazi began using something called guanomanure, which is chicken litter mixed with coffee husks. With the chickens "producing" the bulk of the product, guanomanure is extremely cheap, and, of course, chemical-free.
Still, there are obstacles. Or, as Munyakazi says, "Pray for rain." The wet season in Uganda is becoming shorter and drier, and droughts affect crop yields everywhere, and prevent the farm from growing tomatoes, carrots or green peppers. With an economy that's so local, and so many rural Ugandans making a living off farming, irregular weather patterns affect the country's food security in a very serious way.
Days after my visit to the farm, there is a torrential rainfall, which, within the space of a couple of hours, kills acres of banana plantations across the region -- a major food source for most residents.
For now, though, the Nyaka farm continues to serve its purpose. And this year on Earth Day, as we discuss how to feed our planet locally and sustainably, we might look towards other parts of the world, where this is simply a way of life.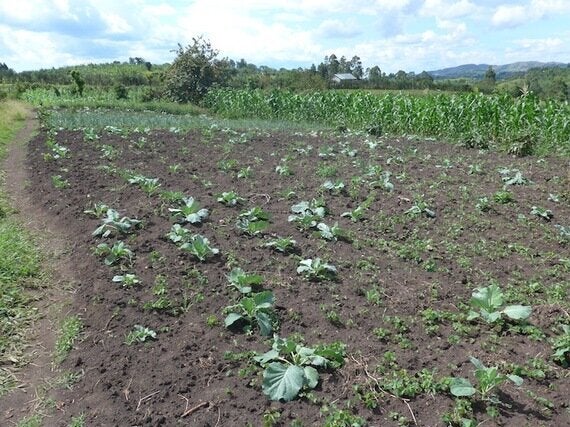 Nyaka partners with Beautiful World Canada, an organization that funds, supports and encourages higher education for children in Rwanda, Uganda and Sierra Leone. Beautiful World-sponsored senior high school, college and university students are required to volunteer at the Nyaka farm during their school breaks. To learn more about Beautiful World or about sponsoring a student, please visit www.beautifulworldcanada.org.
Follow HuffPost Canada Blogs on Facebook