Fashion Santa, also known as model Paul Mason, told CTV Canada AM his first contact with the Stratford star almost ended in digital fisticuffs, when he nearly challenged Bieber to a selfie showdown.
"I had the phone and held it up. He said 'I think I do more selfies than you' and grabbed it out of my hand," Mason says. "I was going to challenge him on that because after this campaign I think I've done a number, [done] enough of them."
CTV News christened Bieber as the "King of Selfies," then suggested that Mason might be able to usurp the singer and claim the title as his own.
Throwing down the holiday gauntlet might not be such a bad idea, considering Mason's experience: he spends eight hours a day in the mall, snapping selfies with countless naughty and nice shoppers alike.
What's more, Fashion Santa's social media presence comes with a charitable cause — for every selfie tagged #YorkdaleFashionSanta, the mall donates $1, up to $10,000 to Sick Kids Hospital Foundation. Bieber's selfie count, while stretching back for years, might not be as generous, considering his concert package is known to charge $2000 a selfie.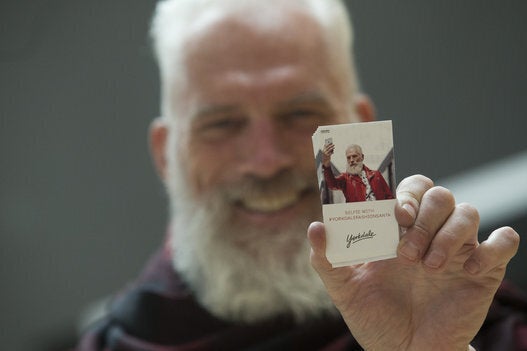 Paul Mason