Sung to the tune of "Santa Baby," "Fashion Santa" is an ode to the very stylish Saint Nick taking selfies for charity at Yorkdale mall created by Serra Jade and Kristy Hunter of North Bay, Ont.
"We both play music at the PADDLE program (a program in North Bay that incorporates life skills, recreation and academics to adults with disabilities over the age of 21), and the participants love when we make up funny songs," Hunter tells HuffPost Canada Style via email. "We thought it would be funny to make a song about Fashion Santa to the tune of 'Santa Baby.'"
And the jingle touches on all of Fashion Santa (a.k.a. Paul Mason)'s best assets: his beard "like no other," his "tailor-made" suits and his way of "trying to help the sick kids with [his] model glam."
According to Hunter, it took under an hour to write the song, with co-workers pitching in a line or two. It was filmed quickly during their lunch break in just two takes.
And though the duo haven't met Fashion Santa, Hunter says they "wouldn't be against it!"
Fashion Santa, will you make these ladies' dreams come true? Here's hoping!
Check out the video above!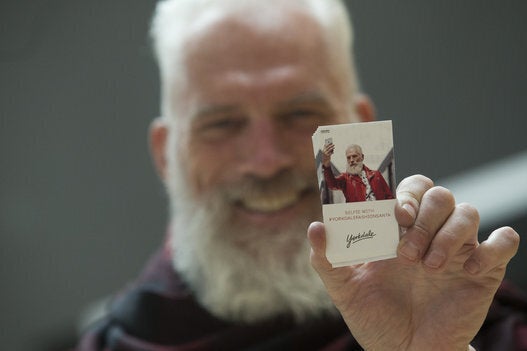 Paul Mason