We just traded in humidity for a cool fall breeze, but that's not necessarily a bad thing, especially since we have fashion trends for fall 2014 to look forward to.
Maybe you've already broken out your wool skirts and robe coats but if you haven't quite gotten your fall wardrobe in order, the dropping temperatures are telling you to get your act together. This year's falls trends err on the side of comfort, proving that style and comfort do, in fact, go together.
Story continues below the slideshow: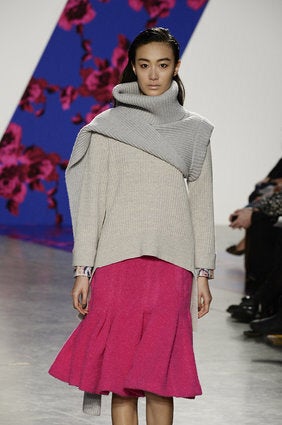 Fashion Trends For Fall 2014
Just short of being able to cover your whole head, the extreme turtleneck was seen on the runways of Thakoon and Helmut Lang. We love the dramatic and cozy appeal of this fall trend.
Relevant for the last few seasons, the robe coat seems to have some legit staying power. Wearing a housecoat around town has never been so fashion-forward.
Knits have never been given enough credit but this fall, it finally got its fifteen minutes of fame on the runways of Haider Ackermann and Marc Jacobs, among others. Cable knit pants as opposed to sweaters made its debut and we kind of hope we start seeing this ski bunny chic trend on the streets. If you're not quite ready explore cable knit pants, the sweater dress in various interesting silhouettes also proved to be popular, as they do every fall/winter season.
If you want to stay warm in something other than a coat, the poncho or cape could be an interesting option. Burberry was one of several labels who sent models down the runway wrapped in luxurious wraps.
Practical and stylish, shearling made a lot of sense for designers to incorporate into their fall collections. We assume we'll be seeing a lot of interesting takes on the shearling coat in stores this fall.
If Clint Eastwood has taught us anything, it's that the west is pretty sexy. Fringe, wide brimmed hats and western checks were prevalent on the runways and are an easy trend to translate to everyday wear.
Velvet is no longer relegated to grandmothers. This fall, velvet was reincarnated into elegant slinky dresses that are perfect for a fall soiree.
This one isn't for everyone but the muppet look was undeniably present at Fendi, Roberto Cavalli and Marni among many others. Bold colourful fur could be a fun addition to complement a neutral ensemble. We recommend opting for faux fur with this trend as emulating Fozzy Bear's look might not translate next season.
Quilted fabrics always exude a classy quality. Chanel may own the runway when it comes to quilted designs but that hasn't stopped other designers like Miu Miu from dabbling in it.
Slim cigarette pants take a back seat to fall's slouchy trouser trend. Designers paired these stylish relaxed pants with menswear-inspired shirts for a new interesting silhouette.