A fashion design student's new line of clothes for women in wheelchairs attracted more attention than usual, thanks to a high-profile model who happens to be a B.C. cabinet minister.
Designer Kaylyn MacKenzie, a fourth-year student in Kwantlen Polytechnic University's fashion program, wanted to challenge the idea that adaptive apparel is unfashionable.
She explained there's a "severe" difference between the measurements of clothes that are worn standing up versus sitting down. This forces working professionals who use wheelchairs to spend more money on alterations, she told The Canadian Press.
"In my line of work, I wear a lot of business suits, a lot of jackets," Cadieux said in a CP interview. "When you're wheeling, there's a lot of movement through the shoulders, and jackets aren't made to have a lot of movement through the shoulders and that can be a real challenge."
Mackenzie has incorporated that extra movement in the jackets, through both fabric and design, said the minister, who has used a wheelchair since she was in a car accident at 18.
Story continues below slideshow: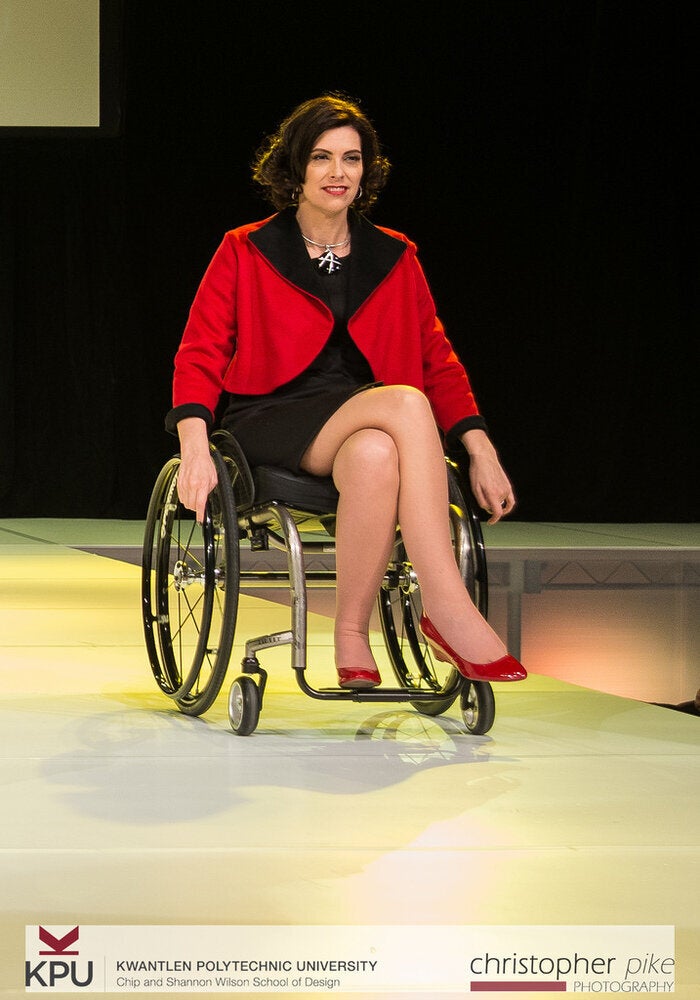 Fashion For Women In Wheelchairs
Originally from Nova Scotia, Mackenzie points out that the wheelchair doesn't make the woman; rather, the woman makes the wheelchair.
While You is currently just for women because it was a final project for school, it likely won't be long before Mackenzie branches out into menswear.
"Since I've started developing this line, I've been approached by men in wheelchairs," she told Spinal Cord Injury BC. "They are extremely excited and would like some customized pieces."
Like this article? Follow our Facebook page

Or follow us on Twitter