Model Jaharrah Ali, a Brooklyn, New York native born to Pakistani and Trinidadian parents, who proudly rocked her hijab in the video, spoke on her experience.
"Being a Muslim model, you know how xenophobic people can be," she told W. "By me saying, 'My name is Jaharrah Ali, and I am an immigrant,' I'm saying that everything in my life, everything I've done in the last 28 years has been important."
Former DKNY designer Maxwell Osborne was also on-set for the moving shoot. But this isn't the first time he's intersected fashion with politics.
"Encourage diversity on your runways and campaigns," he wrote. "Empower your social media fans to raise their voices. Use your designs for the public good. Attend a protest and see change in action.Raise awareness – it's not as empty a gesture as it may seem – and others will follow your lead."
Perhaps the most beautiful aspect of the stunning video is its inclusivity. Immigrants from a range of countries, who each uniquely represent different religions, genders, skin tones and hair textures all took part. Proving that an immigration ban affects us all.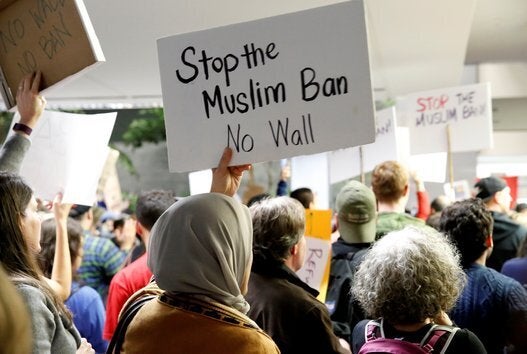 Trump Immigration Ban Sparks Protests